Our entire team is often asked one simple question by our clients – Where would you go on safari? Of course, we would all love to be traveling on safari to all the incredible destinations in our portfolio as often as possible. We are all very keen to travel anywhere at the moment, so we asked each other to pick where we would like to head next. 
In 2000, a journalist friend and I traveled to Uganda.  It was the first week in March — the anniversary of the incident publicized round the world as "The Uganda Massacre."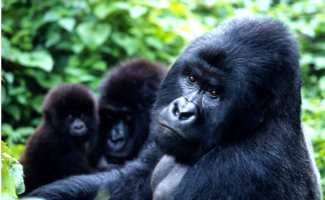 We came to see for ourselves if it was safe and secure to travel to Uganda again.  If we had read the State Department advisories, we might have stayed home and missed a memorable meeting with Ruhondeza, the silverback of the Mubare family, and an amazing holiday in this varied, beautiful country.  Nor would we have had the extra satisfaction that comes with knowing we'd done our little bit to support the mountain gorillas, the Ugandan people, and a rising country full of promise.   During my 28 years on safari in Africa, I would rate gorilla tracking as one of my top 5 most magical experiences.  For an hour we watched the gorillas intently, without speaking.  In a meadow along the way we had passed the cluster of nests on the ground where they had spent the night.  They had then moved into the forest to forage. Their arms were so long that even when they placed their knuckles on the ground to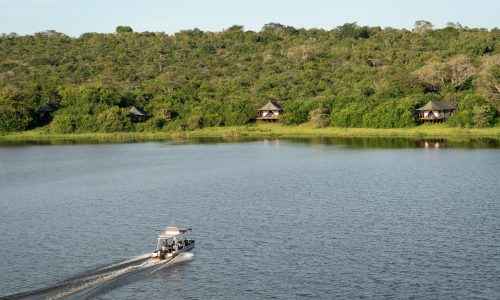 walk on all fours, they remained nearly upright.  They moved through the undergrowth quietly, the adults ascended tall trees effortlessly, soundlessly, and picked choice morsels from among the leaves.  All the while the hyperactive youngsters swung wildly from branch to branch.  They tussled, squawked, threw each other from the trees, and thumped their chests, practicing the three-beat thunder that is the warning signature of the deep-chested silverback.  Ruhondeza looked on from a tree of his own, stationed between us and his playful children, ready to sound the real thunder if we should come too close.  
So as I contemplate where I would like to travel next, there's
no doubt I'd like another opportunity to be among these gentle giants – this time in Rwanda at Volcanoes National Park, which now has 12 habituated gorilla groups.  Known as the Land of a Thousand Hills, Rwanda not only features eco diversity, but has an important history and cultural story to tell as well.  My safari would include a visit to Kigali- the capital city, gorilla tracking in the Virunga Mountains in the north of the country as well as an exploration of the remote and newly opened savannah and wetland wonderland of Akagera in the country's north east.  Rwanda has been open to travelers since August and while testing is required, it's easily accomplished with a couple of nights in Kigali. 
Safari Suggestions: 
Rwanda – Land of a Thousand Hills 
Primates, Wildlife and Culture 
My father moved to Namibia in 1994 to work on a rural water
project deep in Himba territory. That same year I got married and moved to the US. Shocked at the minimal vacation days that seemed acceptable to most Americans, I persuaded my husband that it was imperative we spend at least 6 weeks in Namibia, or it was "hardly worth going otherwise".  So we quit our jobs and traveled around Namibia in early 1997 with a road map, numerous tins of smoked oysters, a lot of biltong, a borrowed pickup truck, and a tent. It was fantastic — the wildlife, incredibly diverse cultures, dramatic landscapes, random hot springs, and (to our great surprise) German owned gas stations with delicious apple pies. Quite the contrast to Malawi and its neighboring countries, that I had grown up traveling around. 
 Although we saw a lot of the country, we never did make it to
the remote Skeleton Coast, and that has been on my bucket list ever since. Finally, I am now making this dream a reality and this blog finds me spending 2 weeks exploring this beautiful land. I'll be traveling by road again, but certainly in better style than a small two-man tent. Although I'll be skipping Sossusvlei this time, I will get a chance to re-visit Etosha, Twyvelfontein and Hoanib as well as the Skeleton Coast. I am beyond excited. You can see my itinerary here and I promise to share many more details on my return.  
In the meantime, we have several wonderful sample itineraries for you to dream about as well. Namibia is open to tourists and an amazing destination year-round. If you want to avoid crowds, you can't find a better place to visit. 
Safari Suggestions:  
Attending school and university in Scotland during the 80s
and early 90s meant that I was keenly aware of the history unfolding in South Africa. The anti-Apartheid movement was front and center in the news, igniting an interest in this beautiful land, as I read about the history that would lead up to the moment I watched (on a very small TV, in my teeny college flat in Glasgow) Nelson Mandela take his first steps of freedom after 28 years.  Over 30 years later, and now lucky to be able to travel to this beautiful country on a regular basis, I am always inspired by the people, landscapes and wildlife of this wonderful nation and the contribution our clients' tourism dollars bring.  
 I am really looking forward to getting back to South Africa and combining some of my favorite places – beginning in the Western Cape visiting Grootbos (where I can restock my favorite room spray) and seeing some of the best land-based whale watching in the world. From there, I would continue through the Franschhoek pass (with wine tastings en route) to the village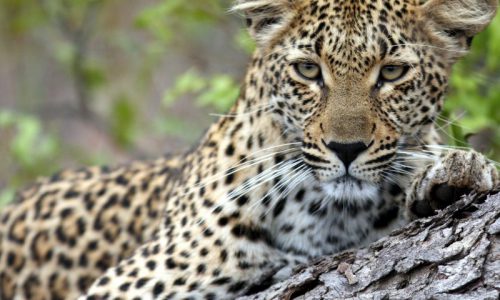 of Franschhoek and surrounding farms.  I might even motivate myself to cycle around the winelands – I recommend an e-bike, as those hills are challenging, though the wines are worth all the effort.  Cape Town is a must do as well, where I will be exploring both the art scene and the food scene. The culinary creativity in this city is a highlight and I guarantee there are some divine new restaurants and bistros in addition to my old favorites.  Finally, no trip to South Africa is complete without a safari. I will head for the private reserves adjacent to the greater Kruger National Park.  The unfenced borders allow the animals to roam freely, including the iconic big five. Hopefully I will have time to combine my safari with the majestic Panorama route as well – the views of Blyde River Canyon and the Three Rondavels always leave me breathless – before I return back to my desk and my clients to hopefully provide some first-hand inspiration to create their own memorable travels.  
Safari suggestions: 
I was very fortunate to grow up in South Africa and enjoy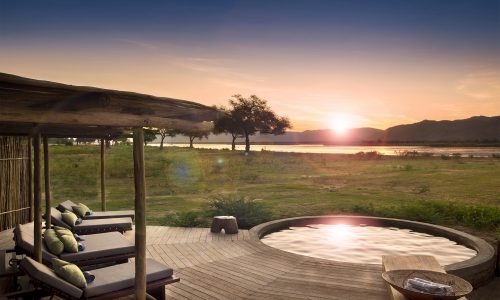 many vacations with my parents around the country. The Transkei, The Cape, The Drakensberg, Kruger National Park and many other wonderful places provided us with lasting memories of our times together as a family.  One of our most memorable trips however – one that has me wanting to go back again – was to neighboring Zimbabwe. For us, it was a road trip, a very long one with many stops along the way, the highlight of which was spending a week on a houseboat on Lake Kariba. We spent the week exploring Lake Kariba and its islands – fishing, bird watching and viewing the wildlife along the shoreline.  Lake Kariba is 300km long and covers an area of 5,000 square kms.  It is the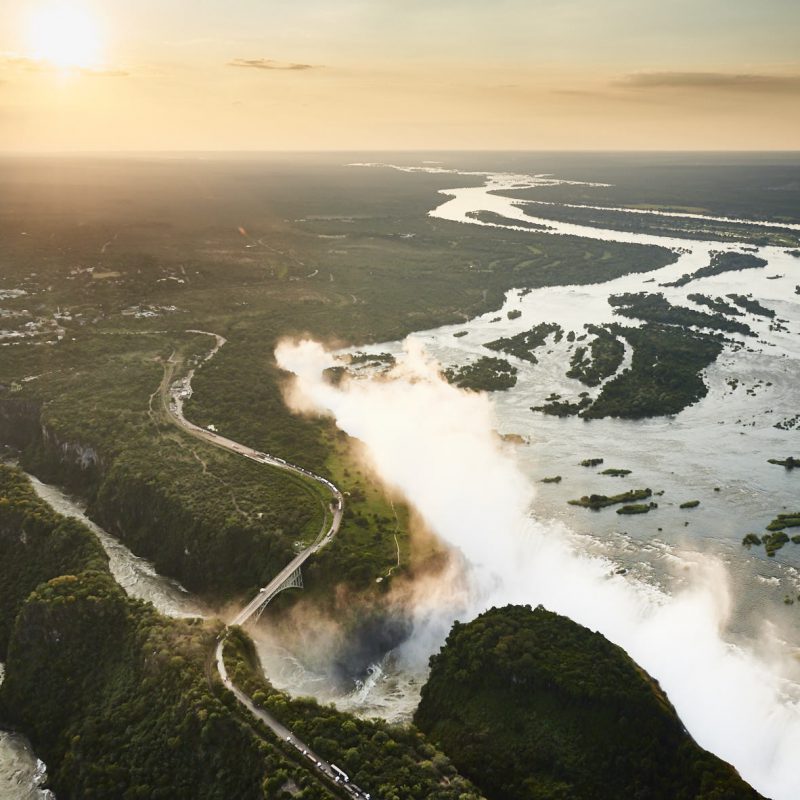 world's largest man-made lake/reservoir by volume.  This vast expanse of fresh water is home to some fantastic species of fish, crocodile and hippopotamus as well as other big game seen on the shoreline, including elephants, buffalo, cheetah and leopard. 
My return to Lake Kariba was scheduled for March 2020, when myself and a dear friend were to travel to Zimbabwe on a 15 day trip visiting about 10 different camps and lodges. While we were forced to postpone this trip, it is still top on the list of places I want to go in 2021. While my itinerary requires moving from camp to camp our sample itineraries offer a more leisurely pace and are an excellent starting off point for planning a Zimbabwe trip. 
Safari Suggestions: 
I've been to East Africa before but have not yet been to
Kenya. However, my last time in this beautiful part of the world left me dreaming of a return trip to immerse myself in the wildlife and culture. 
If I was planning a trip this year, some safari and beach time in Kenya would be my top choice.   I'd start off with a night or two at Hemingways in Nairobi to get my bearings and adjust from jet lag. I'd love to spend a day exploring Nairobi with a private vehicle and guide visiting the Giraffe Center, Karen Blixen Museum and Sheldrick's Wildlife Trust. I might even do a little shopping at the local markets (keeping the luggage restrictions in mind). Evenings would be spent on the hotel veranda overlooking the Ngong Hills, probably with a Dawa cocktail in my hand. 
Then I'd head north for a stay at Saruni Samburu to enjoy
the spectacular views of Samburu and Mt Kenya.  While there, the top activities on my list, in addition to game drives, are spending time with the elephants at the Reteti Elephant Sanctuary as well as a community visit to a Samburu village to learn more about their culture and traditions. From there the next stop would be the iconic Masai Mara, where safari was born.  If the timing is right, I might have a chance to witness the great migration, a once in a lifetime experience. In addition to the incredible game viewing and bird watching, led by a Masai guide, staying in one of the private conservancies would also afford the chance to enjoy a bush walk or a night drive.  Ideally, I'd end my trip with a few nights at Diani beach to relax and enjoy the Kenyan coast, with my feet in the white sands overlooking the Indian ocean. 
Safari Suggestions: 
We have been so inspired by each other's wish lists and hope you are inspired as well.  Give us a call so we can help you plan your dream itinerary.