It had been 24 years since I was last in Namibia, it will be way sooner than that when I plan my return — Namibia is spectacular in every way. It's not just the huge, beautiful, other-worldly landscapes that draw you in, but also the people, the wildlife, the night skies … I could go on and on! My 2 week adventure by land really only covered the North/Northwest of this vast country, twice the size of California (with just under 2.5 million residents). I started in Windhoek, the friendly little capital city, with a delightful stay at Galton House, an exclusive-use property in a fine neighborhood. My flight from Denver to Frankfurt and then on to Windhoek was seamless, made very doable with a comfortable dayroom in the transfer hotel at the Frankfurt airport.
My first safari stop was at Onguma, where I spent a fabulous 3 nights and managed to sample most of the activities on offer. They included wildlife abundant game drives in the neighboring Etosha National Park, the dazzling white of the salt pans reflecting off the very green trees and grasses made every sighting just pop out. Butterflies were everywhere as the rains this year have been plentiful, and we did get absolutely soaked a few times, but that's the joy of the green season. Onguma has four types of lodging for different budgets, all located in this vast private reserve, brimming with giraffe, cheetah, lion, zebra, rhino and much more. Elephants are officially kept on the other side of the fence in Etosha, but unofficially a few naughty boys occasionally wander in.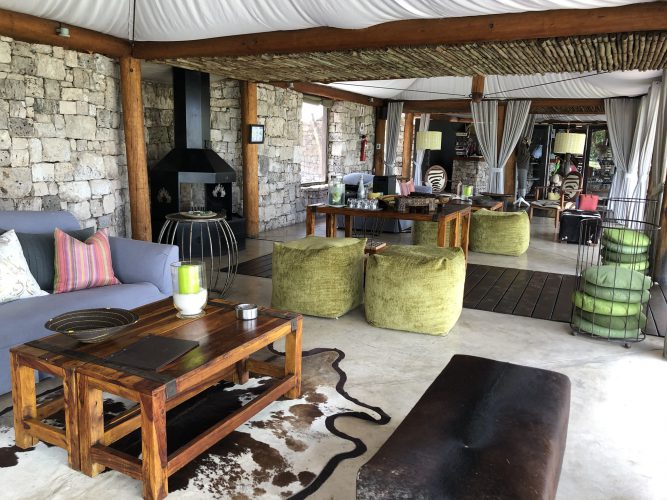 I stayed at Onguma Tented Camp, sheer luxury under canvas overlooking an active waterhole, a lovely pool and my favorite communal area of all the lodges here. We were wined and dined under the stars, had incredible sundowners complete with wine-tasting and one dinner serenaded by a local band that was phenomenal with marimbas, violins and trumpets. The artists came all the way from Tsumeb. I enjoyed a lovely morning walk in the conservancy, which ended with a surprise bush lunch. We were accompanied by the resident anti-poaching head guide, it was just fascinating to learn what keeping over a dozen rhinos safe from poaching entails these days.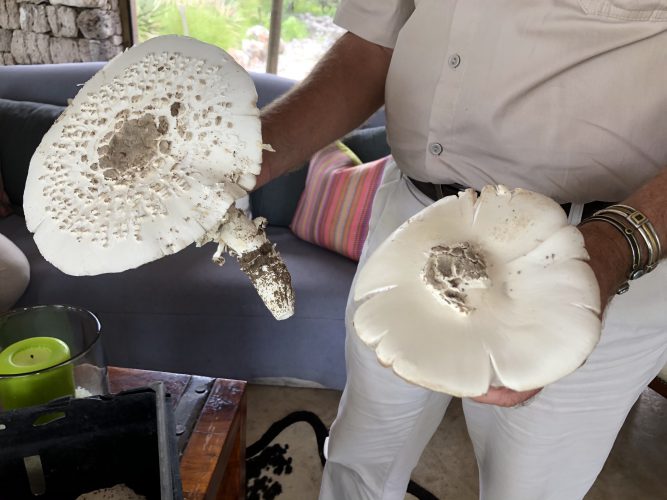 I also had the opportunity to visit a local vegetable farm called Oshivelo, that employs hundreds of people, on land leased to them by Onguma. It was wonderful to see a community transformed in just 5 years, by a sustainable for-profit farm with such success. The good rains I experienced, not only provided much needed water for the farm and wildlife but also helped sprout some HUGE mushrooms (Amajova) that grow exclusively on termite mounds. Fried with garlic, raw or roasted they were absolutely delicious. Animals like them too, so it's a battle to grab them before the baboons and various others get to them. The termites are smart of course, and quietly have a sub-family called Macrotermitinae that nosh on the roots, safe inside their mounds.
I could have spent several weeks in Onguma, but after 3 nights it was time to go and wean myself off the Savanna cider that just tasted so good right when jet lag started to hit mid-afternoon. Traveling overland towards Twyvelfontein, a UNESCO world heritage site, I remember this area well from my first visit to Namibia, as we got chased out of our campsite reverie by an annoyed desert adapted elephant. This time, I stayed at Mowani Camp, very far removed from that basic tent in a sandy riverbed. With incredible views from the top of this giant rock formation, my room looked upon what truly feels like a sacred landscape. And indeed that's what the rock engravings appear to show, truly endearing depictions of all the animals, many reaching up to the sky in an appeal for rain. It worked this time, as we brought rains here as well and enjoyed a lovely wet sundowner on the site of the brand new and spectacular Onduli Ridge.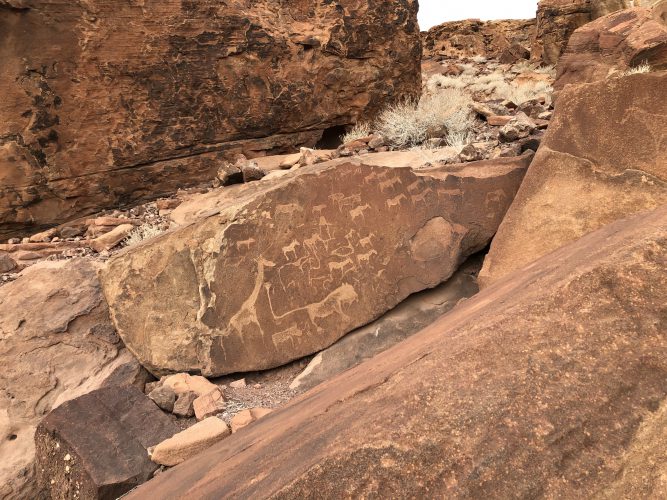 This is my number one reason to return to Namibia, hopefully next weekend (I wish) to stay here. They have their own rock engravings on site, beautiful rooms with views going on for miles, e-bikes, elephant and rhino tracking … what more could a human want. If you have visited The Matopos in Zimbabwe, you will know how this Huab area feels, it really is a spiritual place. And the small communities living in this area are incredible gracious and friendly, 2 nights was not enough, but the Hoanib valley beckoned.
An awesome 8 hour drive later through yet more spectacular and ever-changing scenery, with lots of elephant, giraffe, oryx, ostrich and wildebeest along the way. If you do this overland, make your guide pop the roof open, it's worth the grumbling to have the wind in your face, and the video-game like feeling as you drive through this landscape. Arriving at Hoanib Valley Camp felt like we entered a scene from a Mad Max movie visually, but this was Namibia, so the local camp staff burst into joyous song to welcome us to this little remote slice of paradise. Apparently safari camp staff have an annual singing competition throughout Namibia, and this little group should win the next one hands down. I dread to think what would happen if we at African Portfolio had to sing for our clients…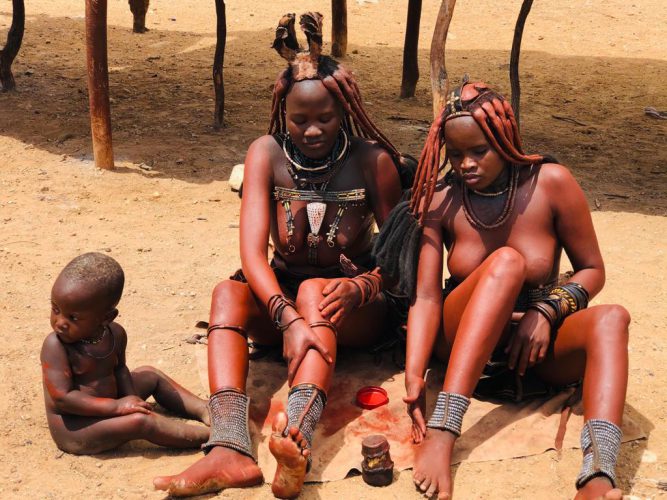 Our sundowner spot not far from camp, became the site of a lion kill the next morning. So we started the day off seeing bits of zebra under a bush and a happy, healthy lion family with very round tummies. We continued our exploration of the ethereal Hoanib valley in search of a friendly Himba community. We were fortunate to share the next few hours with a lovely family who graciously invited us to their little homestead, and offered a glimpse into their way of life. The awkwardness that can sometimes exist with a community visit, was quickly dispelled by showing the little ones videos of themselves in action. It became a warm free-for-all "selfie-fest" that we thoroughly enjoyed, and left us all smiling. The Himba are stunningly beautiful to look at, and fiercely proud of their culture, as they should be. Perez, our Ultimate Safaris guide, had lived among the community for several months a few years ago, so that really helped make the visit enjoyable and meaningful, at least for us visitors!
I took a rare break from a game drive that afternoon, to enjoy the incredible scenery from the pool at camp. In the middle of a longer trip, it's great to just sit in silence and listen to the birds and the wind, and really appreciate the surroundings. The four course surprise lunch of course helped make my decision to not get back into a vehicle again! I believe we ate at least 5 times a day during this trip, and the jiggling about in the vehicle on the dirt roads did not unfortunately work to take off the gained pounds. But every meal is so delicious, made from the freshest of ingredients with minimal processing, so it's not really bad for you … honestly. Within two hours of digesting my late extended lunch at the pool, I was hungry again. Amazingly enough a huge boma dinner was being served, and the staff treated us to the most incredible night of song. Just brilliant, under the starry skies, with a fire behind us, to listen to these harmonious voices in such a remote place was absolutely magical.
Leaving a singing staff behind the following morning, we started on what was to be the most scenic drive of all (unbelievable, considering what we had just driven through already). The road between Hoanib Valley Camp and Shipwreck Lodge follows the general path of ancient riverbeds, dotted with elephant, rhino, lion and more. Every twenty minutes or so would find us in a different landscape, sometimes flat and sandy, then mountains, or boulders would appear, shocks of green, and suddenly a palm tree – what?  Oryx dashing about kicking up clouds of dust and then a sudden stop, quick turn-off to greet Mr desert-adapted lion himself – the infamous Dr Philip "Flip" Sander.  He was super-
friendly considering a group of women appeared out of nowhere to surround him and take selfies. The closest settlement from where we were, is about 150 kms away, and it boasts a total of 9 homes. When he's not camping out in his souped up jeep (with amazing sound-system apparently) this is where Flip has a house.
Leaving a somewhat befuddled Flip muttering "that was a bit unexpected", we continued along until we could finally smell and then see the Atlantic Ocean over the enormous expanse of white sand dunes. Shipwreck Lodge is so surreal with regards to the remote location and the architecture of the lodge to look like mini-shipwrecks in the sand, it took me a few nights to really comprehend this was a real place, and that I was actually in it. By chance (!) we arrived just in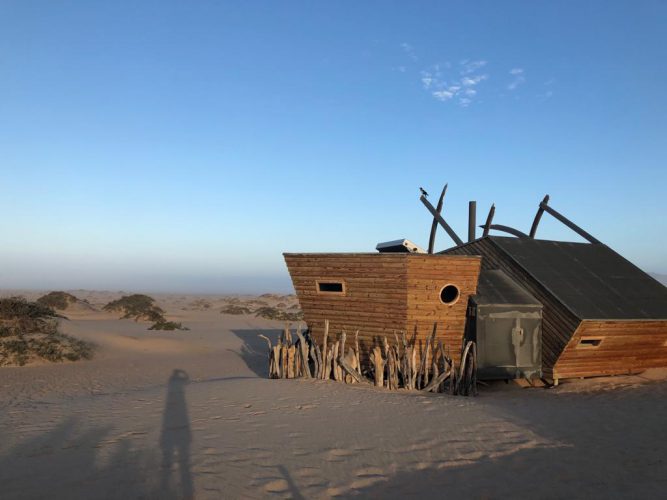 time to enjoy sundowners in the dunes, and more food of course. The dunes go on as far as the eye can see, with steep drops, gentle curves, natural bowls and formations all patterned and cut out by the wind. It's the kind of place you don't like to waste a minute of, just to take it all in. Wandering off bare-footed with wine in hand, the only reason I agreed to go back to the lodge was the promise of dinner. But luckily over the course of the next few days we spent lots of time in this grownup sand box, ATV-ing and sand-boarding to our hearts content. If it's too windy, the dunes may not be the best place to play, but we got very lucky, the lions were off elsewhere, the sun was out and the wind behaved. I'm not a fan of loud noises in these beautiful landscapes, but the ATV's were super fun, easy to handle, and Bravo our guide took us on some ridiculously steep slopes so we could hear the sound of the sand singing, a noise that sounds like a combo of a didgeridoo and rumbling elephant. Knowing that our tracks would soon be swept away by the wind, also made me enjoy myself more — the impact is truly minimal, so the fun is maximal (is that a word?).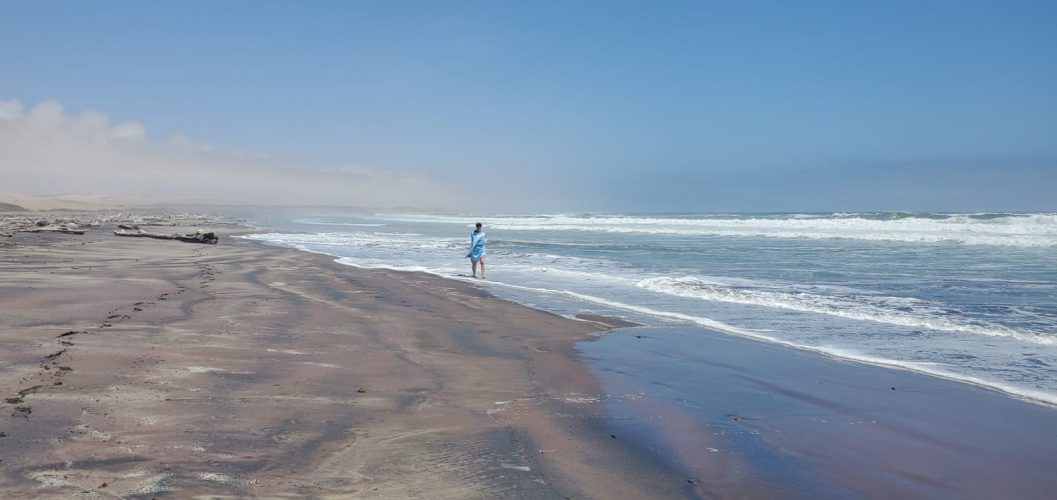 Given my visit was during the height of summer in Namibia, I found the waters very swimmable – or at least warm enough to feel fresh but not numbing. I would encourage only very confident swimmers to take a dip, and to go with at least one other person, the rip-tides are seriously serious. But oh, we had a time out there. Playing in the waves and feeling like the first people to ever be on this wild beach. Animal tracks are a-plenty, so you are given a radio should you wish to walk from the lodge to the beach. It's over a mile, and we saw lion, elephant, and other predator tracks galore along with lots of prey. We also enjoyed a wonderful lunch out on the beach, the poor staff were baking in the sun as we continued to play in the waves and look for shells and stones, they couldn't drag us away.
After spending a decent amount of time in a vehicle, as wonderful as it is to be looking at wildlife and scenery – it is nice to stretch the legs and just play. For a real work out, ask Bravo (or any of the wonderful Natural Selection guides) to take you sand-boarding. It's all fun and games when you are traveling at 50 miles an hour face first down a very steep slope… until you have to get back up the dune. For future clients, we have now labelled the sand-boards according to the traction or lack there of – you are welcome. Lots of laughter ensued as some of us fired down the dunes at lightning speed, while others were left paddling in the sand like turtles burying their eggs. Nothing like a good giggle on the Skeleton Coast to scare away the ghosts from all the shipwrecks.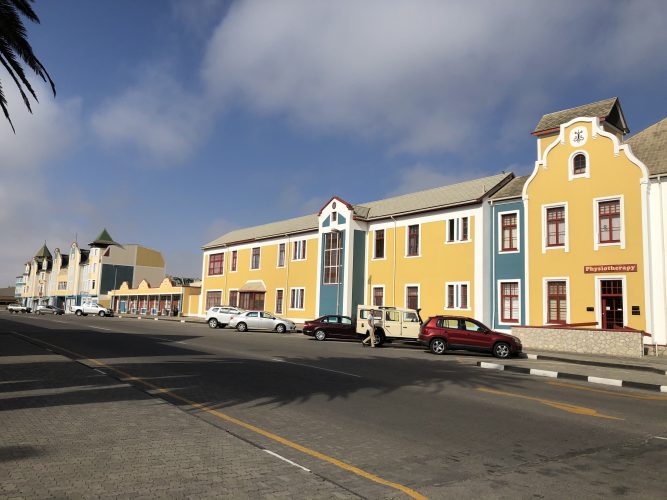 After an amazing couple of days, it was time to depart and take the coastal drive down to Swakopmund, a quaint German flavored seaside town, where I lost a fair amount of Namibian Dollars at the casino 24 years ago. Amazingly enough our delightful hotel, The Delight (very true to its name) was located across from the casino, it's still there! The 8 hour drive down from Shipwreck Lodge (some of it literally on the beach) meant I wanted to stretch my legs and explore downtown Swakopmund rather than lose more at the casino. So off I went for some shopping and browsing. It's a very friendly little town, lots of little tourist and craft shops, I was sweetly directed back to my hotel with some basic Afrikaans by several people, after having got completely lost in my retail reverie. I did make it back in time for our dinner reservation at The Tug and enjoyed incredible oysters and calamari. You feel like you are practically sitting in the ocean here, wonderful place right off the pier.
Not wanting the trip to end with our final long-ish drive the following morning to Windhoek, I'd decided to extend my stay in Namibia with 2 nights at Omaanda. This is a lovely resort about 45 minutes away from the center of Windhoek, and the airport. In my mind, a perfect ending to a long road-trip, or the perfect beginning after a long flight from the US. The heated pool, the food, the spa, the views over the waterhole, and the extremely comfortable and well appointed cottages all made my stay here the cherry on top of a wonderful trip. I literally saw about 18 rhino on the one game drive I did there, so it's filled with wildlife. But honestly, it's also a place you can just relax and enjoy the birds, butterflies and giraffe from the pool deck.
Many thanks to our Namibia partners Ultimate Safaris for hosting me and Andrea Hugo for putting the trip together! Call or email us if you too want to adventure in Namibia!