In Tanzania the migrating herds of zebra and wildebeest are moving north in the Serengeti, the youngsters are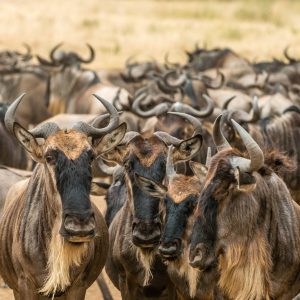 all steady on their legs and enjoying an abundance of fresh grass with the first of the long rains. The rains are still coming down in parts of southern Africa this year, so birds and butterflies are rejoicing and everything is lovely and green.
Botswana cools down this month, making for some gorgeous ethereal mornings with mists over the Okavango Delta. Impalas actually become quite exciting to watch, as it is rutting season for the males, so lots of snorting and clashing of horns day and night. Fruit trees are in bloom throughout the continent, making for some very happy baboons, vervet monkeys, birds, elephants and other fruit loving species. It's even breeding season for the crocodiles, as they too make the most of this time of plenty.
The dry season begins to set in throughout southern Africa and you can benefit from some excellent "shoulder season" pricing with lovely warm, dry weather. In many cases you can save more than 30% off your safari price without sacrificing the quality of your game viewing. The wildlife is at its most photogenic this time of year, with plenty to eat and many little ones by their side! More tips on how to make your safari more affordable …
In Zimbabwe and Zambia, the lower Zambezi Valley is seasonally open again to safari go-ers.  Diane first visited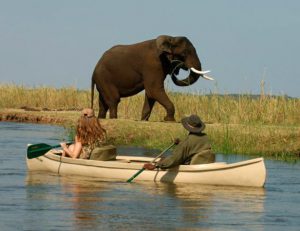 Mana Pools in 1990 and considers this place her 'little bit of heaven'; we invite you to visit to see why! Wilderness Safaris recently re-opened Chikwenya Camp,  a photographer's paradise with views over an open floodplain and the expansive Zambezi River, with a backdrop of the Rift Valley escarpment.
April is the best month to visit The Seychelles, the ocean is warm,  and the trade-winds are quiet, making snorkeling and diving conditions absolutely perfect. So if you're looking for a beach holiday, aim a little further out from Africa's mainland in April, as the coastal areas of Kenya and Tanzania are likely to be a little wet this time of year.
 2019 April Festivals and Events to Keep in Mind …
7 April — Rwanda began a 100-day mourning period in commemoration of the twenty-fifth anniversary of the Rwandan genocide, in which some 800,000 people were killed.  Rwandans will mourn for 100 days, the time it took in 1994 for about a tenth of the country to be massacred.  Rwanda's president said the country had become "a family once again".
18 April — Andrea Bocelli is performing in Johannesburg and in Stellenbosch, South Africa (April 22). 
19 April — Trek Mount Kilimanjaro and summit during the full moon in April.  Read one client's account of his amazing experience. What was your most memorable moment in Africa?  Sitting at basecamp and thinking about reaching the summit of Kilimanjaro the day before we hiked up was a great moment too. Having the realization of how far I was from home and what I was getting to do. Such a great moment of appreciation.
20 April — Two Oceans Marathon is an annual race taking place in Cape Town on Easter Saturday. The maximum distance is a 56-km (35-mi) ultra marathon. But there is also a possibility to run a 21-km half-marathon course, along with Fun Runs, Trail Runs, and a Relay. The runners come from 80 countries. All in all, the event draws 120,000 visitors on Easter weekend alone.
22 April — Earth Day is one of our collective favorites! A day filled with events worldwide that are held to demonstrate support for environmental protection. What will you do?
29 April – 5 May  — AfrikaBurn – South Africa's Burning Man Festival held in the Karoo. Join your fellow creative participants who gather once a year in the Tankwa Karoo to build a temporary city of art, theme camps, costume, music and performance!