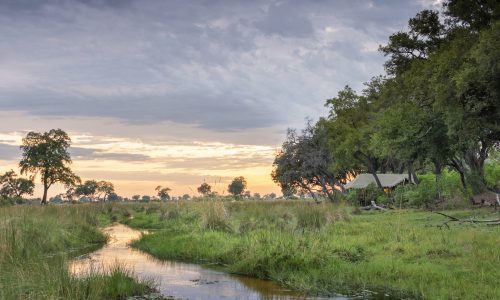 As the peak summer safari season in southern Africa is just about to begin, we thought it timely to look forward to summer in Africa (December through March) as you think about finally getting away from it all.   These "emerald" or "green" season months have so much to offer for those of you looking to escape the cold, gray days of winter for the warmth of the African sun.  The rains may bring cooler weather and dramatic skies, but don't worry, it never rains for very long. You'll still have plenty of sunshine every day, enjoy it all without the crowds and with an ever- increasing choice of competitive airfares and highly discounted accommodation rates, there isn't a better time to book a trip to the region.  Read on to find out why the "green season" is secretly our favorite season to go on safari … and book your own green season safari with us now.
In summer, Botswana, Zimbabwe and Zambia become a productive wildlife paradise interspersed with vibrant floral displays and a kaleidoscope of colors.
There's an explosion of new life: many species give birth to their young.  The birthing of multiple antelope species and zebra in particular makes for interesting predator-prey interactions and provides the perfect opportunity to observe and photograph the funny and entertaining antics of the young learning to take their first steps or forage on their own for the first time.
Predator sightings are frequent as they take full advantage of the abundance of inexperienced younger prey – and sightings of these felines (lion, leopard, cheetah) and canines (wild dog, hyaena, jackal) are frequent.
It's hands down the best season for birding. Several bird species display their breeding plumage and many migratory species are present, such as vibrant kingfishers, magnificent Pel's Fishing Owl, vocal cuckoos and colorful bee-eaters.
The incomparable Ngamo Plains in Hwange National Park practically guarantees concentrations of wildebeest, zebra, giraffe, waterbuck, impala, kudu and even herds of eland numbering anywhere from 20 or 30 animals to over 100.
Brief afternoon thunderstorms create a dramatic backdrop for some of the best summer wildlife viewing on the continent.
Floodplains exposed by the receding Okavango Delta waters draw grazers (zebra, wildebeest, buffalo) from the surrounding woodland onto the open plains. Animals with their young, feeding in these open areas, makes for excellent photographic opportunities coupled with rich landscapes and dramatic summer skies.
Increased water levels in the Zambezi River thunder dramatically over the Victoria Falls, creating a spectacle  of sheer magnificence and power, all amplified by its legendary cloud. All who cross Knife's-Edge Bridge to view the Rainbow Falls section have a free "baptism" of fine rain…
Summer mornings are exceptional.   Temperatures are perfect for warm pre-dawn starts to the day and late afternoon excursions culminating in those magical sundowner stops; it's also perfectly pleasant for star-gazing.
There is also a variety of safari activities available from wilderness walks to game drives as well as boating, canoeing and mekoros.
The summer months offer very attractive rates (up to a 40% discount!!) to encourage safari-goers to experience Botswana, Zimbabwe and Zambia's wildlife and outstanding wilderness reserves at this time of lush landscapes and abundance.
The diversity and excitement of wildlife births and interaction as well as the scenery experienced during this season is awe-inspiring.
Now is the perfect time to plan a winter getaway … to summer in southern Africa. We can help you take advantage of the best rates and savings available while retaining the best quality guiding, lodges and safari  activities.