A little more than 30 years ago I arrived in Africa for the first time.  I came to visit friends living in Harare, Zimbabwe – having decided to take an extended holiday from the bright lights and big city of New York.   Within days I booked myself on a 10-day canoeing expedition with Goliath Safaris, a safari company owned by professional guide, Stretch Ferreira.  Not having any idea what I had gotten myself into, I was more than a little surprised arriving at the departure point to learn we were traveling the 7 hours to the Zambezi Valley in a 10-ton Bedford truck.  The journey became a footnote to the most memorable encounter with wilderness and wildlife I could have possibly imagined – and the beginning of the life-changing adventure that turned my vacation into my vocation.   So, it was only fitting that during this tumultuous time I returned to my 'African roots', Mana Pools, and had the privilege to be in the company of the gentle safari giant, Stretch Ferreira.
After a thoroughly COVID compliant check-in at Harare Airport, we boarded our private charter for the 45-minute flight to Mana Main airstrip.   We were met on arrival and taken by safari vehicle into camp, a short 20-minute game drive.  Temperatures were taken, hand sanitizer dispensed and COVID protocols reviewed, all against the magnificent back drop of the Zambezi River and floodplain.  Remote, pristine, calm, peaceful, stunningly beautiful = about as far removed from coronavirus concerns as you could imagine.
Over the next three glorious days, we spent hours exploring the surrounding bush, primarily on foot.  While walking safaris are generally an opportunity to appreciate the flora and smaller creatures of the bush, for Stretch, it's all about respectfully interacting with wildlife … up close.   I was completely captivated observing him interpret tracks, calls, winds, temperature and then charting our path to locate elephant, lion and wild dog.  Stretch has been operating in this same concession within Mana Pools National Park for 37 years.   It is no exaggeration to say that he knows every kilometer of this land – and many of the elephant and lion that inhabit this domain.  And over the course of the last three decades, the elephants have come to know him as well.   I can assure you that no one has more appreciation and respect for the fact that wildlife is wild and can be unpredictable, but the wealth of knowledge and years of literally living with these animals has given Stretch an intuition that is truly remarkable.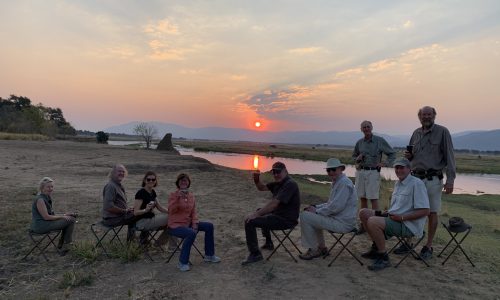 Of course, we enjoyed all the safari rituals that never cease to surprise and delight, including a mid-morning tea break with freshly brewed coffee, scones, muffins and toasted sandwiches and the classic sundowner at a carefully chosen lookout point where your G & T has never tasted better.   Our tents were spacious, comfortable and very well designed including my personal favorite, a perfect outdoor shower.  In the off season, Stretch and his lovely and talented wife, Adrienne tend a prolific organic garden, supplying many of the restaurants and food markets around Harare.   Therefore, camp guests are assured of delicious, home cooked food featuring fresh vegetables and salads – and plenty of it!    While there is certainly nothing to fault the ultra-luxury safari accommodation and gourmet food that seem to have become the norm, I loved the simplicity, the authenticity, the warmth and naturalness that are characteristic of this 'old school' safari camp.
But most of all … being in this place, at this time, with these friends took me back to April 1990 when I slept on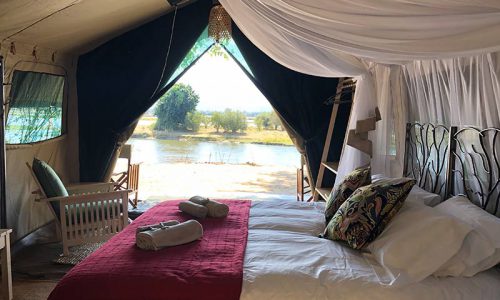 the banks of the Zambezi River with nothing more than a sleeping bag and a mosquito net filled with wide-eyed wonder about the wilderness and wildlife around me.   Having the opportunity to spend these several days, in the company of Stretch, exploring the forest and floodplain, without an agenda, a checklist or any expectations – just letting the experience unfold, has been a welcome reminder of what has motivated me to want to share the remarkable experience of safari with others.
This has been a challenging year in so many ways for so many of us.   I am grateful to have the opportunity to experience the restorative energy that nature can provide and encourage you to consider joining us on safari to find your own reassurance in this beautiful corner of the world.