Known affectionately as the "Mother City", Cape Town has grown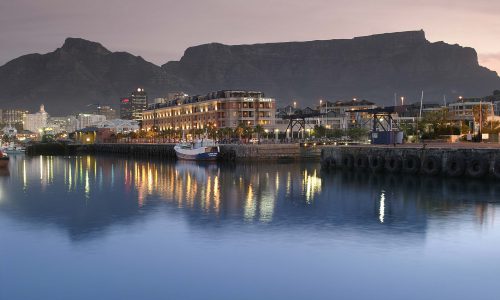 from a small settlement (once only intended as a supply stop for the ships of the Dutch East India Company) to a stately capital, an outdoor adventurer's paradise, renowned wine region, gastronomic epicenter, and the first World Design Capital from the developing world. Needless to say, there is something for anyone at any time, so we enjoy crafting your (typically way too short) visit with some very unique touches. The list is endless, but here are a few:
Enjoy the sights, sounds and smells of the Bo-Kaap, the oldest suburb in South Africa. This heady mix of culture, customs and cuisines originated when Dutch colonists brought slaves from Indonesia, Batavia, Malaysia, India and Africa. Your walking tour might include stops at the Bo-Kaap Museum, Auwal Mosque, Atlas (Cape Town's famous spice shop), the Bo-Kaap Hub, (a living heritage museum), or a local home to enjoy a cup of rooibos tea or lend a hand making a few Samosas.
Join Christo Brand, Nelson Mandela's former prison guard and friend, for lunch. Author of "Doing Life with Mandela", he shares the unique story of how he met our Madiba, how their relationship developed through mutual respect and trust, and how they stayed in touch until Mandela passed away. Follow the Footsteps To Freedom with our friend Garth Angus who uses the bustling streets of Cape Town, old buildings and squares, people and places as props to develop the story of Dutch and British rule, slavery and apartheid, freedom and democracy.
Uthando, (meaning love in Xhosa), is a unique non-profit based in Cape Town, fundraising in support of several life changing community development projects in the townships and beyond. Very importantly, these projects are not designed as tourist attractions. The tours are led by founder James Fernie, entirely unscripted, and the itineraries vary according to the resident's events and programs of the week
Explore Cape Town on a food tour guided by a qualified chef and food critic. The City Bowl tasting experience is a leisurely walking tour featuring food and drink tastings around central Cape Town, from the more popular to the obscure and from traditional cuisine to modern. You will also gain insight into the local social scene and get pointers on restaurants and bars you may want to visit later. Come Hungry. Your taste buds will thank you!
Cape Town is living up to her reputation as an ideas and creative city. Take in the top art galleries of the City Centre, V&A Waterfront and Southern Suburbs with an expert art guide. The focus is your call, and the options are endless: painting, sculpture, design, photography, printmaking, ceramics, and architecture. From historical collections to trending contemporary exhibits or even specific artists. You could opt for the edgier art areas of Cape Town such as the mural art project in Woodstock, or simply lose yourself in the celebrated Zeitz Museum of Contemporary Art Africa.