At African Portfolio, our passion for Africa is the source of our dedication to curating personalized, once-in-a-lifetime experiences throughout the continent. After living, traveling and working in Africa for decades, we have also curated our own list of Seven Wonders from a multitude of marvels:
Table Mountain, South Africa:
Cape Town, South Africa's "Mother City", lies nestled between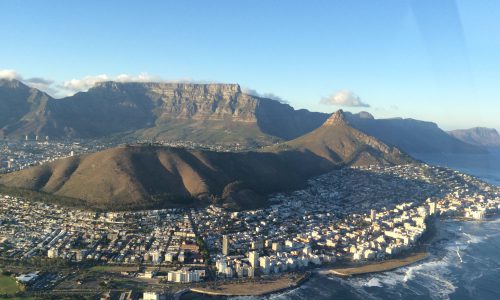 Table Mountain and Table Bay. It is truly one of the world's most gracious and lovely cities. The city is framed on three sides by the Atlantic Ocean, the spectacular Table Mountain and the craggy Twelve Apostles. Many of our clients start their adventure in Cape Town, beneath the iconic Table Mountain. Ascend this flat-topped wonder via a scenic cable car ride or venture on foot for breathtaking panoramic views of the city and the sparkling Atlantic Ocean.   Walk or hike through the diverse flora and fauna of the Table Mountain National Park, a UNESCO World Heritage Site. Or take in a picture-perfect sunset from atop the mountain, as the sky turns to many shades of orange and pink.
Victoria Falls, Zambia & Zimbabwe:
Standing at the border between Zimbabwe and Zambia, this
breathtaking cascade of water plunges into the Zambezi River with amazing force. Victoria Falls is known locally as Mosi-oa-Tunya or the "Smoke that Thunders. Take a guided tour of the falls, feeling the spray of the mighty waters on your face as you walk through the rainforest trails. For an adrenaline rush, take a thrilling helicopter or microlight flight over the falls, providing a bird's-eye view of this natural wonder. You can choose accommodation from a hotel in the center of town to luxurious lodges situated on the riverbank, where you can wake up to stunning vistas of the Zambezi River. Begin your day with adrenaline fueled activities and end your day with a peaceful river cruise.  There is something for everyone at Victoria Falls.
Ngorongoro Crater, Tanzania:
Descend into the Ngorongoro Crater, a UNESCO World
Heritage Site, for an unparalleled safari experience. Surrounded by very steep walls rising 610 meters from the crater floor, this natural amphitheater covers an area of about 100 square miles, and is home to some 25,000 larger mammals, almost half of them zebra and wildebeest, but also including the rare black rhino. Explore the landscape of this volcanic caldera on extended game drives. Stay at beautiful guest houses in the surrounding Ngorongoro wilderness area or neighboring coffee farms or at tented camps and lodges, perched on the Crater rim offering spectacular views of the breathtaking scenery.
Okavango Delta, Botswana:
The Okavango Delta is formed from rains that fall over 600
miles away in northern Angola. This life-giving moisture travels down the Okavango River and spills out onto the Kalahari Desert creating the world's largest inland delta. Discover the tranquility of the Okavango Delta, a lush oasis teeming with wildlife and natural wonders. Glide silently along narrow water channels on a traditional mokoro canoe safari, guided by expert polers who share their first hand knowledge of the ecosystem. Stay in deluxe lodges or luxury tented camps, where you can enjoy all the creature comforts amidst the surrounding bush. Embark on exciting game drives and walking safaris to encounter lions, elephants, plains game and a myriad of bird species in their natural habitat.
Great Rift Valley:
The Great Rift Valley is one of the most dramatic features of the
planet, stretching some 3600 miles from the Dead Sea in Jordan to Mozambique in the south. In Kenya, the Rift Valley starts at Lake Turkana in the north and crosses the center of the country to Lake Natron just across the southern border into Tanzania. It is up to 60 miles wide in places and features cliffs, escarpments, rivers and arid plains, which support an amazing diversity of fauna and flora. The Rift Valley's system of deep freshwater lakes includes Lake Nakuru, Lake Naivasha and Lake Baringo. Enjoy game drives and wilderness walks through the dramatic landscapes and encounter unique wildlife, including flamingos and rhinos. For an immersive cultural experience, visit local communities and learn about their traditions and way of life.
The Bazaruto Archipelago, Mozambique:
One of the most popular tourist areas in Mozambique is the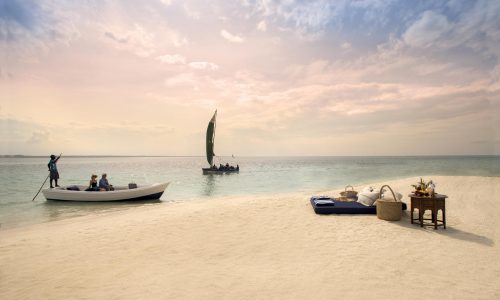 Bazaruto Archipelago consisting of four islands – Bazaruto, Benguerra, Margaruque and Santa Carolina. Activities on the islands revolve around every form of motorized or non-motorized water sports including water skiing, parasailing, and wind surfing. Deep sea fishing expeditions, and rock, surf and fly fishing are also on offer. Dive into the crystal-clear waters to discover beautiful coral reefs and an array of marine life, including colorful fish, dolphins, and turtles. Relax on powdery white beaches, bask in the warm sunshine, and let the gentle ocean breeze wash over you. Stay in exclusive island resorts, where barefoot luxury awaits.
Namib Desert Skeleton Coast, Namibia:
Venture into the surreal landscapes of Namibia's Namib Desert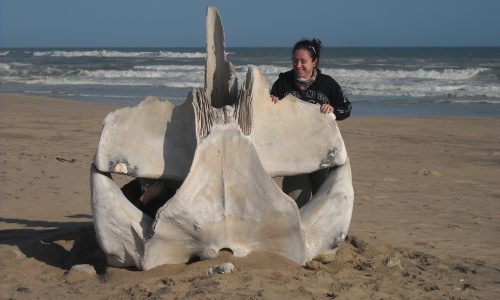 and the Skeleton Coast. Sossusvlei is one of the most remarkable sights in the Namib-Naukluft Park and the Namib Desert. Huge towering dunes, said to be the highest in the world, rise dramatically over 1000 feet above the surrounding plains at Sossusvlei, a huge pan set amid red sand dunes. The Skeleton Coast is one of our planet's most beautiful places. It is wild, desolate and uninhabited…and stunningly beautiful. The area has everything, from soaring sand dunes that roar, wonderful vast, pastel-colored plains, towering canyons and mountains, salt pans to seal colonies to shipwrecks. This coastline is so named for the many skeletons of shipwrecks and whales that dot the treacherous coast of this park.  Stay at luxury desert lodges that blend seamlessly into the surrounding environment, offering breathtaking views of the desert and its fascinating wildlife. Explore the many shipwrecks and desert-adapted wildlife, experiencing the untamed essence of this extraordinary region.
At African Portfolio, we are dreamers, adventurers, and
romantics dedicated to crafting unique journeys that resonate with you. Each wonder of Africa offers distinctive features and experiences, and our mission is to weave together the perfect itinerary that fulfills your dreams. As responsible travelers, we emphasize low-impact travel, ensuring that your journey contributes to the preservation of Africa's pristine wilderness and the well-being of its people.