Tanzania has long enjoyed a reputation as one of the
world's best wildlife destinations and with good reason.  It offers a variety of wildlife experiences, seen in stunning landscapes. Visitors can enjoy outstanding safaris, and see a diverse array of wildlife, guided by highly qualified Tanzanian guides and enjoy stays in remote, luxurious accommodations.  The northern circuit is still the most popular and thus can be very busy especially during the peak season periods.   
Visitors split their time between the National Parks, game reserves, conservation areas and private concessions, including the world-famous Serengeti National Park and Ngorongoro Crater, as well as lesser known, but equally exciting Tarangire National Park and Lake Manyara National Park.  The goal of the parks is simple – protect the wildlife and the ecosystems within which they dwell. Their proximity to each other makes transfer times very reasonable and accessible both for an overland safari, traveling with a private vehicle & guide, or for guests who prefer to fly between lodges, where they will enjoy shared game drives with the experienced lodge guides. 
My visit to survey our trusted partners at the end of February happened right before the Covid pandemic
closed the world (and before social distancing measures were in place) though both Nairobi and Kilimanjaro airports were taking temperatures on arrival at that time.  
The safari journey began on arrival into Tanzania's Kilimanjaro airport. There was no peek of the eponymous mountain, Africa's highest peak, who is notoriously shy, but the arrival process was very simple – after passing through customs, the meeting point is just outside the terminal building.  (We do recommend applying for the Tanzania visa online and will send instructions with our final documents). 
In a post-Covid world, Kilimanjaro has increased their already stringent health protocol.  At the time of writing, Tanzania's requirements for entry are guided by the airline you are traveling on and your country of origin. Visitors have their temperatures checked, the initial hand sanitizer station is before you even enter the building, and you will be asked for your yellow fever certificate. Once your luggage is in hand, it is a 45–minute drive into Tanzania's "safari capital", Arusha. I overnighted at Arusha Coffee Lodge and loved the privacy of the individual plantation rooms and suites all set amongst the coffee plants.  The property is also home to the wonderful Shanga Foundation. Travelers continuing by air have a short, ten–minute drive to the Arusha airstrip. 
The next stop was Tarangire National Park which has the
highest population density of elephants in Tanzania, as well as buffalo, giraffe (I saw at least 40 on my first day!) and its sparse vegetation, strewn with baobab and acacia trees, makes it a beautiful and distinctive location to visit.  There are number of wonderful properties to choose from – on this trip I spent time at Tarangire Tree Tops, the first stop on our Great Rift Valley itinerary and Chem Chem Lodge.  Both are located on private conservancies, offering a lovely variety of activities including bush walks and night drives.  The sundowner spot at Chem Chem overlooking Lake Manyara was magical as the sun set while we watched the local fishermen head for home. 
Lake Manyara National Park's location, below a steep escarpment, offers diverse landscapes and wildlife.   You'll enjoy stunning views through woodland and across the lake – where you might be fortunate enough to see the huge flocks of flamingos.  Elephant, baboons, monkeys, antelope and many other animals make their home here – if you are lucky you might even spot the famous tree climbing lions!  It's a perfect spot to spend a half day, perhaps with a picnic lunch, before continuing onto Karatu and the Ngorongoro Crater region.   
Ngorongoro Crater is one of Africa's most famous sites and is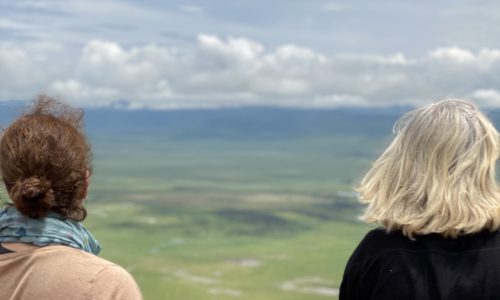 said to have the highest density of wildlife in Africa.  Sometimes described as an 'eighth wonder of the world', the Crater has achieved world renown, in part due to the dramatic environment, as evidenced when you first stand on the Crater rim (which is at about 7000 feet). From this point it's possible to make out the tiny animals making their way around the crater floor below.  While you will likely see many other vehicles, you are also guaranteed great wildlife viewing, as the Crater is home to approximately 30,000 animals.  The rich volcanic soil, lush forests and water sources on the crater floor (combined with steep crater sides) means that wildlife tends to remain in the crater most of the year.  We spent a full day in the crater, enjoying a picnic lunch overlooking one of the waterholes – at one point we could see lion, elephant, buffalo AND rhino at the same time, which was a highlight! 
Travelers have the option of staying in Karatu (take advantage if you are there on market day) at one of the wonderful lodges on the edge of town, such as
The Manor at Ngorongoro or Gibb's Farm, both offering wonderful views across coffee plantations.  Alternatively, continue up to the Crater rim, where properties on the Eastern rim have early access to the crater via a small access road.  I visited Lemala Ngorongoro, an authentic bush style camp with bucket shower, and the new, Lion's Paw, where we enjoyed a magical sunset.  For the wow factor, the andBeyond Ngorongoro Crater Lodge offers dramatic views and very luxurious, yet eclectic accommodations, part of Tanzania's Treasures.  I also spent a night at Nomad Tanzania's Entamanu Camp – it is a little off the beaten path, but its remoteness is part of the charm. We'd recommend a third night if staying here, to enjoy a crater rim walk or visit to the local community in a traditional boma, as featured in our Leisurely Tanzania Itinerary. 
And then it was off to the world famous Serengeti National Park for a final few nights before heading to beautiful Zanzibar for some beach time.  The park is famed for nature's great phenomenon, the annual
migration of the millions of wildebeest and zebra.  In February/March, the herds still tend to be in the Southern Serengeti, as the birthing season ends, though the park is known for its excellent resident game viewing no matter where you are staying.  I spent time in Ndutu, at Serengeti Under Canvas and Serengeti Sojourn, at Serengeti Pioneer Camp and Lemala Nanyukie in the Central Serengeti and at Namiri Plains in the Eastern Serengeti offering a great contrast between these regions at this time of year. If time and budget permit, we'd recommend splitting your time between two different areas of the park and are happy to guide you based on the season you are traveling. Our Luxury Tented Safari and Authentic Tanzania itineraries highlight some of these suggested combinations. 
There were so many wonderful highlights – as always the warm welcome from the people of Tanzania, including our cheerful and knowledgeable guide, Elia, is front and center along with the African sunsets, enjoyed with a G&T in hand!  Our local colleagues at the camps along the way offer outstanding service.  My favorite moments were the farm tour at Gibbs Farm, the bush walk and sundowners at Chem Chem , the ginger welcome drink at Serengeti Under Canvas, walking with the Maasai at Entamanu and so many wonderful meals along the way! 
The wildlife highlights are so difficult to pick. Getting up close with the elephant bulls at Little Chem Chem with one definitely looking me in the eye was a thrill.  Another was the morning that we took our breakfast on the road and were rewarded with first seeing a large clan of agitated hyenas, followed shortly thereafter by the source of their nerves, a pride of lions enjoying their zebra breakfast!  The early hour ensured that we were the only vehicle at the sighting.  On our final game drive in the Serengeti, at Namiri Plains, we sighted a beautiful cheetah and her five cubs!  It was fascinating to watch the mum allow the cubs to practice their hunting skills as they chased a scrub hare – the poor hare sadly did not get away.   
In closing, January – March in Tanzania is a delight.  Good weather, excellent sightings, lots of baby animals and smaller crowds. If you are considering a safari for early 2022, now is the time to start the planning process.