As we celebrate our 30th year of planning dream safaris, the team asked Diane to look back on how it all began and give us some insight into the future.
How did you get started? 
A chance encounter with a Zimbabwean, while attending a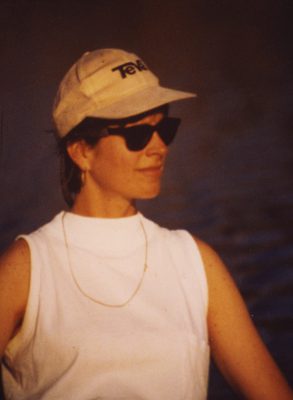 conference in New York, began my journey down the road less traveled. Years later that fateful meeting resulted in my first visit to Africa in April 1990.  What was meant to be a three-week holiday ended up as a five-month adventure. On that trip, I completely fell in love with Africa and was determined to find a way to share my life changing experience with others. I resigned from my 10+ year career in management consulting, rented my NYC apartment, packed up my belongings and moved to Zimbabwe to pursue my passion. What began as a vacation became a vocation. For the past 30 years, I have 'commuted' between New York and Africa, using my home in Zimbabwe as a remote operations office and as a base to explore the lodges, camps and activities we recommend to travelers.
Do you remember the very first itinerary you created for a client? 
Absolutely – it was the first of many successful trips based on what
was then known as the 'milk run' in Zimbabwe. The itinerary started in Harare, including a city highlights tour and an overnight at the historic Meikles Hotel. Air Zimbabwe provided daily local service from Harare to Kariba to Hwange and onto Victoria Falls, returning to Harare. It made for a brilliant safari circuit incorporating the highlights of safari in Zimbabwe. We would include Fothergill Island or Bumi Hills Safari Lodge in Kariba; The Hide or Makalolo in Hwange; and Ilala Lodge or Victoria Falls Hotel in Victoria Falls.  They were simple itineraries offering amazing wildlife experiences, with some of the continent's best guides, incorporating a variety of safari experiences from day and night game drives, boat and canoe excursions and wilderness walks. This was the cornerstone of the company's early success.
You've been to so many places, what's your favorite? 
Of all the places I've had the good fortune to visit in Africa,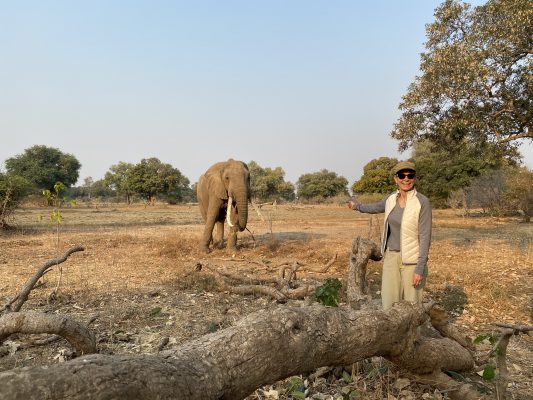 my little bit of heaven will always be Mana Pools. On my first trip to Zimbabwe, the friends I was visiting thought I needed to unwind from my fast-paced New York life, so they booked me on a 10-day canoe safari from Chirundu to Kanyemba with Stretch Ferreira Safaris. In the early hours of the morning, we set off on an overland road transfer from Harare to Chirundu in a Bedford truck. Many, many hours later we arrived on the banks of the Zambezi River as the sun was setting in the purple and orange sky — and I knew that was where I was meant to be.
Memorable moments? 
One of my first safari experiences included a visit to
Gonarezhou National Park, in the southeastern corner of Zimbabwe. I had the privilege of being hosted and guided by international award-winning conservationist and private guide Clive Stockhil. He grew up amongst the Shangaan local people, and his pioneering work with the local community became the template for the integration of community and conservation – since replicated thousands of times across Africa – with incredible success. My visit to Gonarezhou was an early education in the critical role of the local community in conservation, about the beauty of the natural landscape and the richness of wilderness experience beyond the 'Big 5" wildlife.
In my career, being named by National Geographic Traveler as one of the "Best Adventure Travel Companies on Earth" was a milestone. We continue to be incredibly
proud of this distinction and equally so by Fodor's recognition of African Portfolio as a top-rated tour operator. In their words "If you're a responsible traveler who wants to plan an African safari, you should work with one of these top-rated tour operators. African Portfolio's team members visit each in-country operator annually and are on a first-name basis with the managers of the properties they use. They pride themselves on discovering the best places, whether they're hidden gems, up-and-coming properties, or well-established classics. With each client, they're committed to providing a safari reminiscent of what captivates them about Africa. Their mission is to provide unique and memorable experiences through nature-based travel that educate, entertain, inspire, and provide participants with opportunities to directly contribute to conservation."
What are your favorite safari experiences? 
There is no doubt that a canoe safari will forever be one of my
all-time best safari experiences ever. I have been lucky enough to go on multiple 'traditional' canoe safaris with some of the legendary safari guides including Dave Christensen, Ivan Carter – and their mentors, John Stevens and Garth Thompson. Our camp would be set up along the edge of the Zambezi River, a delicious dinner would be cooked over an open fire, we'd watch the 'bush TV' and listen to tales of the guide's safari adventures – pure magic.
During my 30 years on safari in Africa, I would rate gorilla tracking as one of my top 5 most memorable experiences. I traveled on an extensive 12-day overland safari through Uganda, which included a visit to Bwindi Impenetrable Forest, a sanctuary to the country's mountain gorillas. It's hard to describe the impact of coming face to face with these gentle giants after an arduous trek through the rainforest. Even all these years later, I will never forget the anticipation, excitement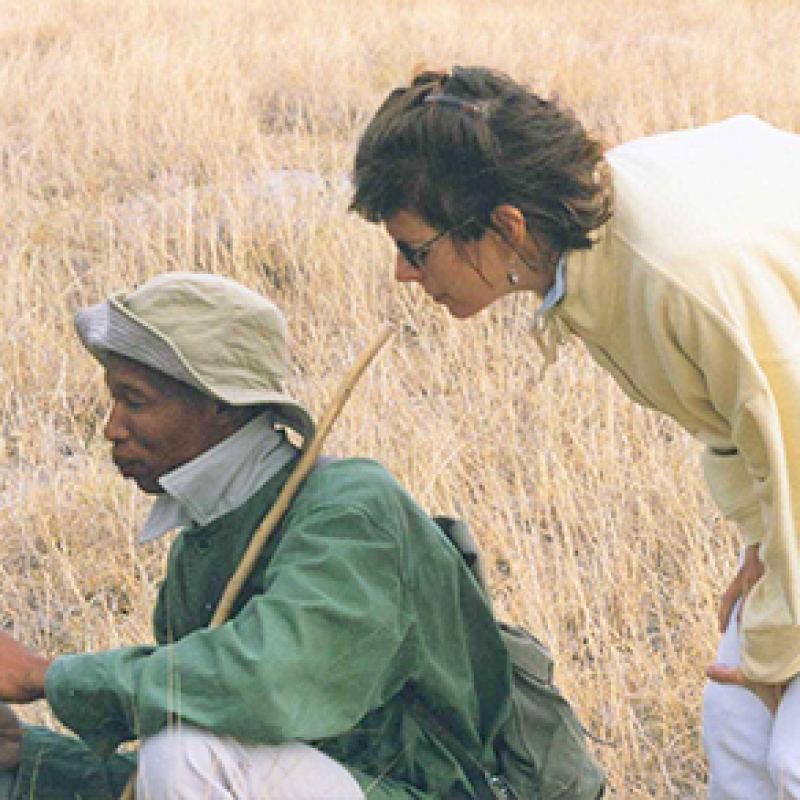 and awe. We first passed the cluster of nests on the ground where they had spent the night before. And then we came upon the family as they had moved into the forest to forage. For an hour we watched the gorillas intently, as they swung wildly from branch to branch, tussled, squawked, threw each other from the trees, and thumped their chests.
While not technically a safari experience, one of my most memorable visits was to Mnemba Island, off the north coast of Zanzibar. It is simply dreamy, a barefoot paradise – absolute bliss in every way. If you go, don't skimp on your time there. I recommend a minimum of 4 nights – 6 is much better 😊.
Where do you see yourself in 10 years? 
Traveling, of course! But I also plan to spend more time pursuing
my desire to continue to make a difference in the lives of the people of Africa, literally one life at a time. We have always been very cognizant of the impact safari tourism has on the everyday lives of local people and communities.  The tourism industry is a major provider of jobs and services throughout Africa, often in areas that would otherwise struggle to find employment opportunities. It has truly been a privilege to work in this industry and to be motivated by constantly striving to improve our relationships with our friends and colleagues all over Africa. My personal circumstances of being a bi-coastal commuter (between New York and Zimbabwe), inspired me to expand our reach and support my local Harare community by funding the academic and trade education of some 30 – 40 children and young adults.  I strongly believe the future of Africa's people depends on ensuring the children flourish academically or in a sustainable trade. I hope to spend some of my time and energy continuing to pursue this passion.