There's been no bigger boom in family travel than multi-generational trips.   Sometimes nicknamed "3G" vacations, as they usually involve three generations of a family, multi-generational safaris have been popular with our clients and even more so now than ever.  It's easy to see why: a safari is the perfect opportunity for family members, who often live far apart, to have a unique, shared experience in a magical setting, without the distraction of devices — and where someone else does the cooking, the cleaning and even the driving!
An added advantage is that safaris are generally all-inclusive and exclusive so you'll have your own private space and won't be surprised by unexpected or unpredictable costs.
So, whether you're celebrating a special birthday or anniversary or simply wanting to enjoy some time in nature together to reconnect and create life-long memories, here are our tips for making the most of your multi-generational safari.
1. Discuss everyone's requirements first
Some itineraries in both southern and East Africa can involve short hops on small aircraft, which may not be for everyone.  Others may balk at the prospect of long car rides between camps.  Accommodations range from comfortable but basic tents to ultra-luxurious lodges.   Sound out all the members of your party before you start planning the itinerary.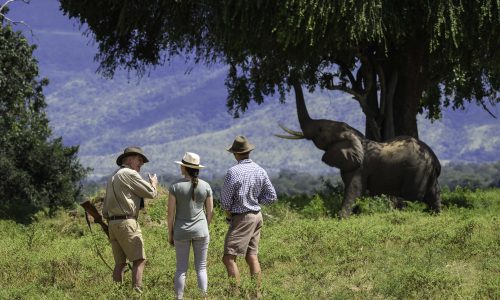 2. Mix up your activities
Younger kids and even young adults might find twice-daily game drives too much, so vary your routine with other activities, such as bush walks, bird-watching excursions, hot air balloon rides or even bungee jumping for more intrepid members of the group. Let teens sleep in and miss the early morning game drives or with a private guide and vehicle you can have much more flexibility with the timing of your activities.   Ensuring the safari lodge has a swimming pool is an important consideration if you're traveling in summer with energetic kids.
3. Don't hop from camp to camp too much
It's tempting to cram in as many destinations as you can, but too much packing and traveling will cut into family time and can lead to added stress as well.    Now more than ever, we recommend you spend a minimum of three nights at each place.  Remember that you'll be dealing with jetlag at the start of your trip too.
4. Don't forget the big and little five
Spotting the Big 5 on safari is a highlight for many guests.  However, while these animals are magnificent and exciting to spot, there is so much more to see and learn. Children, in particular, are often enthralled by the smaller species and creepy-crawlies such as lizards and dung beetles.  Learning about the Ant Lion can be just as fun as watching a pride of lions and learning about the ecosystem teaches children to be responsible and eco-sensitive citizens of the world.
The Big Five
The Little Five
1. Lion
2. Leopard
3. Elephant
4. Rhino
5. Buffalo
1. Ant Lion
2. Leopard Tortoise
3. Elephant Shrew
4. Rhino Beetle
5. Red-Billed Buffalo Weaver
5. Add on a trip to the beach or city
Depending on your time constraints and priorities of your group, adding some non-safari time can make for a more enjoyable trip.  Many of our clients include a visit to Cape Town if they're in South Africa, or Victoria Falls in Zimbabwe.  Kenya and Tanzania are close to some amazing Indian Ocean beach resorts, too.  Safaris can be quite intensive, with lots of early mornings so it can be really nice to unwind together after the more structured days on safari.
6. Book as far in advance as possible
Lodges and camps are often beautifully small and intimate – but that means that finding accommodation for your whole group is tricky, especially in the high season. Plan as far in advance as you possibly can so that you don't have to compromise on your first choice of destination or accommodation.  If traveling during peak holiday season or the summer months of June, July and August, planning your travel at least 12 months in advance is not too soon.
7. Book your own vehicle for game drives
Some camps may even require you to do this, especially if you have younger kids, but it's worth making sure it happens for a smaller group of adults as well. This way you'll be able to go completely at your own pace on your game drives, spending as much or as little time at a sighting as you like.  You can also share stories and comments with each other without worrying you're annoying the other passengers in the vehicle.
8. Choose a malaria free destination
If you have young children and aren't keen on giving them anti-malaria medication, or have older folks who are unable to take the medication, opt for a safari in a malaria-free area in South Africa.   Reserves we recommend include Madikwe, Waterberg and Welgevonden, the Eastern Cape and Kwazulu-Natal.
9. Choose a lodge with a good kids' program
Some lodges are more genuinely child-friendly than others, and the best ones are phenomenal – they'll entertain and educate your kids, leaving you with time to relax (or even nip off for a spa treatment!). Ask about interconnecting and family rooms, too.  Some of our clients' favorites are named as follows but as more and more families are choosing safaris as their holiday of choice, our list is growing so give us a call to discuss what might appeal to you.
Machaba Camp, Little Vumbura, Chitabe Lediba, and Xakanaxa are all great camps for kids in the Okavango Delta.
Saruni Samburu and Saruni Wild in Kenya do a fantastic job hosting children (click here for Anouk's trip report on her visit to Saruni) – also Lewa, Olonana, Tortilis, and Mara Bushtops.
African Bushcamps has a dedicated child program called The Cub Club which is focused specifically on educating and entertaining your children in an interactive way and is available at all their child-friendly camps including Linyanti Ebony and Somalisa Acacia.
&Beyond's WILDChild programme, designed especially for children visiting their safari lodges and camps in southern and East Africa, is filled with fun, interactive activities that offer opportunities to learn and discover new experiences and cultures.  For example, at &Beyond Sossusvlei Desert Lodge in Namibia, kids may experience stargazing as well as Bushman games that teach them the culture of the region, including how to find food and water in the desert.
10. Take exclusive use of a safari lodge
Exclusive use villas and multi-room lodges have been welcome additions to many of the safari properties we work with.  Booking out the private house or in some cases, the entire camp has been an excellent option with larger families and groups, particularly as it means some venues drop their age restrictions if you're taking the whole property.  Here's a selection of the kinds of properties you can have all to yourself.
Tintswalo Manor House – Great for families, especially with younger children. Waterbuck is a similarly good option in the Timbavati as well.
Lamai Serengeti has a private house, MKombe House, about 15 minutes away which has four bedrooms and two swimming pools, one for kids, one for adults – if you're traveling as a group or family, this is a great option. When the migration passes through, it'll take place right in front of you. There is also a fun option to do a sleep-out on the deck.
Matetsi River House in Victoria Falls enjoys a spectacular setting on the banks of the upper Zambezi River and works well for either families or a small group of friends traveling together.
Singita has exclusive use options at Pamushana in Zimbabwe, Castleton in Kruger, South Africa and Serengeti House in Grumeti, Tanzania.
Without exception the feedback we have received from clients traveling together as a family is that it is the most outstanding, memorable trip they have ever had – and they can't wait to go back.   If you're planning on bringing your kids with you on a safari, read our recently updated blog here and contact us for any other questions you may have.