Once again, I was fortunate to spend 5 days in my 'little bit of heaven' — Mana Pools, Zimbabwe.  I'm often asked why it's my favorite place on earth so here's a bit of history and background which may provide some explanation.
Mana Pools National Park, designated a UNESCO World Heritage Site in 1984, lies in an unspoiled region of the country which stretches 200 miles to the Mozambique border.  The combination of forest, river and mountains attract a bewildering array of wildlife.  This beautiful, remote and rugged area is home to over 350 species of birds and most of the region's larger species of mammals.  The Zambezi Valley is a western extension of the Great Rift Valley, the huge geological fault that extends down the continent of Africa. The southern
edge is formed by the Zimbabwean escarpment and the northern edge by the Zambian escarpment, with the mighty Zambezi River (the fourth largest river in Africa) cutting a course through the middle.  Mana Pools (meaning four pools in Shona, the local language) are now small lakes, left behind by the path of the Zambezi River from ages past.  The pools (Main, Chine Long, and Chisambuk) are filled during the rains and become home for large numbers of crocodile and hippopotamus (the largest concentrations in Zimbabwe) as well as a vast and diverse population of birds.  They also serve as an attractive watering hole for numerous herds of game.  The banks of the riverbeds and the pools give way to forests of acacia, baobab, ebony, fig, and mahogany trees – the trees are themselves awe-inspiring, truly magnificent.
Wildlife viewing at Mana Pools is seasonal. During the rains (from November to April) most large animals such as elephant, buffalo, lion, zebra and eland leave the river area to seek grazing and browsing closer to the escarpment.  As the year progresses, shortages of food and water inland force them back towards the Zambezi, where the floodplains, with their extensive grasslands and nutritious acacia pods, support the animals during the dry season.   Each of the acacias (Acacia albida) bears several hundred pounds of seed pods every year. The pods are particular favorites of the elephant and they are often seen shaking the trees to make the pods drop.  The famed elephant, Boswell, has quite a loyal following as he is able to stand on his hind legs to shake the highest branches free of their pods.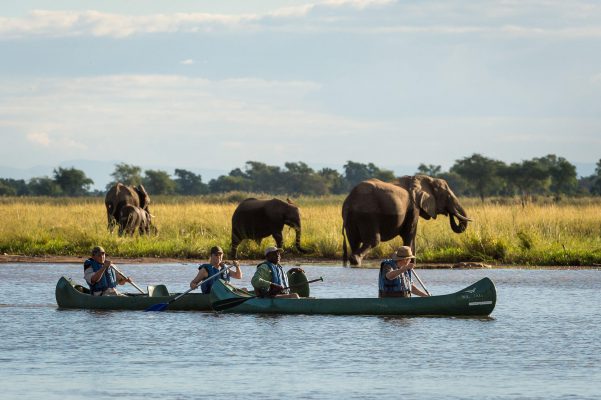 One of the most compelling features of a safari in Mana Pools is the variety of game viewing activities available.   In addition to open vehicle game drives, walking with a qualified professional guide is an unparalleled experience.  On my recent safari, we walked up to elephant and tracked lion on foot, which is absolutely fascinating and exhilarating — when you are accompanied by a qualified guide. Canoeing on the Zambezi, with its slow pace and unique vantage point, is a popular pursuit and an adventurous way to experience the River.  Fishing on the Zambezi is another exciting activity, especially if trying your hand to reel in the famous fighting tiger fish in addition to chessa, bream, vundu and several other local species.
For safari enthusiasts Mana Pools offers a range of accommodation and safari styles from luxury (Great Plains Tembo Camp, Wilderness Safaris' Ruckomechi and Chikwenya, African Bushcamps' Nyamatusi) to the more authentic, traditional tented camp, owned and managed by legendary guide and elephant whisperer, Stretch Ferreira.   Mana Pools is known for its significant population of elephant and Stretch has known some of them for decades.   We were constantly reminded that at our tented camp, we were very much guests in the elephants' home.  Every night they came to feast on the acacia pods around the tents and one afternoon they even "joined us" for lunch, and then had an afternoon swim below the deck.  Close, but measured, encounters with elephant are a signature feature of a safari with Stretch. There's still a few months left this year to experience this wild paradise for yourself or book now for next year's peak season. Even for seasoned safari go-ers, this is not to be missed.  Give us a call on 800-700-3677 to plan your adventure to Mana Pools.