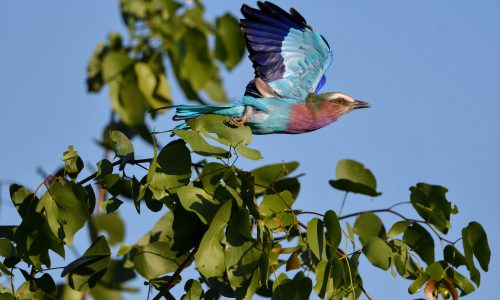 Throughout the almost three decades that we have been creating memorable and sometimes even life-changing safaris for our valued clients, we have been committed to maintaining our relationships with safari operators and continually updating our first-hand experience of the safari destinations we sell.  Every year we each spend at least 2-3 weeks visiting new safari camps and lodges and reacquainting ourselves with our long time favorites as well.  That has become no less important during this pandemic.  Diane spent many months in Zimbabwe during 2020, Anouk traveled to Namibia in January, Victoria just returned from Botswana, and Vanessa is busy preparing for her safari to Zimbabwe later this month.
We are delighted that clients who had postponed their 2020 trips have also traveled successfully (read their trip reports here) and we have been planning some last minute adventures for several new clients as well.
So to provide some inspiration we thought you'd like to read about Vanessa's upcoming journey to Zimbabwe and then she'll follow up with a full report of her on the ground experience next month.
There is no better start to a Zimbabwe safari for a veteran safari traveler like Vanessa than Gonarezhou National Park, in the southeastern corner of the country.  It forms part of the Great Limpopo Transfrontier Park, an area the size of the Netherlands straddling Zimbabwe, South Africa and Mozambique.  As the fences come down, years of struggle and division will be forgotten as the animals of this vast land – above all Gonarezhou's ubiquitous elephants – will once again be able to resume their ancient migratory routes.  Vanessa is incredibly fortunate to be hosted on her visit by international award-winning conservationist and private guide Clive Stockil.  He grew up amongst the Shangaan local people, and his work with the local community resulted in the very first CAMPFIRE project – since replicated thousands of times across Africa.   Zimbabwean guides are often considered the finest in Africa and Clive, who qualified in 1973, is surely in the top handful.  Any visit to  Gonarezhou is as much about the local community as it is about the beauty of the natural landscape and the animals. Visitors can enjoy the riches of Shangaan culture, partake in the wisdom of ages, and witness first-hand the bright promise of a truly sustainable future.
Next stop is Matopos National Park, home to the UNESCO World Heritage Site of the Matobo Hills and the oldest National Park in Zimbabwe. The granite domes and castle kopjes reflect the essence of both the tranquillity and majesty of untamed Africa, where wildlife and birdlife species thrive in prolific numbers. Famous for its healthy population of endangered rhino, the area is one of the most unique and spiritual destinations within Zimbabwe.  Tucked away in an ancient bushman's shelter, Amalinda Lodge offers many varied activities ranging from game drives to rhino tracking, cultural tours, hikes to the renowned San bushman paintings and a chance to follow in the footsteps of Cecil John Rhodes at his world-famous tomb known as "View of the World."   The history of Zimbabwe was written here with the war of warriors from King Lobengula and the British Empire led by Cecil Rhodes.   Rhodesia was named after him and only became Zimbabwe after Independence in 1980.
From Bulawayo, it's a short 3 hour drive north to Zimbabwe's largest wildlife reserve, Hwange National Park, where the focus will be on morning, afternoon and full day game drives as well as guided walking safaris and cultural and community visits.  Hwange is a semi-arid area, resulting in temperatures reaching opposite ends of the spectrum throughout the day.   The Hwange National Park grasslands and mopane woods are home to lions, African wild dogs and one of the world's largest elephant populations. Covering just over 14 600 square kilometers, Hwange carries over 105 mammal species, including all of Zimbabwe's specially protected animals.   The landscape showcases varied habitats and includes everything from desert sand to sparse woodland as well as grasslands and granite outcrops.  It offers some of the best game viewing in all of Zimbabwe year round.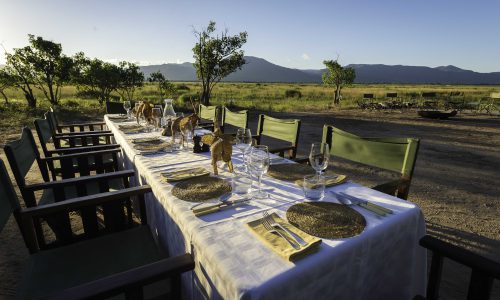 Traveling by light aircraft Vanessa's safari will conclude in Mana Pools National Park, a World Heritage Site, situated in the heart of a natural valley on the banks of the Zambezi River, in a unique floodplain, rich and diverse in flora, fauna, and wildlife.  It is home to 4 of the Big 5 (excluding only Rhino).  It is a wonderful game reserve to freely walk (accompanied by a professional guide) with the wild animals to experience Africa as it should be – on foot.  Mana Pools National Park is one of the most remote and unspoiled game reserves, stretching 200 miles to the Mozambique border. The combination of forest, river and mountains attracts an array of wildlife.   Across the vast floodplain one can walk with the giants – the African bull elephants, dine amidst herds of buffalo, gaze upon prides of lion, enjoy sundowners with hippos on the banks of the Zambezi River and bird watch over 400 species of birds.  The safari experience here is very personalized, featuring an excellent guiding team, offering game drives, wilderness walks and you can try your hand at fishing as well.
Needless to say, Vanessa is counting the days until her departure and looking forward to bringing back a wealth of knowledge and tales of the bush to share with all of us.  You can follow along on Facebook and Instagram as well.