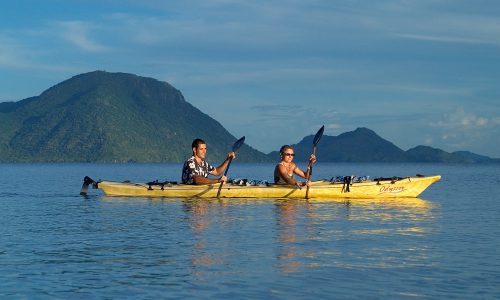 As we are now actively engaged in safari planning for travelers eager to get off the couch and back out exploring the world, we thought it a good time to talk about the more energetic adventures available on safari.   A classic safari can be a somewhat sedentary affair, consisting of long game drives interspersed with (delicious) food and drink as well as the obligatory afternoon siesta.  However, many of our clients are asking about more active or adventurous options.  These can range from walking safaris and canoe trips to adrenalin-fueled quad biking, white-water rafting and bungee jumping, depending on your destination (and disposition).  Not only do active safaris get your heart rate up, they offer the opportunity to engage with your surroundings on your terms, and on a much deeper level than a game drive can provide. Here are some of the most popular options we offer.
1. Walking safaris in Zambia and Zimbabwe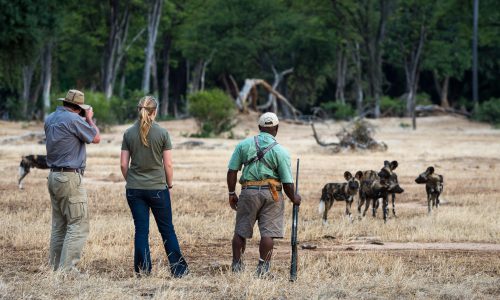 Exploring the bush on foot can be a thrilling experience – the adrenalin rush from encountering a lion or leopard at close quarters is something else – but it also gives you the opportunity to immerse yourself in the smells, sounds and feel of Africa, unconstrained by roads or your vehicle.  It's no coincidence that the walking safari was first pioneered in Zambia, as the country has a number of rivers fringed by forest where game congregate, particularly in North Luangwa, South Luangwa, the Lower Zambezi and Kafue National Parks.
Many camps in Zimbabwe offer walking safaris as an optional activity as travelers are permitted to go on foot in all of the country's wildlife areas, including the national parks – as long as you are with a qualified guide.  Mana Pools and Hwange National Parks are popular as they offer good visibility and an abundance of wildlife, including an opportunity to see wild dog and hyena.  While there's always an element of risk, your guide will be highly skilled, qualified – and armed. Regardless, there are rules that you need to follow for your safety, the most important being to never run – if you act like prey, a predator will treat you like one.  Walking safaris can range from short guided nature walks available year-round to multi-day excursions where you set up camp in a different place each night. These are best done in the dry season, from June to October. Moderate fitness levels are required although walks can be tailored to ability.
2. Water safaris in Zimbabwe and Botswana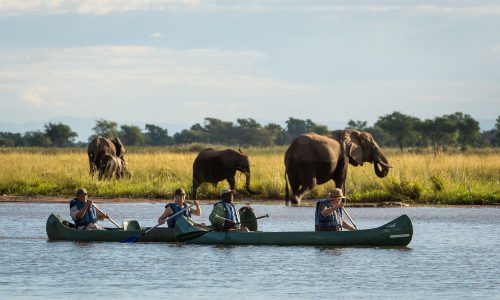 Gliding through remote, uninhabited areas by canoe is an ideal way to expand your game viewing experience, providing a completely unique vantage point.  While you'll almost certainly encounter crocodile and hippo in the water, you'll also see plenty of game such as elephant, lion, kudu, impala and eland by the water's edge, as well as an astonishing array of both migratory and resident birdlife.
Canoeing trips on the Upper Zambezi in Zimbabwe can be undertaken year-round, but the Lower Zambezi to Mana Pools trips are only available in the dry months from May to mid-November. You'll always be accompanied by an experienced guide, but like walking safaris these trips do have an element of danger and are not for the faint-hearted.  Bush walks are often included in a canoeing trip giving you a chance to stretch your legs and explore areas inaccessible by vehicle.
For a more sedate, serene experience, nothing beats exploring the Okavango Delta in Botswana by mokoro, a traditional dug-out canoe that used to be made from a hollowed-out tree trunk but is now made of fiberglass (for environmental reasons). Each mokoro seats two people, with a guide standing at the back using a long pole to steer, and their narrow shape allows them to navigate the shallow waterways and lagoons of the Delta with ease. You'll go slowly, watching out for Kingfishers, African Jacana, Slaty Egret and the Wattled Crane – just to name a few of the endemic bird species – as well as animals drinking from the water's edge, particularly the lechwe, waterbuck and reedbuck.  Mokoro trips are best taken between July and October, when water levels are high and there's little chance of rain.
3. Quad Biking and Sand Boarding in Namibia
The Namib Desert, the oldest in the world, features some of the largest sand dunes on this planet.  Quad biking through the spectacular dunes of the Namib Desert is an adventure unique to Namibia and guaranteed to provide an exhilarating adventure.  Trips last from 45 minutes to two hours or more, and you'll be accompanied by experienced guides who will educate you on the flora, fauna and folklore of the desert as you go.  Most operators are based in Swakopmund or Walvis Bay.
Quad biking can damage the habitat of some rare plant and animal species, so if your safari lodge doesn't offer quad biking make sure you choose a reputable firm – Outback Orange, Dare Devil Adventures, Desert Explorers and Dune 7 Adventures are all companies who make conserving the environment a priority.
Another option is to challenge yourself by zooming down the sheer slip face of these magnificent dunes on a traditional Swakopmund sandboard or 'ski' down the dune with style and skill on a snowboard adapted for sand.  Lie down boarding: Catch your breath as you lie face down, dangling over the edge of the slip face, before being pushed off the edge and sent on your way down the curving rolling, sandy slopes.
6. Cape Town
Cape Town
is an outdoor lovers' paradise, and Escape & Explore offer a range of unique and exciting itineraries that range from gentle pursuits, such as cycling down Sea Point Promenade and hiking in Table Mountain Nature Reserve, to adrenalin fueled activities such as zip-lining and shark cage diving.
Other popular tours on offer include standup paddle-boarding, kayaking or snorkeling with the penguins in Simon's Town, boat-based whale-watching expeditions in the Overberg and zip-lining in the Elgin Valley.
5. Victoria Falls
Victoria Falls
is heaven for adrenalin junkies, whether it's on the water or above it. You can white-water raft down Grade 5 rapids on the Zambezi River or take a jet boat ride, or bungee jump over a hundred meters off Victoria Falls Bridge.
Helicopter or microlight flights offer a thrilling a bird's eye view of the Falls – which stretch for over two kilometers – or swim right at the edge of the Falls at Devil's Pool, a natural infinity pool on the edge of a sheer drop (there's a ledge of rock that prevents you from going over the side).  Swimming in the Devil's Pool and white water rafting are seasonal depending on the rains and resulting water levels.
Give us a call on 800.700.3677 to start planning your adventurous safari to southern Africa today.