Anouk travelled to Zambia in October 2019; she spent two weeks
visiting over a dozen lodges in the Lower Zambezi and South Luangwa National Parks. October is one of the hotter months in Zambia, and this year particularly so with temperatures over 40C. The dry heat made for truly fantastic game viewing, but also a fair amount of time in between activities sitting with a wet sarong in front of a fan. This is the time of year when the plunge pool (or any pool) at a lodge,  is really worth it. Even the elephants were lying down under shady trees. Here's her report on a truly memorable trip.
The Lower Zambezi National Park, lies along the northern bank of the Zambezi River, downstream from Victoria Falls. The sparkling waters of the Zambezi are a focal point for the abundant wildlife, which includes elephant, hippo, buffalo, zebra, lion, cheetah, leopard, various antelope species, baboon and vervet monkey, together with a great variety of birds. There is an escarpment along the northern end, which acts as a physical barrier to most of the park's animal species. The river's edge is overhung with a thick riverine fringe, and sculpture-like sand banks. Further inland is a floodplain surrounded by Mopane forest and interspersed with Winter Thorn trees and Acacias. The hills, which form the backdrop to the park, are covered in broadleaf woodland.
The Lower Zambezi offers a really nice variety of activities,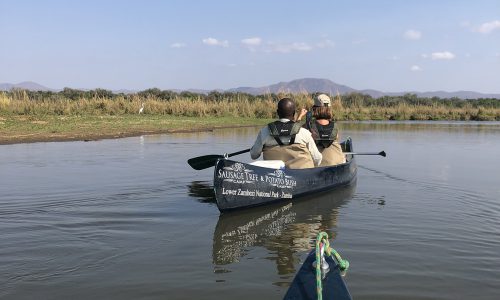 including canoeing, fishing, boating safaris as well as game drives, night drives and walking. We saw leopard and lion every day, game drives during the day were all productive as were night drives. Most of the drives take place in a strip between the escarpment and the Zambezi River. Because of the somewhat narrow strip of land, we did see other vehicles, especially at major sightings. This may also be because several lodges offer private vehicles per room, or a maximum of 4 per vehicle. Which is awesome as a guest of course, but does mean that during night drives, you are likely to see a number of vehicles out and about.
If you love elephants, this is the place to be. They were everywhere in camp, almost in our tents, drinking from plunge pools, swimming in the river, trumpeting and causing obstacles for guests trying to get to and from their rooms to the main areas. Hippos were also very present, out and about despite the temperatures, happily grazing on the banks of the river and on islands everywhere. Plenty of options for some wonderful armchair/plunge pool safaris in this area.
One of my favorite activities was an afternoon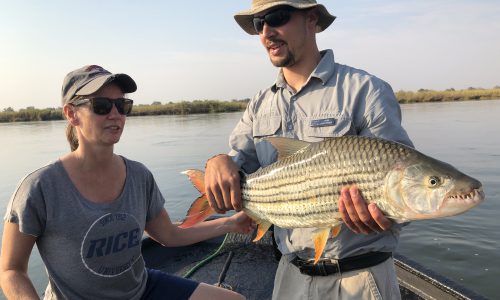 boat safari followed by a night drive, and most lodges offered this combination. You got to see a beautiful sunset over the river (with cocktail of course) and then got to enjoy a night drive for an hour and a half, before returning to the lodge for dinner. On the water, there was very little boat traffic at all, it truly felt remote and unspoiled. Given the amount of hippos and crocs, as well as swimming elephant, and buffalo, the Zambezi River was an oasis.  Upon realizing that the river was the coolest place to be, I discovered a keen interest in fishing, and managed to catch some very size-able (and very active) Tiger Fish, Bream, Vundu (catfish) and Nchesa. All lodges offer catch and release fishing, some boats and equipment are better than others, they generally reflect what you are paying per room, per night.
Canoeing is done on the most gorgeous channels close to each property. With the low water levels we experienced, some of the hippo were getting a bit feisty, so the canoeing was shifted to the main river, as it was safer. It was still an easy paddle down stream, with plenty of close encounters with elephant, and buffalo on the river banks, as well as hippos. Canoeing guides at each lodge I stayed at, are very well trained, and know the river well.
Lodges I stayed at: Chongwe River Lodge,
lovely property on a channel, just outside the park, with a hide in the mountains, as well as great private house which would be fantastic for adventurous families. Chiawa Camp, where we were hosted by Craig Cummings, in another lovely setting is a more upscale tented camp,  with good guiding, well-designed rooms
overlooking the river.  Chiawa makes a good combination with sister camp Old Mondoro, a classic bush camp  known for its very active lagoon and phenomenal guiding.  Sausage Tree was one of my favorite camps, luxurious, lovely plunge pools and decks overlooking the river, just great food, and nice surprises like lunch on a sand bank in the middle of the Zambezi. Potato Bush is the sister camp, and also has a wonderful vibe, more family-friendly, same quality guiding and food as Sausage Tree. If you are traveling with a larger family, it would be fantastic to rent out for exclusive use. The same goes for Amanzi, set in a gorgeous location on a channel off the Zambezi. The larger sister property Anabezi also offers lovely rooms, nice decks and good views. Anabezi and Amanzi have one of the best locations on this stretch of river, with regards to slightly higher density and variety of wildlife. A pride of lion with 6 cubs will be very fun to follow over the next few years.
South Luangwa National Park: Situated in a remote region, Zambia's South Luangwa Valley is home to over 60 different animal species and over 400 different bird species. Experts have dubbed South Luangwa as one of the greatest wildlife sanctuaries in the world, and not without reason.  As one of Africa's most unspoiled parks,
South Luangwa National Park features a great diversity of habitat, scenery and wildlife. And after a week on the Zambezi, it was really awesome to see a natural  river, untouched by dams.
The South Luangwa River is breathtaking with its
natural bends, and oxbow lagoons. The landscapes are ever varying, with majestic baobabs, sandy river beds, and mopane forests. The natural lagoons (the ones that weren't dry) were filled with pelicans, and sandy river banks were home to huge numbers of nesting carmine bee-eaters — dazzling. Wildlife was really relaxed, we got closer than I ever have before to giraffe, zebra and impala, animals that are normally quite a bit more skittish. We saw wild dog nearly every day, which was really exciting. We also saw leopard, lion, lots of giraffe and general plains game. You can't off-road in the park, but it's huge, and the groups of camps that were set up for walking are all in their own (almost) private swaths of land as it were. So except for the central area near the Mfuwe gate, you really don't see a lot of traffic at all from other vehicles. The park stays open until 8:00pm, so you get some excellent time for night safaris as well.
Walking is definitely encouraged, but every camp is flexible, and you will never not be able to drive or walk if you want to. Walks are usually around 3 hours, covering 4-5 Kilometers. They do stop for tea/coffee, and we carried our own water. It's not physically difficult but you will have to listen to your guide, as you can, and often do, get close to major predators and a fair amount of wildlife en route. The terrain is lovely for walking, a combination of sandy river beds and bush. The guides who lead the walking safaris are excellent, and you'll learn a lot more on foot with regards to the general ecology which is fascinating. We had a run in with some elephants that got our adrenaline pumping, and on one walk, we also found some tusks from a deceased elephant in the bush.
I'd recommend spending a minimum of 4 nights in South Luangwa, and you can easily split between a bush camp and a more luxury camp. Bush camps are all quite comfortable but more basic, reeds and local "hut" structures are a popular theme!
Lodges I stayed at: Mfuwe Lodge is close to the
main gate, and famous for the elephants walking through their reception when the wild Mango Trees bear fruit (October). Great for a first or last night, if you are
combining with a bush camp further in the park. It also allows you to access Tribal Textiles and Mulberry Mongoose, which I highly recommend. We lucked out, and saw a local theater group perform before dinner at the lodge, which was a really fabulous cultural experience. The Bushcamp Company  has 6 other bush camps, about 2 hours game drive from Mfuwe. I stayed at Chindeni, in a comfortable big en-suite tent with a nice deck overlooking an oxbow lagoon. I also had the opportunity to visit  Kapamba, Bilimungwe and Chamilandu. I liked all of the camps very much, we had superb guiding, and some wonderful walking safaris. The brand new Puku Ridge is truly fantastic, they have a beautiful main deck, with a photographic hide underneath. Every room has a sleep out option on the roof, a plunge pool, and lovely decks all situated on the ridge, overlooking plains filled with wildlife. The food, the guiding, the rooms were all superb. This lodge will give Chinzombo a run for its money, as Chinzombo has been the epitome of luxury in South Luangwa up until this time. It was a real treat to stay there, the main areas just can't be beat for layout, comfort and ambiance. But its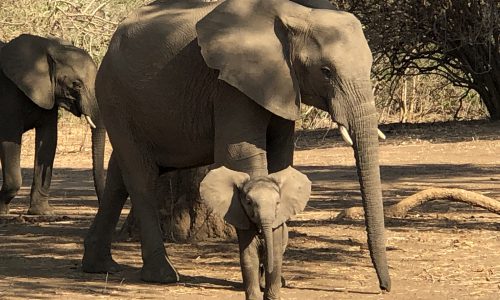 location in a game management area, rather than the national park, did made it feel less remote and less of an authentic bush experience. I stayed at Nsolo, sister bush camp to Chinzombo, which was very intimate, a reed hut with a huge open bathroom. I enjoyed my stay, but it is somewhat basic with regards to amenities and comfort. The river property Muchenja would likely be more popular with some of our clients. My last night was spent at Lion Camp which was definitely larger than the bushcamps, but very comfortable with walkways, which made for a nice change, as you can walk to your room without an escort each time. The pool, and channel was filled with wildlife, and you get great viewing from every deck, as well as their photographic hide. It's hard to leave for a game drive when viewing is this good from the lodge!
Final Thoughts …
Zambia has often been a destination we offer to second
or third time safari goers. But given the quality of the lodging, and the level of guiding that I experienced on my trip, I would not hesitate to recommend an "all Zambia" itinerary for a first-time safari as well. Do note that many lodges in Zambia close during the rainy season, so if you are planning a trip, your window would be April/May – October. Check out some of our sample itineraries, and contact us for your own custom proposal. You won't regret it!