July/August are the perfect months for cruising down some of Africa's majestic rivers. It's the dry season in Southern Africa and lots of animals come down to the river banks for a drink. The Chobe and Zambezi rivers in particular see huge herds of elephant this time of year. Cruising on smooth water also makes a lovely change from bumping around in a 4×4 on land-based game drives!
Here are five of our favorite safaris on some of Africa's greatest rivers. We can customize your vacation to include any of these activities and we've included some sample itineraries to help inspire you.
Our Favorite River-Based Safaris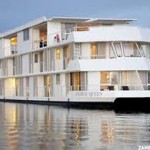 A Cruise on the Zambezi Queen – The Zambezi Queen is a lovely luxury boat that sails down the Chobe River, marking the border between Botswana and Namibia. This area is filled with wildlife and you won't fail to see large pods of hippos in the water and huge herds of elephant coming down the the river banks for a drink and a swim. The beautifully appointed cabins keep you very comfortable, the meals are top notch and there's a pool on deck if you want to cool off. Want to experience this? Check out our Botswana Safari itineraries — we can easily fit in a few days of river cruising..
Canoeing Safari on the Lower Zambezi – The Zambezi River, forming a natural border between Zimbabwe and Zambia, is one of the most dramatic wildlife sanctuaries in all of Africa, providing the setting for an unforgettable safari. Canoe at a leisurely pace through floating islands of water hyacinth while watching the elephant play along the shoreline. Your guide interprets signs, identifies birds and their calls, explains interesting vegetation, canoes and walks you safely up to animals large and small. Accommodation is at fully serviced, tented camps.Want to experience this? Check out our sample Zimbabwe Itinerary — we can customize any trip to include a canoeing safari.
Extreme Water Adventures at the Victoria Falls – Victoria Falls is the adventure capital of Southern Africa. You can bungee jump and view the magnificent Victoria Falls upside down. One of our favorite activities here is white-water rafting. It's no joke and absolutely exhilarating with class 5 rapids all the way. A wonderful way to end a day is a to take a sunset cruise ( known affectionately as the "booze cruise") on the Zambezi, and raise a gin and tonic to the snorting background music of the hippos.Want to experience this? Check out our Southern Cross itinerary — and we can book these adventures for any client visiting the Victoria Falls area.
Luangwa River Walking Safari – Zambia's Luangwa River marks the end of Africa's rift valley, and it meanders and elbows its way through some of the best wilderness left on the continent. This is where the whole concept of the "walking safari" was born. The best way to experience the Luangwa River is to spend a few days walking from camp to camp, exploring the bush around oxbows and lagoons filled with wildlife from leopards and giraffe to lions and elephants. Don't worry, the guides on these safaris are the best in the business. The camps are rustic but very comfortable and all have en-suite bathrooms. Cold drinks await you every night along with cozy campfires.Want to experience this? Check out our Best of Zambia itinerary.
A Classic Nile Cruise – Out of the hundreds of Nile cruise options available, we really like the MS Nile Adventurer. It's a 32 cabin luxury cruiser with a private dock in Aswan. The intimate size makes this an ideal base to explore the wonderful ancient sights in Egypt that are only accessible from the river. A plunge pool on deck offers a great respite from the heat, and you're treated to cultural entertainment in the evenings.Want to experience this? Check out our Egyptian itineraries and we would be happy to add on a Nile cruise for you.
Please contact us for further information and for more water-based adventures in Africa that we can organize for you.