April in Africa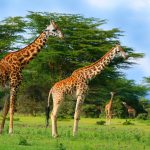 In Tanzania the migrating herds of zebra and wildebeest are moving north in the Serengeti, the youngsters are all steady on their legs and enjoying an abundance of fresh grass with the first of the long rains. The rains are still coming down in parts of southern Africa this year, so birds and butterflies are rejoicing and everything is lovely and green. Diane is enjoying this delightful scene right now in Zimbabwe with her family.
Botswana cools down this month, making for some gorgeous ethereal mornings with mists over the Okavango Delta. Impalas actually become quite exciting to watch, as it's rutting season for the males, so lots of snorting and clashing of horns day and night. Fruit trees are in bloom throughout the continent, making for some very happy baboons, vervet monkeys, birds, elephants and other fruit loving species. It's even breeding season for the crocodiles, as they too make the most of this time of plenty.
The dry season begins to set in throughout southern Africa and you can benefit from some excellent "shoulder season" pricing with lovely warm, dry weather. In many cases you can save more than 30% off your safari price without sacrificing the quality of your game viewing. The wildlife is at its most photogenic this time of year, with plenty to eat and many little ones by their side! More tips on how to make your safari more affordable …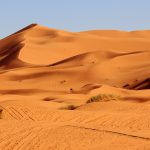 In Morocco, temperatures are climbing up the scale, and the climate turns drier — the perfect time of year to head to the Sahara Desert. If you enjoy suffering, you may want to check into one of the most grueling extreme marathons on earth, the "Sand Marathon" . Or better yet,  just support those who are participating and then enjoy touring the lovely medinas in Marrakech and Fez instead! Spring is also in the air in Egypt, the perfect time to explore the ancient tombs before the real summer heat makes them a touch stifling.
April is the best month to visit The Seychelles, the ocean is warm,  and the trade-winds are quiet making snorkeling and diving conditions absolutely perfect. So if you're looking for a beach holiday, aim a little further out from Africa's mainland in April, as the coastal areas of Kenya and Tanzania are likely to be a little wet this time of year.
 2017 April Festivals and Events to Keep in Mind …
Leave A Reply