May is a lovely spring month in North Africa, a perfect time to visit the Sahara Desert before the summer sun heats it up too much during the day. It's also a wonderful time to explore the medinas of Morocco's royal cities like Marrakech and Fez. The weather is perfect and tourist numbers are nice and low. Likewise, Egypt's ancient tombs and monuments are still pleasant to visit before the summer heat makes it uncomfortable to stroll around during the day.
In East Africa it's traditionally a very wet month, so be aware that some safari
camps will close this time of year, and you may have a rainy beach experience if you are headed for the coast.  Many mobile camps in Kenya and Tanzania are still on hiatus awaiting the start of the season in mid-May. The great migration begins to spread out across the Serengeti, slowly heading north towards central and western Serengeti.
The dry season officially begins in Southern Africa as the rains have ended and the nights are cooler.  Jackets start to appear for night drives and early morning starts. Green colors begin to fade and the bush loses a little of its brilliance. Predators thrive as their colors blend in with the surroundings. Migratory birds begin to head north to their breeding areas. Buffalo congregate in large herds around Botswana's Okavango Delta region as the floodwaters from Angola start to reach the top of the Delta and begin a slow deliberate flow deep into the heart of the Delta.  Rates are still lower this month, so it's a great time to take advantage of awesome wildlife viewing at a lower price.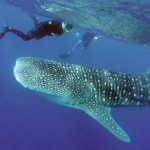 Water temperatures are perfect and warm in the Seychelles in May and visibility is excellent for those of you looking for some spectacular snorkeling and diving, as well as white beaches and plenty of sunshine. The East African coast and islands of Zanzibar are still a little wet this time of year, but further south towards Mozambique the conditions are very good, with dry and warm weather.
Events and Festivals to keep in mind …
April/May – The start of Ramadan, the annual month of fasting for all Muslims. If you are traveling to the East African coast in particular please be respectful of local traditions.
Late April / May – Pink Loerie Mardi Gras – One of South Africa's premier gay events is this 4-day festival held in Knysna a town in the beautiful Garden Route. Music, art exhibits, cabaret shows, good food and a grand parade mark the exuberant festivities. (This year the festival is scheduled for April 23-27, 2021)
1st May – International Labour Day (or May Day) on the 1st of May is widely
celebrated throughout Africa and is a public holiday in most countries. You may see marches and parades commemorating workers.
May – Harare's International Festival of Arts, attracts performers from all over the globe. There's dance, music, plays, spoken word, and more. Given the economic climate in Zimbabwe, it's not easy to pull off a successful festival, but they do it every year. (postponed)
End of May — Cape Town Art Fair, a fantastic 3-day event held May 21-23 showcasing South Africa's most exciting artists in venues throughout the city.
May (annual) – Rose Festival — In the Dades Valley in Morocco
a small oasis town Kelaa-des-Mgouna is home to Morocco's largest rose water distillery plant. The entire town is fragrant and the spectacular harvest in May is celebrated with song and dance.
End of May – Bush Fire Festival, Swaziland – Bushfire is Swaziland's acclaimed international music and arts festival held each year at House on Fire, an inspired and magical venue combining sculpture, mosaic and theatre built in the heart of the Ezulwini valley.