If you're visiting Rwanda to see the mountain gorillas, you'll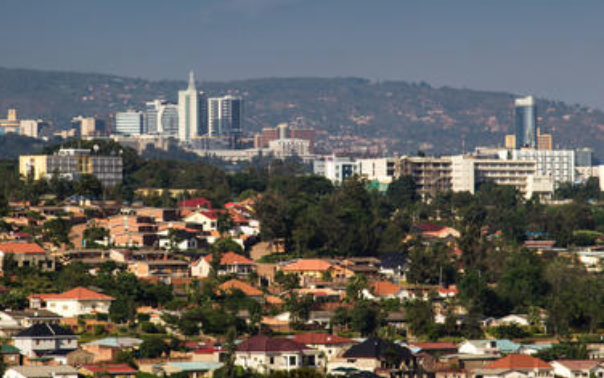 likely start with one night in the capital, Kigali. To experience something of this captivating young city, considered one of the safest on the continent, we recommend two or more.  It is accessible, modern and clean (non-biodegradable plastic has been banned since 2008), spreading over and around a collection of rolling green hills, bustling streets and vibrant communities. As befits a country with over half the population under 35, there's a delightful easy-going café culture and a booming restaurant and arts scene. We are always happy to set up a private tour of the city for our guests to visit the historic sites, browse local markets and sample some Rwandan coffee. Do not skip the "Question" coffee bar (and plan on bringing some coffee home). 
T

here are several wonderful

markets

where you can shop for fabrics, food and crafts.  Cootrac and Caplaki village are set up as cooperatives offering a lovely variety of handcrafted accessories, arts and crafts. For a slice of day-to-day Kigali life, head to the Kimironko Market, the busiest in town where locals head to stock up on produce, clothing and household goods! It's a wonderful spot to purchase some vibrant kitenge prints. 

 
Founded in 2014, and considered East Africa's first craft distillery, the

1000 Hills Distillery

produces six unique liquors including a vodka, gin and a malt whisky, in addition to flavored liqueurs. The company works with local suppliers for materials and collects almost 1.5 million liters of rainwater for liquor production. Local communities use the by-products for crop and livestock production.

 
A tour of the

Nyamirambo Women's Center

might include a sisal basket weaving workshop or cooking class, allowing visitors a glimpse into the culture, history, and daily life of this community. Proceeds from such tours are used to pay the seamstresses a fair wage and fund community engagement initiatives. 

 
Select from a simple variety of seasonal dishes for your custom traditional

cooking experience

with a rural mama! Your day begins not in the kitchen but in the fields as you learn seasonal planting or harvesting of fresh ingredients for your meal.

 
Learn the traditional technique for making your own Banana Juice brew by working with your rural host to collect the green bananas and the leaves needed to begin the process. 
The

Genocide Memorial

is a place of reflection and remembrance, to show how a new generation came together after the 1994 genocide, to build a more peaceful nation and ensure that this kind of history is never repeated. There are several other memorials around the city, made even more poignant by their simplicity including the Nyanza Genocide Memorial and the Camp Kigali Memorial.

 
 Restaurant Recommendations 
The Hut serves unique international cuisine that incorporates local, organic Rwandan ingredients. Their outdoor terrace has an excellent scenic view of the Kigali hills.  
Poivre Noir is the place to go for an incredible steak and a
selection of dishes with Belgian and French influence. 
Inka Steakhouse is a meat lover's delight. 
Fusion Restaurant at the Retreat offers a Rwandan fine dining experience with an Italian, Mauritian and Moroccan twist. 
Soy Asian Table has exceptional Asian cuisine. 
Question Coffee Bar is a good coffee shop.  
Repub Lounge is one of Vanessa's and Yvette's favorite spots. Originally known as the Republic Lounge, but after some letters fell off the sign, it became known as Repub, and eventually, the name changed officially.
There are so many things to see and do in Kigali all of which we are happy to arrange for you. Give one of our safari specialists a call to start planning your trip.