It is easy to understand why gorilla trekking in Rwanda and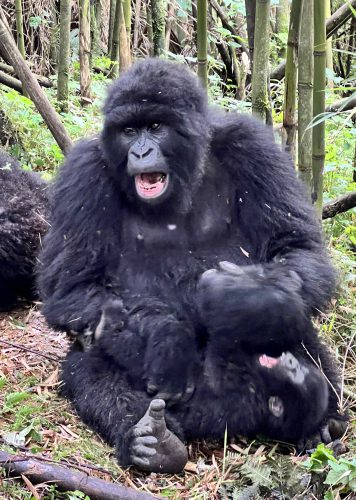 Uganda is on many of our client's bucket lists. The opportunity to spend time face to face with a gorilla is on our list of favorites as well. Since we've been there and done that, we thought we would share some insider insights to help you prepare for this incredible experience.
When to go: While trekking is a year-round activity, you may find it preferable to visit during the dry season when conditions are easier for hiking through the dense forest. Keep in mind, if a more challenging hike during the wet season doesn't worry you, low season travel does afford you better rates, fewer travelers and perhaps more intimate encounters with the gorillas.
Altitude: Gorillas' habitat range from 8,000 to 11,000 feet, and at this elevation some trekkers get winded. Don't underestimate the effort required to hike through the rainforest at altitude, even if you consider yourself fit. Spend the 4 weeks before traveling taking hikes in hilly areas (or even up and down stairs) and get into good hiking shape.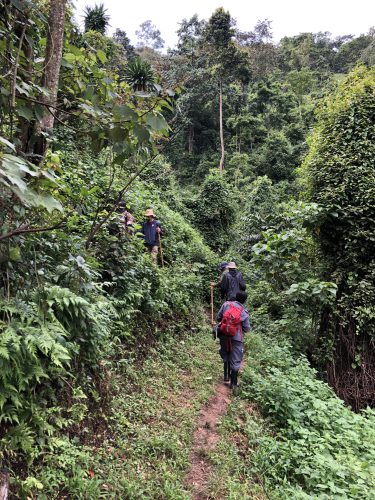 Be patient: Finding the gorillas in their natural habitat can take some time. You could be lucky enough to come across the group within 30 minutes but be prepared for a trek as long as 3-6 hours.
Age restrictions: You must be at least 15 years old to gorilla trek.
Health restrictions: Gorillas are particularly susceptible to human illnesses, so you need to be 100% healthy to be allowed to visit with the gorillas.  Take extra care before you travel to boost your immune system and avoid contact with anyone with a cold or flu bug.
Footwear is important! For Yvette, Neoprene boots are most comfortable and eliminate the need for gators to protect your shoes. Vanessa prefers her Ahnu hiking boots, which are lightweight and offer ankle support. No matter what your footwear preference, make sure your shoes/boots are broken in and comfortable. This is not the time to break in new boots or shoes, as veteran Tracey Gluck will tell you.
What to pack: Besides comfortable, broken-in footwear, we also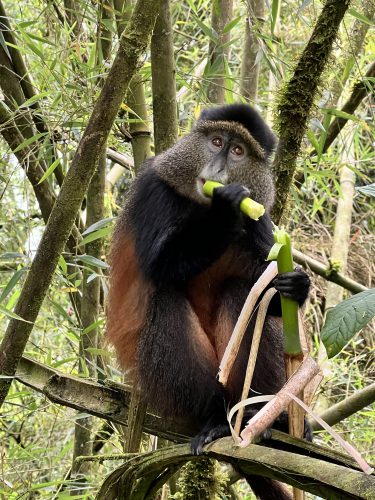 suggest that you pack, long pants, garden gloves and thick socks to protect against nettles, as well as a waterproof jacket. Vanessa prefers to layer lightweight rain pants over a pair of shorts. Finally, don't forget to pack a water bottle.
Porters: Porters and guides are on hand to show you the path, hack through vegetation, carry your gear and largely take the stress out of the day.  They do this for a living and add so much value to your experience, that we really insist that you use one, even though it is optional. In fact, we sometimes recommend hiring two porters to make the trek easier.
If at all possible – do a golden monkey trek first: Doing a golden monkey trek the day before a gorilla trek provides a useful opportunity to become familiar with the proceedings at the park headquarters, the assigning of porters, the functions of the scouts and guides, as well as your own gear and equipment. You may well discover some detail about your camera or your backpack that you're glad to know in advance of the day of your gorilla trek.
 Our favorite places to trek:
Yvette's favorite gorilla and golden monkey treks were the ones from Mount Gahinga Lodge in Uganda, five minutes walk from the Mgahinga National Park entrance.  There is only one gorilla family, and therefore only one group of 8 visitors on any given day. The terrain is reasonably open, often making for an easier and more scenic trek than in Virunga and Bwindi. (BTW – upgrading from a standard to deluxe banda at the lodge is well worth the extra cost).
Vanessa's favorite place to trek is Rwanda where she has been trekking twice. She liked the convenience of staying at Sabyinyo Silverback Lodge, which is located about 2 miles from the main entrance to Volcanoes National Park.
Suggested Safaris:
Rwanda – Land of a Thousand Hills
For most veteran safari enthusiasts, gorilla trekking ranks in the top five all time most memorable safari experiences. So it's time to start planning your gorilla adventure – give us a call at 800-700-3677.