We are beating the anniversary drum again this month
as April marks Victoria's 5-year tenure with African Portfolio. It's always a challenge to find a qualified safari specialist, particularly to join a small team, but we hit a home run with Victoria. As her many happy clients will attest, Victoria is knowledgeable, hardworking, dedicated, a good listener, enthusiastic, passionate about Africa and an invaluable contributor to African Portfolio and our clients' successful safaris. We sat down to chat about what's transpired over this half decade and here are the highlights of that conversation.
What do you remember about your first day at African Portfolio in April 2018?
My first official day at African Portfolio was a snow day – in April! Fortunately, I had spent time with the team during the previous 2 weeks, getting acclimated with the procedures, which meant I was able to dive right in on day 1.  Just as well, as we had several inquiries that day – I think everyone was at home dreaming of Africa – including a lovely young chap who booked with me that week.
What was the first safari you booked for a client when you joined African Portfolio?
Two bookings stand out that week. The first was a solo
traveler who was going to be in South Africa on business – I had the pleasure of booking a wonderful safari in a private reserve in the Kruger region and he signed up that week. On my second day in the office, a client walked into the office – which is always lovely, and I really enjoyed working with that wonderful family of five to create a marvelous combination that works really well for first time safari goers. I combined Cape Town, with a safari in the Okavango Delta, followed by a few days exploring Victoria Falls before ending with a second safari in Hwange National Park. That itinerary offers a lovely balance of safari and culture!
While I'm sure all your safaris are distinctive in their own way, which safari did you plan where you secretly wished you could go along?
What I love about creating our African Portfolio safaris is that it is a collaborative process combining my experience and knowledge with the clients' wish list. I really travel through each itinerary in my mind – and wish I was going.  One itinerary that I recently created that stands out was a gorgeous Tanzania itinerary for the birthing season, combining the delights of Little Chem Chem and Tarangire, with Ndutu (for the migration) and ending with the Eastern Serengeti at Lemala Nanyukie – where the lions have been known to den around camp.  The family is still considering adding a few days in Rwanda to gorilla trek – our logistics make it very easy to add this to our Tanzania itineraries.
What is your favorite photo taken while you were on safari?
Is there such a thing as a favorite photo on safari?
Sometimes I am so excited that I am amazed that my shot isn't blurred, other times I am so immersed in the surroundings, I forget to take a photo at all – that to me is the magic of the African bush. Of course, I love so many of the wonderful photos I have managed to take of lions, leopard or cheetah – to be close to these predators takes your breath away. That said, I love these because:
Giraffe – what's not to love? They are so beautiful. And when a property has a photographic hide you can capture these magic moments. How many can you spot?
Pels African Owl – I love that this is a terrible photo because I know I am so lucky to have seen this elusive bird a few times. I know that all the birders reading this will love this photo the most.
Elephant – whether you are in Mana Pools, the Lower Zambezi (where I took this photo) or on the Chobe River, to name a few, if you are out on a boat, mokoro or canoe and gliding by, the elephants barely notice you but when they do, you can almost catch a gleam in their eye.
Maasai – the drama of the green season with the bold red of the shuka was a panoramic shot I took as we were hiking in the bush! 
Always a difficult question, but what is your favorite destination and why?
My answer is usually the last place I visited, which in this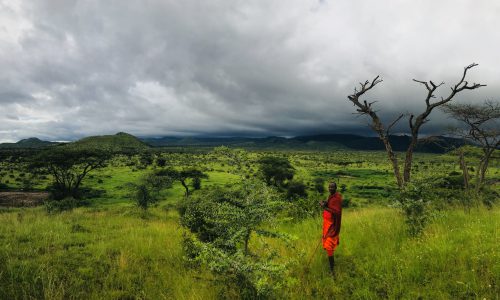 instance was Botswana. Botswana holds a special place in my heart because many, many years ago, my very first sleep "on safari" was also in Botswana. I love the remoteness that comes with getting on a small airplane and flying over the wilderness; I love the combination of land and water and the variety of experiences you can enjoy as a result (game drives, boating, mokoro, walking); and the wonderful warm welcome of the people I have met over the years (the latter goes for every safari destination I have been lucky enough to visit).  At night, I love listening to the sounds of the hippos' "honking" or hearing an elephant rustling the bush close to my tent or the thrill of spotting the tracks of a lion the next day. Ask me again after my next trip though.
What's on your wish list for your next trip to Africa?
That is the most difficult question of all – there's never enough time to see it all. I can probably narrow it down to either heading to Zambia for a fully immersive experience in some of the bigger parks there, South Luangwa and Kafue, perhaps combining it with a return to the Falls region if it is low water season and finally taking a plunge into the Devil's Pool, if I dare OR heading to Rwanda to spend time with the gorillas and check out the Ellen DeGeneres Campus of the Fossey Fund which just opened last year. And if time permitted at the end of my next safari, as my colleagues know, I am a recent convert to beach time so I'd head to Mozambique for a few nights in paradise…a girl can dream!
Here's what some of Victoria's clients have to say:
"Victoria Herbert helped us make a good travel plan; all
the accommodations were wonderful and fit our needs; the game drive guides were very personable and knew the animals, birds and fauna; the time of year was beautiful; we had excellent variety by including Victoria Falls; all flights were good; just overall and seamlessly easy outstanding trip!" – Reesa Eisler
"This trip was seamless. We trust African Portfolio to meet our travel needs." – Rita Bernabei
"It was more than a vacation- it was a transforming experience." – Kate Doms
"Everything went like clockwork. It was a perfect trip. We have never felt so taken care of in our lives." – Betsy Hely
"It was a pleasure working with Victoria to arrange our trip around South Africa! It was easy to communicate and coordinate the perfect trip. Everything was flawless, from lodging and tours to all of our transfers." – Kate Anthes
"Victoria was fantastic in coordinating our trip! The details were provided and the logistics were easy once we arrived. The accommodations were excellent and her communication over email during the trip was wonderful." – Adam Loiacono
"Every part of our trip surpassed our expectations. The smooth transitions from country to country, the excellent guides and the top notch hotels and camps made for an over the top vacation. Loved all the surprise little touches too. Victoria was fabulous and will highly recommend to others." – Lauri Rosenthal