These past 20 plus months have been a tough time for all of us
and having the opportunity to travel to Africa again was not only a treat but proof positive that travel during Covid is more than manageable and exceeded my expectations in many ways.  Zimbabwe, which has been on my bucket list for some time, proved to be the perfect destination … I was ready!
Traveling during the era of Covid, with varying entry and testing requirements by country, can be challenging but I'm happy to report, it was not as difficult as I thought!  For me, the biggest issue was renewing my passport since there are delays of up to 20 weeks. But with my passport and negative Covid test in hand within 48 hours of departure, my journey began…
I flew on Ethiopian Airlines, which had the most direct routing
(just one change of plane in Addis) and while my transfer time seemed tight, it was a smooth, easy connection.  Ethiopian is a good choice for travel to Africa as the connections work well.
Arrival into Harare was seamless and a 30-minute drive brought us to the lovely Highlands House, located in the quiet northern suburbs of Harare, providing the perfect place to overnight and rest up before my safari in Gonarezhou National Park.
The next morning, rested and ready to go, I took a short transfer
to the airport for the 90 minute charter flight to Chipinda Pools airstrip in the Gonarezhou National Park located in the southeast of Zimbabwe.  From the airstrip, we enjoyed a game drive to Chilojo Bush Camp where we spent a night in an authentic bush camp with bucket showers and a short drop loo.  The camp is situated across the Runde River with the backdrop of the spectacular Chilojo Cliffs, offering a breathtaking view.  We went on a leisurely, guided walk across the river the following morning before continuing to our next stop, Chilo Safari Lodge.  We spent the full day exploring the cliffs, rivers, pools, baobabs and of course the wildlife, especially the elephants (if you don't know me, I love the elephants).  We stopped for brunch at one of the pools and enjoyed the fabulous food, wine and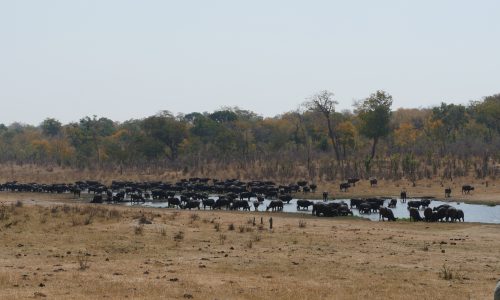 dessert as well as watching these beautiful, majestic mammals cross the river to then partake in a mud bath before moving on.  It was a great introduction to Chilo!  The next day we visited the local community and we also had the opportunity to watch the palm wine making process before ending our last evening with sundowners on the beach under a full moon…just spectacular!
I am encouraging my clients to plan for longer stays in one place and I certainly feel this area is ideal to do just that.  Chilo Safari Lodge sits high up overlooking the river with spectacular views for miles, with much to offer from all day game drives to the cliffs, to morning/afternoon game drives, bird watching, walking safaris, waterfalls, and visits to a local village.   The bonus
of an extended stay is you'll have time to just do nothing but soak up the serenity of this remote location, its surreal landscapes, natural beauty, the peace, the quiet, the exclusivity.
We continued our journey by charter flight to Bulawayo Airport in the southwest part of the country.  Growing up in South Africa we often came to Zimbabwe for vacations.  It has been a long time since I was in Bulawayo and seeing the wide open streets brought back those memories of driving through here with my family as a teenager!  Amalinda Lodge is situated about 45 minutes drive from the city center, in the Matobos National Park.  It's a beautiful setting amongst massive granite domes, where the focus is on slowing down to enjoy the beauty surrounding you.
We certainly did just that starting with a walk through to the forest to view a spectacular sunset, with drink in hand, sitting on the impressive granite kopjes.
Our time here was spent at the San Bushman paintings as well as on foot getting up close with the rhino.  I can't say I have ever been that close to rhino …it was exhilarating!  We finished our day following the footsteps of Cecil John Rhodes accompanied by our fantastic guide Howard, who offered a wealth of knowledge on the history of Zimbabwe.  We unfortunately did not have time to do a cultural tour or the option of the cycle tour through the villages and rural homes in the Matopos, but both are definitely activities I would recommend – and reason to return.
We continued our journey by road for about 3 hours to Khulu Bush Camp,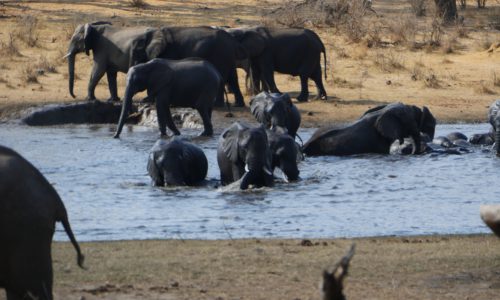 located in a private reserve on the west side of the country. This small camp offers that 'old school' safari experience, featuring an exceptional waterhole located in the center of the camp. There is a lot of action at this waterhole, and I would highly recommend spending a day in camp for an "armchair" game experience.  Hwange National Park is located 40 minutes from the camp with the option to do a morning/afternoon drive or an all-day drive into the park in addition to game drives in the Khulu concession.  Walks are also an option as well as a cultural experience to the nearby village.
Our final stop as a group was Mana Pools National Park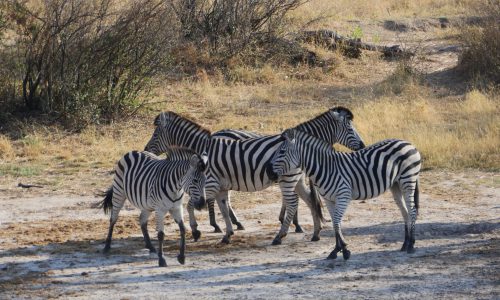 and Ingwe Pan Camp, located in the north of Zimbabwe.  The camp is situated alongside a large, secluded pan, which attracts wildlife in the dry season as it's about a 30-minute drive to the Zambezi River, the nearest source of water for the game.  This small intimate camp offers comfort and privacy and activities include game drives, walking safaris and bird watching.
A trip to Zimbabwe just isn't complete without a visit to Victoria Falls and after my extended stay here, I can't recommend it highly enough. I spent four nights exploring the highlights of Victoria Falls including high tea at the colonial Victoria Falls Hotel, a sunset cruise with a potjie dinner (traditional South African method of cooking) at the Eatery, lunch at the Lookout Café,
the launch point for many adventure activities such as zip-lining, gorge swing, canopy tour and the flying fox.  But the star of the show, and aptly named one of the Seven Natural Wonders of the World, is the Victoria Falls themselves.  They are an awesome sight to behold no matter how many times you may be fortunate enough to view them.
I can now reinforce what we have been hearing from our clients who have been traveling over the past 6 months – "just GO"!!   I felt completely safe throughout my entire trip.  There are more protocols in place than in my hometown and safari personnel from management to guides to staff have travelers' health and safety as their top priority.  There is no better time to be on safari and I can highly recommend a visit to Zimbabwe as your destination of choice … it was just what I needed to remind me how much I missed being in Africa!