The customary gratuity to safari guides and camp staff is one of those "preparing for your safari" topics that we
get the most questions about.  It seems to produce anxiety even among the most well traveled of us.  Knowing beforehand how much to tip and when to tip  on safari will simplify the process when traveling.  These guidelines are intended to provide a blueprint for you to follow to take the stress out of tipping.  Gratuities are not included in the price of your tour and they are completely discretionary.  It's helpful to remember that tipping on safari is more of an art than a science – there is no right or wrong and every dollar is well appreciated.
The most important ingredient to the success of your safari is the quality your guide, which you will soon discover on your first game drive.  To provide the level of service you'll experience during your stay requires a small army of dedicated and hard working support staff, both front of house and behind the scenes, who you will no doubt want to recognize as well.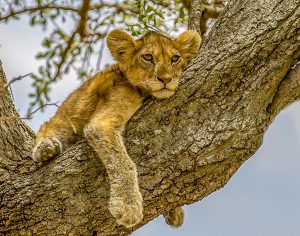 How Much To Tip?
The biggest tipping dilemma is usually not so much about when to tip, but about how much to tip. What's appropriate given the economy in the country you are visiting? A $5 tip per bag for a porter may seem extravagant in a country where an average salary is $100 per month.
However, tipping too little is worse than tipping too much. If you tip too little you'll end up short changing the people who probably need your tip the most. When you tip, your money goes directly to local staff and therefore into the local economy. Tourism plays an important role in many African economies, and at African Portfolio we believe strongly in trying to bolster the local economy, whenever and where ever we can.  Tips can be made in US Dollars or the equivalent in local currency.
Suggested Tipping Amounts for a Typical Luxury Safari
The following guidelines are generally accepted practice and while these suggested amounts are listed per guest per day, you only need to leave a tip at the end of your stay.  If traveling as a group or family, use your judgement as to the appropriate gratuity amount based on your personal experience with your guide and staff.
Safari Camp / Lodge and Specialist Guides: If the guide has done a good job, we recommend US$10 per guest per day, but if your guide was exceptional, you can certainly give them more.
The General Safari Camp / Lodge Staff: We recommend about US$5 per guest per day. This should be placed in the communal tipping box to be distributed equally amongst all the staff.  In the event there is someone specifically that you would like to tip, you can put your tip in an envelope with the person's name on it and give this to the camp manager.
Hotel Staff: Please allow between US$1-$2 per guest per day for hotel staff, i.e. housekeeping, etc.
Porterage: We recommend about US$1 per bag.
Mokoro Paddlers, Trackers and Butlers: We recommend that each paddler and/or camp/lodge tracker and/or butler receive US$3-$5 per guest per day.
Transfer and Touring: Driver/Guide Transfers – US$2 per person; Half day tours – US$5 per person; Full day tours – US$10 per person
Restaurants / Hotels: 10% is customary on meal accounts but only if you are satisfied with the service.
Please remember to bring some smaller bills for tipping purposes, and all USD bills should be unmarked, undamaged and issued in 2009 or later.
Because tipping is such a personal and subjective practice, you may find local variations on these recommendations, however, please feel confident that your tip is adequate and will be well appreciated. If you are particularly impressed with anyone you encounter on your travels, of course feel free to recognize their efforts with an added bonus.

When to Tip
Use the guidelines above to get an idea of when it's appropriate to tip. Tipping children is never a good idea, even if they have helped you find your way. The minute you tip a child, the temptation (or even family pressure) for them to not attend school can become too appealing. If you experience an act of spontaneous kindness (and you most likely will many times) then find out from your guide if it's appropriate to tip, or if the person would feel insulted. An offer to buy lunch, or "help with school fees" or something of that nature, may be appropriate too.
More: Planning Your Safari l The Art of Giving l Contact Us