The best time to enjoy a safari in southern Africa depends a little bit on what you want to do and see as well as how far you can stretch your budget.  The best wildlife viewing is during the dry season when the grasses are shorter and the animals congregate in denser numbers around permanent water holes. In southern Africa the dry season generally falls in the cooler winter months between June and October.   Because this is traditionally the "best" time to go on safari, rates for lodges are at a premium and you will encounter more travelers at camps and lodges and on safari, especially in the popular national parks like Chobe in Botswana, and Kruger in South Africa.  If you are concerned about malaria, the dry, cooler season is less buggy in general.


At African Portfolio we try hard to choose the most unique camps and lodges, so you'll never feel like you're on a cookie cutter safari along a well traveled "tourist trail".  But we do recommend you plan your safari far in advance if you wish to go during the dry season.  It can also be quite chilly in the mornings and evenings this time of year. So if you pictured yourself swimming while overlooking the waterhole, you may be a little disappointed to discover you're not quite hot enough to jump into a cold pool. However, the pool itself at some camps can become a major attraction for elephants wanting a quick drink during the dry months!
The Green Season
If you don't mind an afternoon shower, enjoy seeing baby animals, and want to save a little money, then the "green season" may suit you. The green season generally runs from late November through mid-April. It's a wonderful time to go on safari if you're a keen birder (and you will become one after your first safari).
For photographers this is the best time to go on safari because there isn't as much dust in the air, everything is a little more crisp. The animals are a little more photogenic too, since they're better fed and will often have their young with them. But because water is plentiful and the bush is lush, you may not see quite as many animals as during the dry season.
Note, if the rains are late, (and with global warming the rainy seasons are not as easy to predict anymore), you have to be prepared for some significant heat in November. If the rains are plentiful, some of the lodges/camps in Zambia and Botswana become inaccessible. If you have your heart set on a specific camp, let us know so we can make sure to plan your visit accordingly. Most game drives on safari are on dirt roads and they can quickly wash away in heavy rain. The rainy season in southern Africa coincides with warmer temperatures, so be prepared for some humidity and a few more flying insects.
The Victoria Falls
The biggest waterfall on earth never really disappoints,
even during the dry season, but the sheer mile-long curtain of water will not be in full flood from October – February so the Falls may look more sparse than photos you have seen. There are advantages to this, you can leap into Devil's Pool on the edge of the Falls during this time, a real adrenaline rush that we highly recommend. The white-water rafting is also more exciting as the rapids are faster when the water is low. In April, the Falls are absolutely magnificent, but so much water thunders down that you can barely see the Falls through the spray and you will absolutely get a very thorough soaking.
Combining Your Safari With Cape Town
Many of our clients will spend several days in Cape Town  in combination with safari in southern Africa.  Cape Town has its own unique weather pattern, similar to a Mediterranean climate and can get quite rainy and chilly from June through August.  Visitors to the Western Cape may also be interested in seeing whales, as this region boasts some of the best land-based whale watching in the world. The southern right whales make their appearance from June through November.
Combining Your Safari With a Beach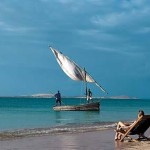 If you want to combine your safari with a little beach time in Mozambique or Mauritius, then May through October is certainly the best time to go.  Cyclones and very wet weather tends to hit from December to February.  It also gets very humid and steamy during the rainy months. You do have the ocean to cool off in of course, but when you're on an island and the weather is not ideal, you need to be content to eat, drink, rest, relax and be merry regardless of what Mother Nature may bring.
When Do We Go on Safari?
If you are looking to avoid the crowds, have optimal weather and take advantage of more competitive rates, we believe that May is a great month to plan a safari in Southern Africa.
Safari Destinations in Southern Africa include: South Africa, Botswana, Zimbabwe, Zambia, and Namibia.  With your all important input, we custom design itineraries to all these destinations either independently or in combination with each other.  With our decades of experience we can plan the perfect safari no matter what time of year you choose to go, just contact us.
More About: When to Plan Your Safari