One of only two locations in Africa named after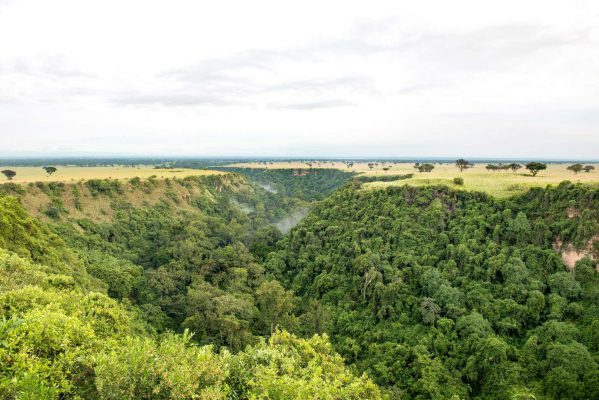 the late Queen Elizabeth II of Great Britain, Uganda's Queen Elizabeth National Park, is also dubbed the "Medley of Wonders" for its diverse biospheres & habitats: tropical forest, green meadows, savannah, crater lakes and swamps. Gazetted in 1952, the park was initially known as 'Kazinga National Park' and then renamed to commemorate a visit by the Queen in April 1954.
A few more cool curiosities about this park:
The first known European visitor was Henry Morton Stanley in 1889.
The park covers 764 mi² – about the size of the Masai Mara Game Reserve and Amboseli National Park combined
QENP lies on the floor of Africa's Western Rift Valley, also called the Albertine Rift, which runs from northern Uganda to Malawi.
QENP hosts over 600 bird species and about 100 species of mammal, including the striking Ugandan Kob
QENP harbors over 3,000 hippos – the highest concentration of hippos in East Africa.
Crocodiles have only recently been seen in the Kazinga Channel. It is believed that they disappeared from Lake Edward for thousands of years due to toxic ash from volcanic activity. In the mid-20th century, however, humans started cutting paths through the forest next to the channel, and the crocodiles were able to use them to circumvent the rapids which had also held them off in the meantime.
The Kazinga Channel flows almost imperceptibly from Lake George to Lake Edward, since the change in water level along the 22 miles channel is only about 16 inches.
QENP's Ishasha sector is known for tree-climbing lions
The Equator cuts through the park so you can stand with one foot in the northern hemisphere, and one in the southern
No trip to Uganda is complete without a visit to this exceptional park, as you would agree if you undertook our Primates, Wildlife & Culture safari. Give us a call to start planning your next adventure in Uganda.