You can't visit Cape Town without taking the cable car up Table Mountain, checking out the Zeitz Museum and hanging out with the penguins at Boulders Beach. And that's just for starters! But beyond the city's legendary attractions are off-beat activities that we heartily recommend – especially as some create the same kind of once-in-a-lifetime memories you'll experience on your safari. Here are five of the best.
Freewheel down Table Mountain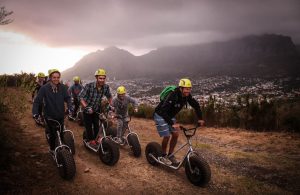 Freewheeling down a mountain with Scootour certainly is exhilarating – but don't worry, it's not a white-knuckle ride. The bikes originate from Switzerland, where they were designed to be used on the slopes of the Alps in the summer season, and their wide tyres ensure a steady ride on rough terrain.
Your two-hour session is in two parts, and both offer sublime views of the city. First, you'll scoot down a 5km off-road track from Signal Hill to the Bo-Kaap district, after which you'll be taken down a section­ of Table Mountain and into the suburb of Oranjezicht. Kids from 4-9 years old can ride behind an adult, and those 10 years and older can have their own bike. The company also do trips around the winelands in Franschhoek.
Take an art tour in Woodstock

Just outside the city's CBD is Woodstock, a semi-industrial suburb that's been undergoing a process of urban renewal since the early 1990s. Come here for cutting-edge art galleries, a weekly food market and hip coffee shops and restaurants, including The Test Kitchen, widely regarded as the city's best restaurant. There's a vibrant street art scene here, but it was created with a purpose – to make the area a safer and more pleasant place for the mostly impoverished locals as well as tourists. Thus, most of the murals have been commissioned and created with the permission of the owners of the buildings, and feature a diverse range of talent ranging from big names to unknowns.
In order to know where to go and understand what you're seeing, we recommend joining a tour by the enterprising artist Juma Mkwela. You'll also have the option to sponsor a mural if you wish, thus helping make Cape Town a better place for those who live there. A range of the tours offered by Juma are here.
Try out some local gins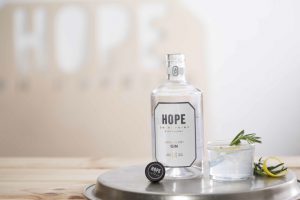 A number of craft distilleries have set up in Cape Town in the past few years, and the gin distillers Hope on Hopkins are regarded as one of the best. They also produce Musgrave Gin, which you're sure to see popping as up on cocktail menus around the city, and Southern Cross Gin, which uses fynbos, the local flora, for botanical flavors.
The distillery is set in the industrial area of Salt River, and intimate tastings sessions are hosted by the owners on Saturday afternoons (we recommend booking ahead as numbers are limited to 12 people). You'll get to sample the company's own gins – a London Dry, the South African-inspired Salt River Gin and the more experimental Mediterranean Gin – all distilled three times with local barley and a fourth time with various botanicals, some imported from Europe and some locally grown. The company also produces a batch vodka and an agave spirit, which they're not allowed to call tequila. All make for great gifts for folks back home if you have room in your luggage.
Snorkel with seals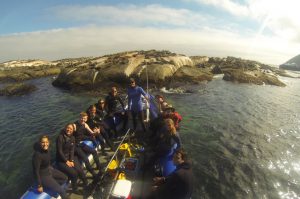 Here's one for the bucket list: the opportunity to frolic with a bunch of Cape fur seals, known as 'puppies of the sea' for their friendly and inquisitive natures. Animal Ocean is one of the companies that offer expeditions leaving from Hout Bay Harbour.
After a safety demonstration, you'll be provided with wetsuits, snorkels and flippers and taken on an inflatable speedboat to Duiker Island, home to thousands of seals. Be warned, though – the island is a little stinky and the water is pretty chilly, although your wetsuit will pretty much insulate you from the cold and you'll soon be distracted by the seals gamboling around you. Depending on the time of year, there may even be seal pups! Make sure to rent an underwater camera so that you have pictures to show your friends and family.
Jump on the Franschhoek Wine Tram

The Franschhoek Wine Tram is a brilliant way to enjoy tastings at several wineries without having to have a designated driver. Tours depart from the centre of Franschhoek village (door-to-door return transfers from Cape Town can also be arranged) with six routes to choose from; some of the journey is by open-sided tram and the rest is by tram bus. You can choose which wineries you want to visit, and the minimum stays are an hour at each location.
If you do purchase wine along the way you can give it to the driver, who will conveniently take care of it until the end of the tour. There's only one caveat – you must book in advance, and this goes for any planned lunches or picnics at any of the estates, especially on weekends or the high season.