South Africa is unique in knowing the exact date on which their wine industry began, thanks to the diary entry of Jan Van Riebeeck, who wrote on February 2, 1659 — "Today, praise be to God wine was pressed for the first time from Cape grapes." . Van Riebeeck was sent to the Cape in 1652 by the Dutch East India Company to establish a victualling station for ships rounding the southern tip of Africa between Europe and the East. He established the first vineyards on the slopes of Table Mountain.
In 1685, Simon van der Stel (the Cape's first Governor) was granted a large farm just outside of Cape Town which he named Constantia. He planted orchards and vineyards which flourished. After van der Stel's death in 1712, the farm was divided among several families, who each built their mansions, and cellars and farmed here for generations. Some of the best wines in the world, favored by the likes of Napoleon were produced in the valley, and they are still being produced today.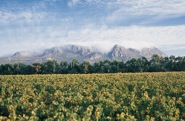 The Constantia Wine Route is one of the best trips to take when visiting Cape Town. Visitors have made a bee line for the valley since the 1700s. It only takes about 25 minutes to drive from the city center so you can spend most of your time marveling at the gorgeous landscape, tasting spectacular wines and appreciating the beautifully preserved Cape Dutch architecture.
There are eight wine farms in the valley, the best known include: Steenberg, Groot Constantia, Constantia Uitsig, Buitenverwachting and Klein Constantia. Each wine estate produces unique tasting wines so it's worth visiting several of them. While Constantia became world renowned for its sweet white wines, today you can enjoy Sauvignon Blanc. Chardonnay, Cabernet Sauvignon, Merlot, Shiraz, Pinotage, Cabernet Franc and Pinot Noir.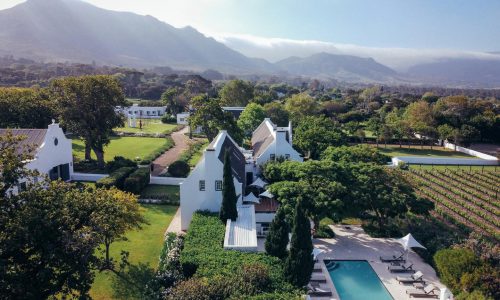 Once you've built up an appetite touring the cellars and tasting wine, you can head for a local restaurant and enjoy some of the finest cuisine on offer in South Africa. Several of Constantia's wine estates have transformed their mansions into lovely hotels complete with excellent restaurants to compliment their wines. For an informal lunch we recommend ordering a picnic basket that you can enjoy on one of the great estate lawns. For dinner you can't go wrong with La Colombe, Tryn or the Constantia Uitsig Restaurant.
We highly recommend you spend a few nights in the valley, it's close
to everything in the city, but so much more peaceful. There are two hotels in particular that we love: The Steenberg and the Constantia Uitsig. Both offer a luxury, boutique hotel experience in an historic building on beautiful estate grounds. There are great restaurants on site as well as spas and swimming pools to further relax you. There's no doubt you'll be asking for a late check-out.