A somewhat quickly planned last minute itinerary, ended up being one of their best vacations to date! Anouk and her family spent 2 weeks in South Africa over the December 2021 holiday period; here's the report in her own words.
We know how much our clients appreciate the Johannesburg "meet and greet" service we offer on arrival, and it's always fun to test it out ourselves. So after a quick and seamless passage through immigration, and a comfortable night at the City Lodge, we flew to Durban the following morning.
In Durban we stayed at Sandals Guest House, a wonderful intimate bed and breakfast in Umhlanga – it was a great choice. We could walk to all the restaurants, enjoy the beach, and had the bonus of feeling we had indeed arrived in Africa when we caught the monkeys stealing our chips while sunning at the hotel pool. Our colleagues in southern Africa are all based in Durban, so we got to catch up with them and enjoyed their hospitality so much. Of course, we couldn't miss drinks and dinner at the Oyster Box – one of Durban's finest hotels.  It was so good we went back for lunch the next day.
Another highlight of our stay in Durban was the city tour. We learned all about Mahatma Gandhi's earlier life, we visited the spice markets and the school established by John Dube, the founder of the ANC where Nelson Mandela cast his vote in first democratic election held in 1994. And thanks to our artist Uber driver, we checked out the BAT Art Cooperative, that was just eye-opening, located in the docks area. We also bought a few prints at the KZNSA gallery a great artist cooperative and coffee shop, that I would highly recommend. What I loved about Durban was its relaxed and very unpretentious vibe. It's true the "downtown' is busy, poor and a little rundown, but people are really friendly, great restaurants are not hard to find, and Umhlanga was a really excellent location to base ourselves from.
An easy 3 hour drive up the coast of KwaZulu Natal brought us to our next destination where we would spend Christmas. I had always wanted to visit this UNESCO World Heritage Site and the little town of St. Lucia is located right on the edge of the iSimangaliso Wetland Park (formerly known
as the more pronounceable "St Lucia Wetland Park"), where hippos literally roam the streets at night. The town truly is packed with hippos and naughty vervet monkeys. It was also packed with local folks celebrating the holidays with gusto. Young Zulu men danced in their warrior outfits to earn extra cash for Christmas, market ladies sat stoically in front of piles of lychees, mangos and tourist trinkets, and the smell of meat on braais (barbeque) was constant. Our home for three nights was the lovely, and super modern Serene Estate Guesthouse.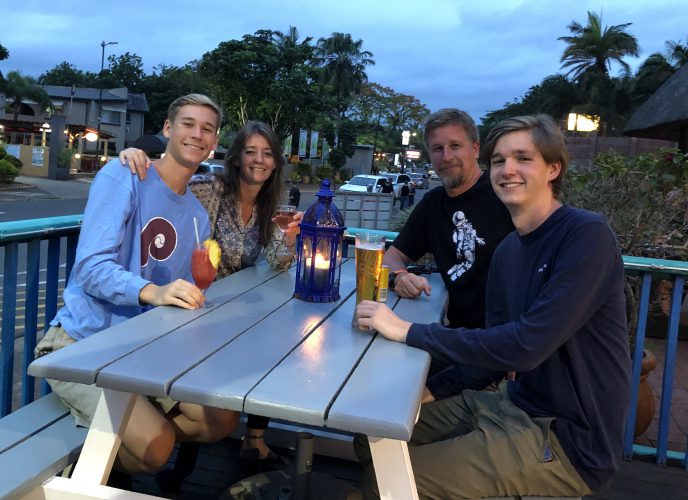 We woke up to duiker, guinea fowl, and the occasional hippo on the lawn beyond the pool. The birdlife was mind blowing, not surprising with the ocean, estuaries and a huge sweet water lake all in one tiny area. We took a boat trip to check out the Wetlands and a long 8 hour night time foray to Cape Vidal beach inside the national park, to try and catch a glimpse of the turtles. Alas, we did not get to see turtles due to a torrential rain storm that lasted through the night. Note to self to pack rain gear if you are traveling in an open safari vehicle this time of year. But the route through the park at midnight to get to the beach, was probably the most prolific night drive I've ever done with regards to wildlife. Of course, the hippos were out grazing in force, but we also had huge herds of elephant blocking the road, hyenas scavenging from campsite trash cans, serval cats popping up in our headlights, giraffe ambling by, zebras strolling on the tarmac, and buffalo looking mean as
usual. It was truly eye-opening (or would have been if the rain wasn't pelting quite so hard).
Christmas day was spent with the locals on Cape Vidal beach trying to figure out how to throw a rugby ball, body-surfing in a very wild (but fairly warm) ocean, and avoiding being dinged on the head by families with enormous fishing rods. We were the only ones without a barbeque, tractor to pull our boat, and a beer belly. We did get one of our sons to wear a South African flag colored speedo (Christmas gift from mom!) to fit in – sadly even the South Africans don't wear speedos anymore, so that plan failed. All agreed it was a super fun way to spend Christmas day, but best to avoid driving in town as the evening wore on, that's when the party really got started.
Our second week was more classically "foreign touristy". We were booked
into Savanna Private Reserve in the Sabi Sands and Tanda Tula in the Timbavati – both firm favorites here at African Portfolio. We spent a day in between the two reserves checking out the "Panorama Route". This includes Blyde Canyon, God's Window, the Three Rondawels, and several breathtaking waterfalls. The sites certainly did not disappoint, although quite crowded with local tourists during the holiday period. Driving through this Hazyview area during the summer months is such a pleasure, not just for the stunning natural vistas, but there's also so much delicious produce being grown here —  avocados, lychees, mangos, macadamias, and much more. It was made all the more interesting because we had such a knowledgeable guide, with some of the best one-liners and general advice about life, produce, sports, conservation, and ballistics we'd ever heard. One of our favorites regarding sports, coaching and rugby players — "There's a difference between participation and commitment. When you're eating bacon and eggs, the chicken is participating, the pig is committed".
I was also thrilled with a new find (for me at least) when we pulled up at Khaya Ndlovu Manor House to spend the night at the end of this touring day. Just a lovely experience to swim in their warm pool while looking out over an active waterhole and truly impeccable service.
Savanna was 5 star all the way, in terms of our tents, the guides, the food – and all the special touches which I will not give away, as it's lovely to be surprised. The warm plunge pools are sublime. The leopard were practically sitting in the vehicle, the elephants and rhino were out in force, and we got super lucky to see wild dog every day as well. The dogs actually joined our sundowner unexpectedly, we had to make a bit of a dive to get back into the vehicle safely. Luckily the alpha male was making a lot of noise to get the female's attention, so we heard them coming just in time – no wine spilled! I love the Sabi Sands any time of year, but summer is just awesome. The animals just "pop" out of the green and they all look so healthy. Babies of all species abound, the insects, birds and smell of the rain is just so special. We just had a phenomenal stay.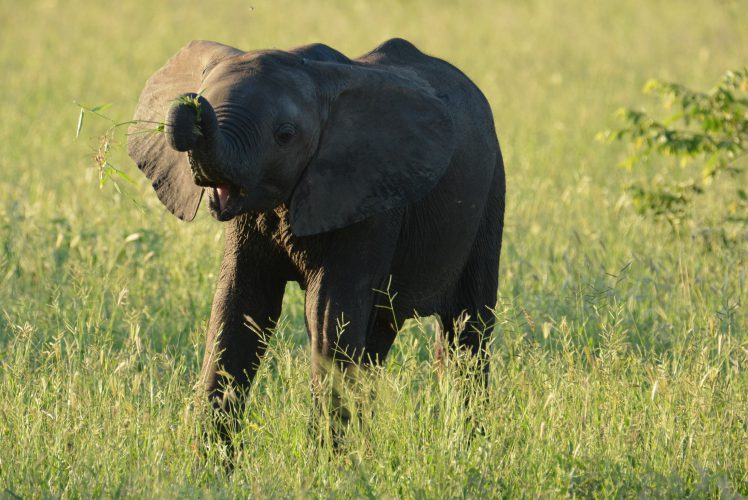 Our final 3 nights including New Year's Eve, were celebrated at Tanda Tula, one of the few independent and real old-school tented camps in this area. Just like Sabi Sands, the Timbavati is a private reserve adjacent to the Kruger National Park and is amazing year-round with regard to wildlife sightings. Our guide and tracker were a fantastic team, we saw the "Big Five" in just a couple of days. My oldest son turned 21 on January 1st, and they could not have made him feel more special.
New Year's Eve day we saw no less than 13 rhino and dozens of giraffe, running, fighting, browsing – I love giraffe, so I could not have been happier! We also learned about frogs that create huge white egg sacs suspended over puddles that feel like woven shaving foam; we felt the warm air coming out of termite mounds, and so much more beyond just the
"Big Five". Cute bush babies were in the trees as we went back to our tents each night, and the pool area at camp was resident to the most beautiful herd of nyala I've ever seen. We celebrated New Year's Eve with sparklers, champagne and maybe a shot or two of Jaegermeister .. which did delay the following morning game drive by a whole hour to start at 6:00am.
It truly was a most relaxing, interesting, and varied trip from start to finish. I can't encourage you all enough to steer the course and go on the trips you have planned, or to book a new safari now. It is exactly what the soul needs during these times, and the lodges, guides, managers, and conservationists all need us there to enjoy it too.
Call or email us to plan your safari!