Already well into the new year, we are overdue in providing an update on African Portfolio's continuing efforts to have a positive influence on the lives of those less fortunate – only made possible with your valued contributions.   As we work to make your safari dreams a reality, we are continually aware of the impact our business has on the local communities with whom we interact. The tourism industry is a major provider of jobs and services throughout Africa, often in remote areas where residents would otherwise struggle to find employment opportunities.  Many of our clients ask what they can do or what they bring to help the disadvantaged in the country they are visiting.  We cannot stress strongly enough that your travel alone is a significant contributor, providing much needed revenue to safari camps and lodges for these operators to in turn to be able to educate, train and employ people of the local community.  We are privileged to work in work in this industry and grateful for your participation in helping us strive to improve our relationships with our friends and colleagues all over Africa.
One of the organizations we support is called Uthando (meaning love in Xhosa). This is a unique non-profit
organization based in Cape Town and focused on fund-raising in support of life changing community development projects in the townships and beyond. Motivated by love, compassion and respect for our common humanity, Uthando engages in solutions to meet the economic and social challenges of the under-served communities in South Africa. From senior centers to urban gardens, and boys' choirs to day-care centers – Uthando does it all. A portion of the revenue we generate is donated to assist Uthando in continuing these literally life-saving programs.  If you are planning a future trip to Cape Town (which we highly recommend, of course), we can certainly arrange for you to see some of their projects in action.
At a more grass roots level, we have also gone one step further in supporting community efforts in education in Harare, Zimbabwe where Diane (owner of African Portfolio) spends several months of every year.
Kasipiti is the name of the organization Diane founded in 2011. Kasipiti roughly translated means "renewal" or "spring growth" in Shona (one of Zimbabwe's main languages). We previously wrote (Read more …) about our efforts to provide targeted sponsorship of children with whom we could follow up with personally, in the hopes that we could make a difference in even a few of their lives. Our objective has been to help families meet the ever-increasing costs of tuition, school fees, books, uniforms, transportation – knowing that education is the key to creating opportunities to becoming self-supporting. Kasipiti now sponsors the education of dozens of young children and teens.
We thought the best way to update you on the results of the donation we have been making is to hear from the students themselves.
Dear Mrs Lobel,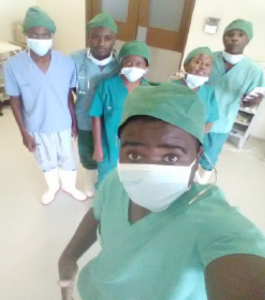 I write this letter expressing my gratitude for the assistance you are offering to me and also updating you of everything that is going on now.  I am now in my second semester of my second year at the University of Zimbabwe and we will be writing our important exams for what we have learnt in the past 2 years in June and after that I will proceed to the clinical part of the program. The first 2 years that I am about to complete is the pre-clinical part of the program. I am happy that I have been proceeding very well passing all of the important exams we have written so far.
I would like to thank you so much for the financial assistance you are providing me with. I appreciate very much the monthly pocket money, the financial assistance you offered me last year for my rural attachment, Epworth project and all the help you offered to me in securing most of the items I need in school, including the calculator.

Your assistance has been of great importance to me because I can focus on my schoolwork without any challenges. I now have peace of mind without worries of trying to secure the items I need. Your assistance has also enabled me also to venture into charity events which we organize at the University to offer the little we can to other people in need, so as such I have also participated in a number of those activities.
I am continuing to work hard so that I do justice to all the efforts you put in helping me.  I hope you are all fine.
Yours Sincerely, Lashwid Sande
Dear Mrs Lobel,
I really appreciate your care and support regarding all the financial assistance l received from you which helped a lot in building and advancing my profession.
Therefore, I just wanted to drop you a note to thank you for the opportunity you granted me so l can study and achieve something in life, and at the same time notifying you of what l achieved under your care. If it was not for you, l would not have reached this far with education. Currently, l am a class 4 of motor mechanics, pursuing onto class 2 auto mechanics and also managed to get a class 2 driver's license.
Thank you for your confidence in me. I'll keep you informed of how well l am doing on a later date.
Best regards, Nyamimba Cleopas
Dear Mrs Woodman/ Mrs Lobel – I am Nigel, I hope I find you well. I want to thank you for paying for my school fees for first term pertaining lower six at Vainona High School. Am studying pure mathematics, business studies and economics. Last year I failed to go to school because my parents could not manage to pay my school fees until this year when you came through. I send my grateful thanks to you and your helping hand.
Yours sincerely, Nigel Munashe Mutinha
To Mrs Lobel
Thank Lord for giving me this chance to write to you this to you and inform you about my achievements. I chose a course which I enjoy doing and I loved it very well. Just after I finished my second year attachment, I wrote a theory exam of class 2 mechanics and I passed. After that I registered for the practical exam and I attended it in December last year towards Christmas , right now I'm waiting for the results which I'm hoping to get by the end of next month they will be out. If the results are that I passed, as I believe, I will be leaving this country looking for a job maybe in South Africa. After a year or so I will be back to write the final exam which is class 1.  I believe with God's love I will not back down my career, my hopes and wishes.
Sometimes we just live to make dreams, but sometimes dreams become wishes and wishes become reality. The way you put your heart to me as a helper to fulfill my dreams I can never imagine it. With this love I hope and pray that God will continue give you Love, Life and Good Health.
I thank you for everything. I also thank you for the way you sacrifice your life and giving your hopes to us that one day we will make something thing in life. I also give thanks that you gave us a chance to live our dreams. My Lord grant you long life, I thank you
Your faithfully, Ignatious Masiya
Thank you Mrs Lobel and Mrs Woodman once again for your sponsorship of my children Esther and Nigel l will make sure they will not disappoint you. Let the almighty God continue open up for you to continue doing the good job.  I thank you
Yours faithfully, Norbert Mutinha
Dear Mrs Lobel,
I hope I find you well. I just want to thank you with the helping hand you have provided to my fees payments pertaining my bachelor's science and honours in accountancy at Chinhoyi University of Technology as am now starting my final semester of my 4 year degree program. I am saying thank you. Last semester i managed to pass all my course modules. This semester due to the economic difficulties my fees has increased. The semester fees was 569 and it increased to 785. The current fees for this semester is 785. Once again thank you for your helping hand it is greatly appreciated. 
Yours sincerely, Esther Nyasha Mutinha


Dear Mrs Lobel
RE: INFORMING YOU OF MY ADVANCED LEVEL PERFORMANCE
I wrote my Advanced Level Zimsec exams at Vainona High School in 2018.  I was doing arts subjects . My results were as follows Geography B(4 points), History C(3 points), Family and Religious Studies B(4 points) and Communication Skills – 5 units. In total I scored 11 points out of 15 points.  I applied for August Intake at the University of Zimbabwe for a Honours Degree in Geographical Information Science and Earth Observation. I am still waiting for a reply of a place at the University of Zimbabwe which I hope to hear about in second week of March.  I thank you for the helping us with educational facilities.
Yours Faithfully, Sande Onibiyaji
Dear Mrs. Lobel,
I want to thank you especially for what you have done with my education school fees.  I would not have made it without your support.  Thank you so much.  You have been there for me since day one until I finished my "O" level.  You are such a kind person.  Even my family appreciates everything you do for me Mrs. Lobel.  May the Lord bless you and add many more years to your life.
Christina Chikumbe
Dear Mrs. Woodman and Mrs. Lobel,
I write this letter to thank you for accepting me as one of your students, for paying my school fees and buying my uniforms.  I would also like to thank Mr. Sosa for introducing me to you.  May God bless you.
Yours faithfully, Tawadzana Maranjisi
Dear Mrs. Woodman and Mrs. Lobel,
I just want to thank you for all the things you have done for me.  I have received all the things you have sent for me and I appreciate them all.  You have done a great favour for me and I promise to do my school work seriously so that you won't find any complaints.  Please keep up your good work. I only thank God for sending you to me to put this special gift in my hand. Please don't become tired of doing this favour for me.  I don't know how I can thank you.   Thank you so much for your support because my parents couldn't afford to pay my school fees.  I hope it will make both of us happy.  
Yours faithfully, Charles Kondo

Despite losing vision in one eye, Anyway John has excelled in sport as well as in the class room which resulted in being awarded a scholarship to Prince Edward school for middle distance running in 2017. His forte is the 1500-meter race, where he has distinguished himself, while continuing to complete his academic courses as well.
Once again, we want to give special thanks and an abundance of gratitude must to Bonny Woodman, who has worked tirelessly for decades to enrich, uplift and provide opportunity to those in need. For many years she was the director of the Special Olympics program in Zimbabwe as well as numerous other local government aid organizations.   We are so fortunate to have her helping us to help others.   We could not do any of this without her dedication and support.

As we do each year, we held a Christmas party at the farm to celebrate our students and give them a chance to shine. They each had an opportunity to stand up and talk about their accomplishments and received well deserved applause, recognition and prizes for their achievements.  We hope these photos bring a smile to your face and warmth to your heart.  Thank you for the gift your trips provide to these well deserving youngsters and young adults.