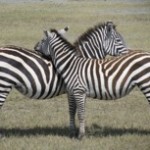 Not every trip requires going through a tour operator. If you're planning a long weekend in Marrakech, it's a simple matter of booking flights and finding the right Riad to stay at. The same could be said if you're visiting Cape Town for a week. You might miss out on some of the insider tips we could offer, but you'd probably still manage to have a good time. So when should you use a tour operator?
1. If it's your first safari. You really should talk to a tour operator that specializes in safaris and is very familiar with Africa if you are planning your first safari. There are an overwhelming amount of safaris to choose from, let alone destinations. There are many different types of accommodation, ranging from simple campsites to luxury cottages complete with jacuzzi and butler. You can enjoy a safari in a jeep, canoe, hot air balloon and boat. You can spot wildlife from the back of a horse, camel, or elephant. You can walk among a herd of zebra, or spend an afternoon playing soccer with Maasai children. There's a lot out there and it is very time consuming to figure it out on your own.

2. If you are traveling to more than one country. Africa is huge and the infrastructure is not so great in many countries. This means that getting from A to B can be difficult unless you are familiar with the transport options available. Airline schedules can change from day to day and charter services can also be sporadic and difficult to book independently. Booking all your transport within your safari/vacation with one tour company will help if plans change. Renting a car with a driver from a reputable company is paramount, since you will be very dependent on them for their driving, navigating, guiding and language skills. Even if you are planning to see a number of different places within the same country, using a tour operator will help you plan your time. Covering a 100 miles in Tanzania can take all day during certain seasons, and in certain regions and national parks. You need the expert knowledge or you'll end up spending the whole time traveling between places and not enjoying them.
3. If you have specific needs and wants. If you are vegetarian, pregnant, diabetic, traveling with small children, unable to walk up steps, terrified of catching malaria, or have any special desires to see specific animals, people, art, music – use a tour operator. If you'd like your kids to eat at 6pm, need a fridge to store your medication, or would love to shop at a local market – a knowledgeable travel agent can make it happen for you. It's your vacation, let someone else do the worrying and planning for you.


4. If you wish to travel responsibly. Good tour operators will vet every property and make sure they are run responsibly. At African Portfolio for example, we stand by every property you stay at and every ground operator we use. We make sure they are eco-friendly, employ and train local staff, and treat them and our clients with respect.
5. If you are concerned about safety and security. Most countries in Africa are stable and safe, but politics and natural disasters happen. A good tour operator stays up to date with elections, weather hazards and high crime areas. A small skirmish in northern Kenya may not make headline news, but a specialized tour operator will know about it, and can redirect your safari to keep you safe. If the rainy season is looking very heavy in southern Africa – then perhaps switching your itinerary around to include more internal flights rather than road transfers, would be a good idea. This would be very difficult to accommodate on your own. Many local lodges and hotels cannot accept foreign credit cards, so making reservations can lead to arduous bank transfers, that also feel less than safe.