Planning a safari to Southern Africa? Don't forget to add a little dash of culture to spice up your safari experience. Whether you are bookending your trip with a few days in Cape Town or exploring the dunes of the Kalahari, ask us about visiting a local community. We will make sure your experience is as interesting and authentic as possible. Here are some of our recommendations …
Community and Township Tours in and around Cape Town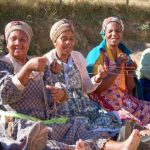 Uthando is our chosen charity in South Africa and serves as an umbrella for a wide range of highly effective community projects across the country. In order to showcase these and also to offer a glimpse into the work being done to uplift the disadvantaged in South Africa, they offer daily scheduled excursions visiting the sprawling townships around Cape Town, with particular emphasis on visiting at least three of the social development projects being funded through Uthando. The Uthando tours offer a unique and authentic introduction to the social problems confronting so many millions of South Africans, while also illustrating the innovative and inspirational ways in which they are being handled by these marginalized and destitute communities. Very importantly, the projects are not treated as tourist attractions and the tours are designed in such a way as to educate, inform and inspire while also respecting the dignity and privacy of the people concerned. The projects are, after all, places where people live, work and in most cases, just survive. African Portfolio makes a donation to Uthando for every client that visits South Africa.

You could also choose to walk through the famous Bo-Kaap with a neighborhood resident as your guide. Meet and greet your way around this colorful and characterful part of the city and hear the stories of slavery and emancipation, language (Afrikaans), apartheid, religion (Islam), food, music that have shaped this community. This is a neighborhood settled by freed slaves in the 19th century. The steep streets are lined with vibrantly colorful houses. The Malay culture is proudly Islamic, and you'll see many of the locals wearing traditional dress. The Bo-Kaap Museum, housed in one of the oldest buildings, documents the history of the Cape Malay community and is furnished in traditional 19th Century Cape Malay style. To really appreciate the Malay influence on South African cuisine, grab a quick & casual lunch at Biesmiellah Restaurant or Bo Kaap Kombuis
Botswana – Kalahari San Bushmen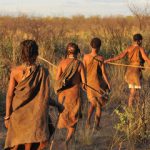 The San (or Basarwa) people of the Kalahari are more commonly known as the Bushmen. The Kalahari is a vast desert that stretches over  South Africa, Botswana and Namibia. Living in one of the most inhospitable terrains in the world, the San survived by hunting wild game and gathering roots and tubers. Many people outside of Southern Africa were introduced to the San culture through the South African made movie "The Gods Must be Crazy". The San are considered to be the oldest culture in the world dating back over a hundred thousand years. Beautiful San rock art can be seen throughout Southern Africa where the San lived as hunter-gatherers. In the past 2000 years the San were slowly pushed to live in the arid sands of the Kalahari Desert by Bantu tribes and white farmers who took the more fertile land for their crops and livestock. There are only about 3000 thousand San that still follow a totally traditional lifestyle of hunting and gathering (out of a population of 95,000).
A San guide will take you on desert walks, show you how to hunt using poison-tipped arrows, how to collect veld foods, track game, collect herbs and participate in music and dance. We recommend Kalahari Plains Camp (Botswana) and Jack's Camp as excellent jumping off points.

The Himba (Namibia)
The Himba are semi-nomadic pastoralists who live in Kaokoland which is in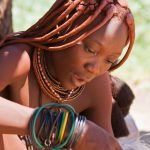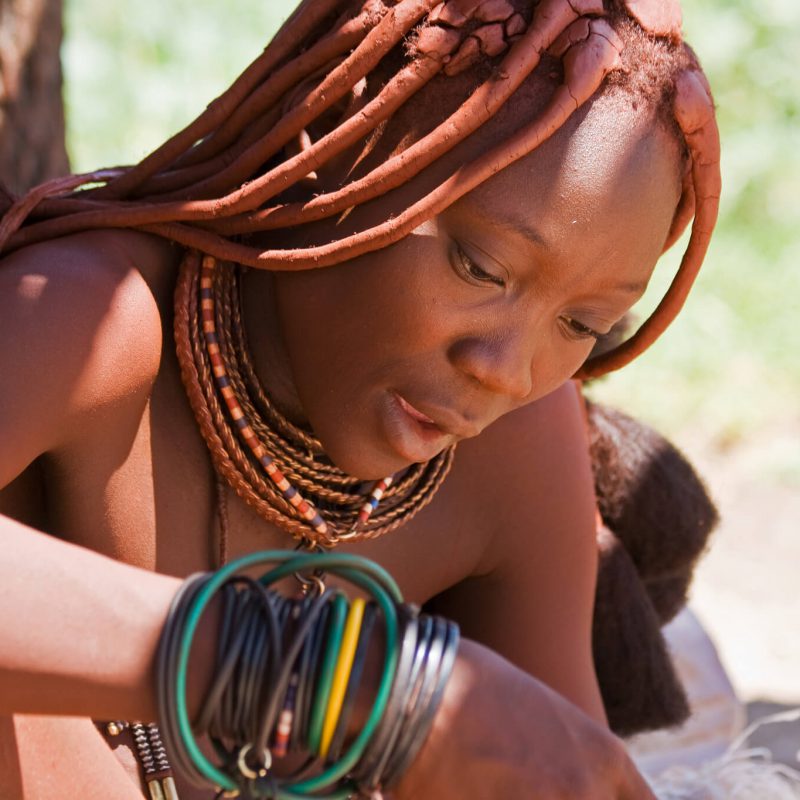 the Northwest of Namibia. The area is very rugged, dry, remote and mountainous. The Himba live by herding sheep, goats and some cattle and they move locations several times a year to graze their livestock. The Himba are descendants of the *Herero and still speak the same language. Their houses are just simple cone-shaped structures made with saplings covered in mud and dung. The Himba maintain their traditional beliefs including ancestor worship and rituals concerning sacred fire (okoruwo) which is considered an important link between the living and the dead. The Himba rub their bodies with red ochre and fat to protect themselves from the sun, and the women also add mixtures of aromatic herbs in their skin rub to fragrance their bodies. The Himba make numerous beautiful jewelry items, mostly from iron, ostrich shells, and, more recently,
PVC pipes. Their intricate designs have become popular among Western tourists. Himba homes are cone-shaped and made from palm leaves, cattle dung and mud.
*The Herero are one of Namibia's main tribes and the women are easily recognizable by their distinctive Victorian look influenced by early German missionaries. You might bump into them in Windhoek or in the eastern part of the country.
Camps and lodges within this remote region (such as Serra Cafema Camp) offer guided tours to Himba settlements, where you will learn more about the Himba culture and way of life. You will tour around the village, meet the elders and get the opportunity to talk to the Himba through an interpreter. Always ask permission before taking photos!
More About: Visiting Traditional Communities in East Africa