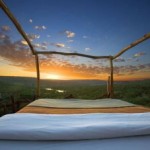 Show us a safari camp with a "star bed" option and we are sold. The night sky is one of the many wonders you can experience when on safari in East and Southern Africa. And so pleasant to lie in bed and gaze up at the free show. With very little light pollution, the stars are truly magnificent. The milky way is clear as daylight, as are several dwarf galaxies and planets. The Southern Cross is easily identifiable and has been used as a navigational tool for thousands of years.
Too often though, we will marvel at the starry night but have little clue as to what is what up there. You can download star maps from some web sites, but it's unhandy to reference them in the dark. By far the most useful tool these days are apps: the "Star Walk" for Apple gadgets, and Google Sky Map for Androids. These apps literally make star gazing and identification a walk in the (safari) park. It's now a "must have" on our safari packing list.
If you have an i-Pad or phone with a 3G connection you can utilize "Star Walk" anywhere in the bush that has a cell phone connection (more reliable than electricity in the African bush). It's simply brilliant. You just point it at the sky and it will identify planets and constellations for you. Here's one happy reviewer: "I have no idea what's what in the sky at night, and I live in South Africa where we have the most fantastic stars. Downloaded this app two days ago and it is simply fantastic – it works, it's simple to use, and I am hooked" – Ben.
Have any of you used this application yet? Tell us about it!