Yvette, senior travel consultant at African Portfolio, takes a plunge into the world of spa'faris, where new-age muzak is (thankfully) replaced by the natural sounds of the African bush.
Save room for the woodcarving, leave the manicure set at home…
Quite a few years ago, I (honestly) had a really lovely bride send me the make, name and serial number of her favorite nail color, so that I could establish if the spa at her hotel would be carrying it during her honeymoon stay. I have to admit I didn't really understand the concept of combining an "adventure holiday" with a "spa experience", until I stayed at a lodge with a spa myself. I discovered first hand this delightful way of spending the "siesta" time between brunch or lunch and tea (or as I like to call it – "resting between meals"). And face it, with all those luggage restrictions, it's so nice not to have to lug your own manicure set, Tea Tree oil and face mask.
Spa where you are…
Being that we customize each itinerary, rather than contrive and "pre-package" a spa-safari, we can create a trip to meet all our guests' usual requirements and travel style, specifically featuring properties that offer the spa experience in one form or another. Fortunately for the hedonist in all of us, it has now become almost de-rigeur at mid to high-end game lodges, safari camps, beach and island resorts, city hotels and country retreats all over the African continent. The spa opportunities and offerings abound. And as with most things in Africa, it's never "quite the same" as you've come to expect.
Canvas tubs and traditional healing…
My first spa treat was an alfresco massage at sunset overlooking the vast Masai Mara plains from my tent at Cottar's camp, followed by a soak under the stars and some bubbles in a nifty, collapsible canvas "tub". Treatments and facilities range from simple pleasures like this, to the unique African Living Spa at Gibb's Farm on the slopes of the Ngorongoro Crater where the focus is less on pure pampering but the integration of modern day wellness concepts and traditional healing, phyto-medicines and philosophy.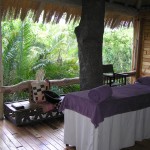 "Lulled into oblivion" …
One of my favorite features of bush spas, is that they typically forgo the ubiquitous, other-worldly "soothing background music" for the pleasant down to earth din the African bush and its creatures going about their business. In the treatment room at Jao Camp, the dense Okavango Delta vegetation provides privacy while the doors are opened to let in the sounds of everything from of Bell Frogs to Fish Eagles. At Toka Leya near the Victoria Falls, a mirror under the massage table reflects the Zambezi river coursing by, while the sound of the water in its natural perpetual motion, lulls one into oblivion.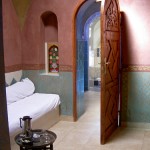 Basil tea and sandalwood…
One of of my most vivid memories of Mauritius relates to the exquisite flavor of the fresh Basil Tea and lemon at the
Maradiva Spa, and I'll never forget the exotic, fragrant mix of Sandalwood and orange flowers in the Turkish Bath at Hotel Al Moudira in Luxor.
The list goes on, but for my part I'm already stunned to see how many times and in how many ways, I've extended myself like this during my travels in Africa and the Islands of the Indian Ocean. And all for the sake a better understanding of what our clients should expect on safari, and to verify that "nothing but the best" will do indeed.
Contact us for more information and advice for a truly relaxing safari vacation.