We have some good news to report about rhinos in Zimbabwe.
Imvelo's CRCI – Community Rhino Conservation Initiative in concert with the Malilangwe Trust has recently orchestrated a historic white rhino translocation into a new community-owned reserve bordering Hwange – the Imvelo Ngamo Rhino Sanctuary – making Hwange a Big 5 destination once again. The CRCI aims to reintroduce rhinos onto community land in southern Hwange, with local communities as custodians.
As a species, Southern White Rhino were extinct in Zimbabwe by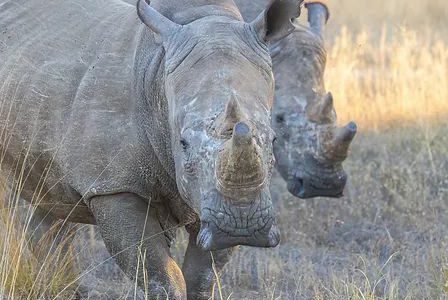 about 1900. Later they were reintroduced from Zululand in the 1960s. At its peak, the rhino population in Hwange National Park numbered several hundred by the 1970s and 1980s of which about 120 were white rhino. By the early 2000s poaching had once again eradicated white rhino from the park.
In May 2022, the two white rhino bulls, Thuza and Kusasa, were translocated to the rhino sanctuary in Hwange with the long term goal to create and then link more sanctuaries together as more
rhino are re-introduced to create a larger conservancy. This pilot project will be a catalyst for a bigger conservancy and buffer zone between the Park and communal lands, which supports local people through job creation, gate entry fees, increased tourism and reduced human wildlife conflict.
Book our 30 year anniversary special Kutenda Safari, and during your stay at Camelthorn Lodge, you can participate in a very
special rhino experience. It includes a tour of the sanctuary headquarters where you can meet some of the Community Wildlife Protection unit on duty that day and hear a short talk on the origins of the Cobras and how they protect the rhino, as well as the future plans for their ground-breaking Community Rhino Conservation Initiative. You will also go on a walking tour to view and spend time with the rhino and the Cobra Rangers who guard them 24/7 with lots of photo opportunities and quality time to watch and enjoy the white rhino in their new home on the Ngamo Plains. Watch the video below to get a taste of this once in a lifetime experience.