March can be a rainy month in southern Africa, but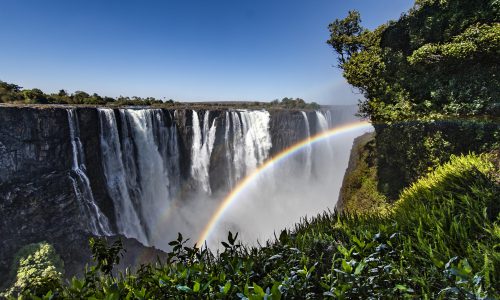 it has its advantages – if you're heading for Victoria Falls in Zimbabwe you'll have the rare opportunity to view a lunar rainbow, which requires a clear sky, high water levels and a full moon. The best time to see this is the hours following sunset so the park stays open late specially. Check out the full moon dates here.
This is a good time to visit South Africa – it's the shoulder season, meaning less crowds and lower rates. High summer is turning into autumn, and the weather is gorgeously mild – a daily average of 70F makes it an ideal time for Cape Town. Kruger National Park is starting to cool down, too – daytime temperatures range from mid-80s to low 90s, while evening temps will fall into the low to high 60s, though it's likely there will be thunderstorms. Wildlife is abundant during this time with lots of baby animals, although lush foliage can obscure viewing.
March is a good time to catch migratory birds – by April most will have departed for warmer climes in the north. There are still hundreds of resident species to enjoy, of course, but if birding is your passion, book your trip by the end of March for Botswana, Zambia and Zimbabwe.
In East Africa, the end of March marks the start of the long rainy season in East Africa. Many mobile camps begin to shut up shop in Tanzania and Kenya so if you want to enjoy a tented experience, make sure to book before the end of the month (lodges and larger permanent camps stay open). In the southern Serengeti in Tanzania, the wildebeest are starting to gather along with their calves, preparing for their great journey north in April or May.
If you plan on visiting Botswana this time of year, make sure to
include the Makgadikgadi National Park (especially camps close to the Boteti River) in your plans. If you're lucky you'll witness thousands of zebra and wildebeest congregating in huge numbers around the few pans that still contain water from the summer rains.
Have the winter blues set in? March is the perfect month to visit Seychelles, – the trade-winds are quiet so the seas are calm, making it a great time to go diving. The endangered hawksbill turtle's nesting season takes place from September to March, so you may just be lucky enough to see brand new hatchlings – they're only about 3cm in length -scuttle into the sea. It's also a great time to enjoy the beaches of Mozambique, especially if you are a diver, as the whale-sharks begin their annual visit to the region.
What's on in March…
Kirstenbosch Botanical Gardens in Cape Town hosts a
popular series of summer sunset concerts until the end of March – enjoy local musical talent, with the occasional international act thrown in, and ask us about arranging a gourmet picnic to enjoy with it. (Postponed until 2022)
End of March: Cape Town International Jazz Festival is Southern Africa's biggest jazz festival. While the festival has been postponed until 2022, this year the festival will go on in the form of JazzFix, a brand-new series of online events and smaller live jazz experiences.  The online shows present footage of some of the festival's greatest moments and shows exclusively performed at the festival over the past 20 years. The shows promise to be the perfect "Fix" of entertainment for the lovers of all genres of jazz.