There are literally thousands of indigenous languages spoken in Africa and many more dialects. Every African country you visit will no doubt be home to more than a dozen (if not several hundred) languages, even the smaller countries. But because of the sheer amount of linguistic diversity, every African country has an official language (or 11 in the case of South Africa) which acts as the lingua franca for (at least) a reasonably sized region. Since almost every African country was at one time a colony, speaking English, Portuguese, or French will also help you communicate. Many Africans will speak Creole or pidgin versions of these European languages so they may not be so easy to understand when you first hear them. It's also humbling to note that most people you will meet on safari in Africa will be able to speak at least 2-3 languages fluently.
Making Connections
Some of our clients spend months working on their kiSwahili before their trip, others barely know what is spoken in the country they are visiting until after they arrive. Greeting people in their local language while you travel is a sure ice-breaker and is generally much appreciated.
Who speaks what, where … and how to say "hello" in …
Botswana – The official language of Botswana is English, but around 90% of the populations speaks Setswana (or Tswana). If you travel to the Kalahari region, you may hear some of the San/Khoi languages spoken. Even if you practiced for a while, those clicks are very difficult to master! Here are the basic phrases in Setswana …
"Hello" in Setswana: Dumela mma/rra (to woman/man)
"Good Bye" in Setwana: sala sentle/tsamaya sentle
"Thank you" in Setswana: Kea leboga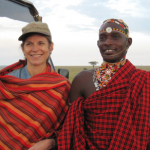 Kenya and Tanzania – you'll hear mostly kiSwahili (Swahili), English and Maa (the Maasai language). If you are spending more than a week in East Africa, and you like languages, it is worth getting a Swahili phrase book. Young urbanites in Nairobi often speak Sheng which is a based on Swahili but uses words from many other languages. In Tanzania major languages spoken include Sukuma, Gogo, Haya, Kwere, Makonde, Mambwe, and Nyamwezi.
"Hello" in Swahili: Habari/Jambo or Salama (at the coast)
"Good bye in Swahili: Kwaheri
"Thank you" in Swahili: Asante, Asante sana (thank you very much)
"Hello" in Maa: Sopa
"Good bye" in Maa: Sere
"Thank you" in Maa: Ashe oleng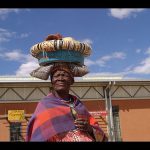 Namibia – Namibia's official language is English, but more people speak Afrikaans than English! Other major languages include Damara and Herero – you can also try German especially with the older generation!
"Hello" in Afrikaans: Hallo
"Good bye" in Afrikaans: Totsiens
"Thank you" in Afrikaans: Dankie, Baie Dankie (thanks, thank you very much)
"Hello" in Damara/Nama: !gai//oas (spoken in the south and southeast)
"Good bye" in Damara/Nama: !gaise hare'!gure
"Thank you" in Damara/Nama: eio


"Hello" in Herero/Himba: Tjike (spoken in the north central and northwest)
"Good bye" in Herero/Himba: Kara/kari nawa
"Thank you" in Herero/Himba: Okuhepa
Rwanda  – has three official languages: English, French and Kinyarwanda (and some kiSwahili). Kinyarwanda is the most widely spoken, but basic French will also get you very far.
"Hello" in Kinyarwanda: Muraho
"Good bye in Kinyarwanda: Murabeho
"Thank you" in Kinyarwanda: Murakoze
South Africa – has 11 official languages: Afrikaans, English, Zulu, Xhosa, Ndebele, Venda, Swati, Sesotho, Sepedi, Tsonga and Tswana. Most people speak their tribal mother tongue as well as some English and Afrikaans. Unofficial languages include San and Nama (Bushmen languages) and Northern Ndebele.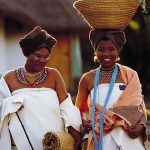 Several creole or pidgin languages are also common including Fanagalo (used in the mines) and Tsotsi taal or Isicamtho (used in the townships). If you can master a few words in the three languages listed below, you're doing quite well.
"Hello" in Zulu: Sawubona
"Good bye" in Zulu: Sala kahle
"Thank you" in Zulu: Ngiyabonga
"Hello" in Xhosa: Molo
"Good bye" in Xhosa: Sala kakuhle
"Thank you" in Xhosa: Enkosi
"Hello" in Afrikaans: Hallo
"Good bye" Afrikaans: Totsiens
"Thank you" in Afrikaans: Dankie, Baie Dankie (thank you very much)
Uganda  – The official language of Uganda is English, and most Ugandans speak English as well as an indigenous language. The most common ones are Luganda and (Ki)Swahili. Soga, Chiga and Runyankore are also important languages in Uganda, each have over a million native speakers.
"Hello" in Luganda: Oli otya
"Good bye" in Luganda: Weeraba (to one person) Weeraba (to more than one person)
"Thank you" in Luganda: Weebale
"Hello" in Swahili: Salama/Jambo
"Good bye" in Swahili: Kwaheri
"Thank you" in Swahili: Asante, Asante sana (thank you very much)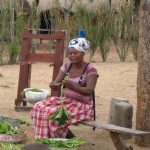 Zambia  – English is the official language in Zambia, and it is widely spoken throughout the country. Just like in many African countries, indigenous languages are usually learned first, followed by the "official language" once the children get to school-age. Important languages include Tonga, Bemba, Nyanja (similar to Chichewa) and Lozi.
"Hello" in Bemba: Muli shani
"Goodbye" in Bemba: Shalapo
"Thank you" in Bemba: Zikomo
"Hello" in Nyanja: Moni or Muli Bwanje
"Good bye" in Nyanja: Ndapita
"Thank you" in Nyanja: Zikomo, Zikomo Kwambiri (thank you very much)
Zimbabwe – English is the official language in Zimbabwe and widely spoken throughout the country, but most Zimbabweans' first language is either Shona or Ndebele.
"Hello" in Shona: Mhoroi
"Good bye" in Shona: Chisarai zvakanaka
"Thank You" in Shona: Ndatenda/Masvita
"Hello" in Ndebele: Sawubona
"Good bye" in Ndebele: Lisale kuhle
"Thank You" in Ndebele: Siyabonga kakulu