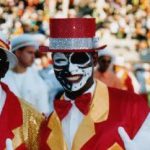 January generally starts off quietly in Africa, as New Year's Day is a public holiday throughout the continent. But in Cape Town the year starts with a real bang and toot with the Cape Minstrel Carnival. On the other side of Africa, the Berber people in in Morocco wait an extra few days, to celebrate their new year on 12 January.
January is a great time to enjoy warm summer weather, outdoor concerts in Kirtsenbosch (Cape Town), or picnic on the beach. The Cape Winelands are also wonderful to visit in January as the grapes get harvested this time of year, festivals are held to celebrate the event, and touring the cellars at the wineries is even more interesting than usual. If you're visiting the Victoria Falls, it's your last chance to leap into Devil's Pool.

The Loggerhead and leatherback turtles are in action off the Indian Ocean coast. It's a wonderful month for a safari in northern Tanzania, especially the southern Serengeti as the migrating herds of wildebeest and zebra start to gather in huge numbers. The bushes are green, flowers are out in full bloom and the grasslands lush, it's a brief time of bounty for many animals.
For birders, January is a peak month to enjoy the mind-boggling numbers of migrating and local birds attracted to Botswana's Chobe and Okavango regions, it's a twitchers paradise!
January Events and Festivals to Keep in Mind …
1 January – Public holiday throughout Africa (banks, many shops and post offices closed)
1 /2 January – Cape Minstrel Carnival – Parades are huge flamboyant affairs with grand costumes, wonderful marching bands, singing, dancing and more.
12 January – Amazigh – traditional Berber New Year (Morocco). Families come together to enjoy steaming plates of chicken and couscous and welcome the New Year. For some Amazigh, it is essential not to eat spicy or bitter food so those will not be the flavours for the year ahead.
Second Week of January – New York Times Travel Show 
Mid-Late January – Cavaddee (Mauritius), a colorful religious festival celebrated by the Tamil Hindu population in Mauritius. Devotees fast for ten days before the festival and then carry large replicas of temples and deities to the rivers to be cleansed and blessed by priests. An eye catching feature of the celebration is the piercings that many devotees undergo to show their devotion to the son of Shiva.
January/February – Africa Cup of Nations  the continent's biggest soccer championship, held every two years, next one in 2019. If you're traveling in Africa during the Cup, you'll know when the important matches are being played because countries literally come to a standstill to watch or listen to the games.
If you want to attend these festivals and events, just contact us and we will customize your itinerary to include them!