Many of our clients look forward to using their miles to book their flights to Africa. But in our experience it's not easy or convenient to use airline miles (or reward points) to get there. Getting an airline to release seats for points on exactly the days that match your safari itinerary is difficult to find. Also, because there are not a lot of direct flights, many of our clients end up stopping over in Europe or even South America. The taxes alone, especially via London, will set you back quite some dollars.
Here are some tips that will help you succeed in finding the best value for your money, or miles, to get to Africa:
Book Far in Advance: Begin looking for flights 330 days before you wish to travel, that's as far in advance as the airlines schedule their flights. Unfortunately, this is not always the time that they allow you to use your points or miles. Airlines like to wait and see how the full fare tickets are selling, before they offer discounts. Make sure that you do not book your flights before you have planned your safari!
Get Familiar With Alliance Agreements: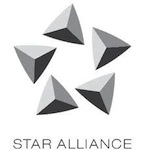 It is much nicer to fly to Africa direct if possible, than endure a layover in Europe or the Middle East. Unfortunately the list of airlines that fly direct from the US is slim. They include Royal Air Moroc, Egypt Air, Delta, United, South African Airways and Ethiopian. Check with the lists of alliance partners to see if one of these airlines will accept your miles, before trying anything else. Star Alliance is one of the largest groups, and includes United/Continental, US Air, South African Airways, Egypt Air and Ethiopian.
Avoid Stopping in Europe if Possible: We used to like European stopovers because it saved our clients a lot of money. But with airport and security taxes going through the roof, a European stop over is not always a good deal anymore, even when using miles. Stopping in Europe also takes an extra day that you could be enjoying on safari instead. So unless you have to stop over, see if you can fly direct to save time and money.
Check out the Middle East options: Emirates has an extensive network in Africa and you can get some great deals on flights to destinations like the Seychelles, Nairobi, Mauritius, Uganda, Johannesburg, Tanzania and more. If you fly to Africa regularly, they have a generous mileage program, although unfortunately they don't partner with any US airlines as of this time. But they do have truly wonderful service on their flights. We've also experienced much more convenient layover times.
Getting "Close" is not Always Good Enough: We have had euphoric clients that managed to use their miles to get to Gaborone, only to find out that they really needed to be in Kasane.
Botswana is a big country, and internal flights don't always come cheap. Booking agents at airlines don't necessarily have a great grasp of African geography, so you can't rely on them to know where to fly you. And unfortunately many African airports do not top the list of "best airports to sleep in"! Speak to your African travel specialist and make sure you are booking flights to the exact destination that matches your safari itinerary.
Getting Professional Help: There are companies who specialize in providing assistance to those who have plenty of miles to spare, but are not having any luck using them to book their flights. They charge a small fee for the service, and are a lot more successful than we have been! Pointspro in particular has provided many of our clients with excellent service. Vicky B emailed us with the following report:
"I wanted to share with you my great experience using them for my last trip. After spending several hours on my own and not being able to get direct flights on the long hauls or dates I preferred, I reached out to them and they got flights I could never have booked on my own with points (and on dates that worked for me – I did have some flexibility). They were able to get a direct flight LA to London (the hardest for me to book), but could only get me business class with a first class on to Africa. This was ok except that I had to use first class points for the entire trip. On the flights home, I was on BA Africa – London – LA. After booking, Points Pro continued to monitor my flights and when a first class seat on the outbound to London was released they grabbed it and when a seat was later released on an American flight from London – LA, they switched me over from BA (resulting in a significant tax refund). My ticket was updated and I was set – maximizing points used and dollars saved. The behind the scenes monitoring was part of the service, and the team had even prepped me with the right lingo to use at the airport to get my first class upgrade had it not come through prior to departure. I was really happy with the service, they were response and seem to really know the ins / outs of the points game. I intend to use them again for my next African trip. "
And if all fails … Do what our senior consultant Yvette does. Pay for your flights to Africa with American Express and use the huge amount of points you accrue to save on domestic flights, or give them to friends as gifts!
If you are booking a safari with us, we are happy to offer any advice on flights to Africa, current deals we are aware of, and other useful tips. Contact us!