Diane recently had the opportunity to visit to Mana Pools in Zimbabwe's Zambezi Valley, here's her report…

On my very first trip to Zimbabwe in April of 1990, the friends who invited me to visit, suggested I needed a detox from the hectic, frenetic pace of New York City.   "You are still too wired for Zimbabwe", then said. So off we went to the Bronte Hotel, which was then the booking office for Goliath Safaris.   A few minutes later I was dutifully booked on a 10 day Zambezi Valley canoe safari from Chirundu to Kanyemba. Now this was before the days of 'backed up', serviced safaris, so we had everything we needed packed onto the canoes with us and young Craig as our fearless safari guide.   After a long, arduous overland journey from Harare to Chirundu in the back of a Bedford truck, we arrived at the Zambezi River and set off on our adventure.   I must admit the first 24 hours were a bit anxious for me, not knowing exactly what I had so willingly agreed to. However, the magic of this special part of the country soon had me under its spell and so began my ever-lasting love of Mana Pools. For many in our industry the question we often get, "what's your favorite/best/most memorable part of Africa", is a challenging one to answer.   But for me, it will always and forever be – Mana Pools.   So when Beks of African Bush Camps invited me to visit Kanga Camp and Zambezi Expeditions, I didn't hesitate to accept.
Mana Pools National Park lies in a remote, unspoiled area which stretches 200 miles east to the Mozambique border. The spectacular wildlife area of the Zambezi Valley is one of the few remaining regions still relatively unchanged – but please don't wait too long to visit as this is likely to change. The combination of forest, river and mountains supports a diversity of wildlife – including elephant, buffalo, lion, leopard and an array of plains game. The entire length of the Zambezi River is a protected wilderness area but the crown jewel is Mana Pools National Park, which fronts the river for 50 miles with the Zambezi flood plain dominating much of the scenery.
Kanga Camp is situated about 25 km inland from the river, adjacent to Kanga Pan and not too far from Chitake Springs.   It is surrounded by river systems of the Ruckomechi River, with mixed woodland from Mopane to Jesse bush and riverine forests.   Probably what I loved most about Kanga Camp is its soul — it has a personality, it has energy, it has life – I'm sure in part drawn from Kanga Pan itself, as it's the only perennial water source in the area but mostly due to the team that make you feel at home as soon as you arrive.   Group manager Yvonne is a firecracker – a true asset to the African Bush Camps operation.   She is warm,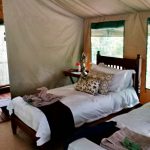 enthusiastic, articulate and has a wonderful sense of humor.   Nyellie is the charming and competent full time hostess who is clearly in control of ensuring the guest experience exceeds expectations.
The camp itself is what I affectionately term 'old style' – it's very comfortable, well-designed and authentic but not over the top.   The individual tents are large, beautifully furnished and feature the best bed linens I've ever slept in on safari.   I loved the open air, en suite bathrooms offering one of my all-time favorite perks of the safari experiences — a shower under the stars.   However, I would recommend better lighting, especially for those of us over 50, who don't see that well in the dark!   There are several lounge/seating areas on tiered decks overlooking the Pan, where we were entertained by teenage elephants having a go at each other. Meals were also outside to take full advantage of the game activity around the Pan.   Full compliments to chef Shine as well, who been at Kanga from the beginning (6 years ago).
By a stroke of luck, I was fortunate enough to have Kaz as my safari guide, as he has recently joined the Bush Camps team. My only regret was to not to have the opportunity to spend a week on safari with him, as my knowledge of fauna, flora and animal behavior would have grown by leaps and bounds.   He is incredibly knowledgeable and able to share his expertise in an interesting and informative way. For example … did you know that elephants imprint based on scent.   After birth, the mother's temporal gland secretes fluid copiously so that the baby elephant can establish a personal identity with the mother.   In addition to this family identification, the temporal gland plays a role in determining sex, sexual maturity, breeding conditions, and in identifying
stressful situations.   Scent also plays a critical role in the propagation of the kudu species. A female kudu is in estrus for only 72 hours. During this time, she continually dispels urine and body droppings to communicate and attract a suitable mate.   However, the bull must wait until the final 6 hours of this fertile period before he can compete for the female.   The most capable bull, theoretically the one with the strongest genes, wins out thereby ensuring propagation of the best species.   When the bull is selected, the female goes into spontaneous ovulation and in a process known as the lordosis reflex presents herself to the male for fertilization.   Regeneration is the key to survival in the wilderness and the most important factor in the characteristics of the species.
From Kanga Camp we drove about 1 ½ hours to Zambezi Expeditions, a mobile tented camp situated right on the bank of the Zambezi River.   The brand new sand colored tents (7) were spacious, well-appointed with en suite bathrooms with flush toilets and bucket showers.   Cassius was the welcoming manager who showed me around camp and explained a 'day in the life' on safari at Expeditions. Similarly to Kanga Camp, activities include game drives and walking but also with an emphasis on canoeing to take advantage of the riverside position.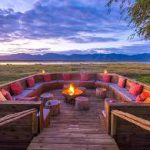 After a morning at Expeditions, we drove to Zebra vlei to meet Wilderness Safaris, and continue onto Ruckomechi Camp.   While I expected to just jump out of one vehicle and into another, Tendai, my safari guide, had set out his wares so that we could first enjoy a lovely tea break from this wonderful vantage point overlooking the river.   That attention to detail would be evident throughout my stay at Ruckomechi Camp.    My first visit to this legendary camp was 20 something years ago, when it was a favorite for walking and fishing, in particular.   The camp was wonderfully rustic yet featured these manicured, emerald green lawns kept tidy by a resident hippo, who would emerge from the river at nightfall and proceed to have his dinner while we enjoyed ours just a few feet away!   When Wilderness Safaris took over the concession many years ago, the camp was moved upriver and has just recently been completely re-built — in understated but elegant style with light wood and cream, gray and slate blue colors – really, really lovely.   There are now 10 large and beautifully appointed tents (including two family units) all with wonderful views to the river and the Zambia escarpment beyond.  The custom designed tents have floor to ceiling screening to give as much of an open air feeling as possible and to maximize views.   While there is no outdoor shower, there is a special outdoor 'bath-with-a-view' in a secluded, scenic spot – a holdover from the original Ruckomechi Camp.   After everyone had returned to their tents for afternoon siesta, I simply wanted to enjoy the expansive, awe inspiring sense of serenity created by this river and surrounding wilderness.   But that peace and calm was shortly interrupted by some (expected) visitors.   I was thrilled to see that despite the new construction, the old traditions have survived.   A small family of elephant just sauntered up the teak walkway and down the narrow deck to dip their trunks in the pool for a long, tall drink of fresh water!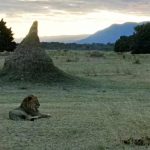 We set out for our afternoon game drive with Tendai, a veteran of Wilderness Safaris (16 years), whose tenure and expertise were evident.   He is a true safari professional — knowledge, articulate, respectful and a brilliant spotter as well.   First stop was Parachute Pan as I wanted to see the sleep out deck where guests can spend the night listening to the sounds and silence of the bush.   It's exceptionally well done so I would encourage any and all to stretch beyond their comfort zone and take advantage of this amazing star studded experience.   The riverine and woodland vegetation provides an ideal habitat for a diversity of wildlife and birds and Tendai made it his mission to show off as many of these species as possible.   During our two game drives we saw buffalo, lion, leopard, elephant, kudu, impala, waterbuck, duiker, warthog, banded mongoose, hippo, crocodile and during the evening, civet, genet and scrub hare.   One week later, I can still hear the cry of the fish eagle, whose serenade was the perfect sound track as we watched the sun set over the escarpment, the sky illuminated in brilliant shades of orange and red and lavender, and the G & T never tasting better.
This is why Mana Pools will always be my "little bit of heaven".
P.S. Stay tuned for another visit to Mana in October to see the new Little Ruckomechi, currently under construction, under the shade of the magnificent albida and mahogany trees, at the site of the old Ruckomechi Camp …And if you would like to book your own trip to Mana Pools, do contact us!