We know that when we arrange a safari for our valued guests, they trust us with a precious investment and often a life-long dream, so they need to be in good hands every step of the way. Another one of the wonderful cast of characters who contribute to the tremendous success of our bespoke safaris, is Sacha Toronyi, whom we've known for years – first as a guide and later as a manager of some of our favorite camps and lodges. Most recently, Sacha has been hosting our clients who have the good fortune to be staying at the beautiful Kifaru House while visting the remarkable Lewa Conservancy in Kenya. Here he shares some insights from behind the scenes … and a well-placed fallen Albida tree.
Where Is "home" and how often do you get to see your family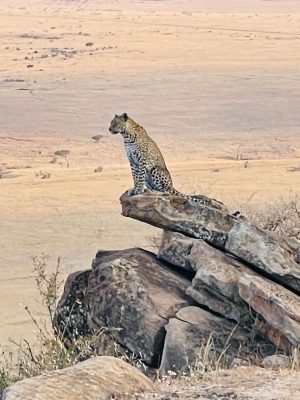 and friends?
I base myself in the Eastern Cape and travel in the ideal world every 3 months but some stints can be 5 months away from them, and I get to spend a month at a time with my wife and kids and friends.
Did your family and upbringing play a part your career choice?
Yes, growing up in a small town in Zimbabwe played a huge role as it was wild and then my school years taught me a lot. My grandfather and uncle then encouraged me by taking me camping, fishing and hiking around Zimbabwe, Botswana and Namibia.
What are some of the more unique / unnoticed / unexpected challenges in managing safari camps and lodges?
Unique would be the beauty of each property and the staff when you really get to learn the place and see its beauty and passions in the teams.
Unnoticed would be the assisting in improving living standards at various properties for the various teams as each country has their own style that isn't always the right style. Also keeping the environment safe and clean and implementing good practices for recycling.
Unexpected is when planes run late and the poor guests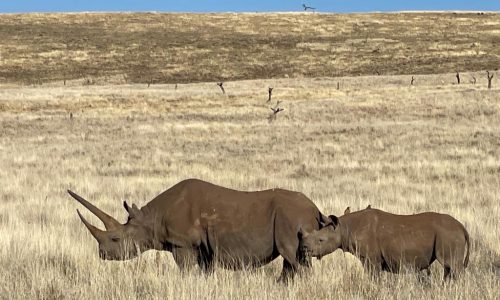 have to wait or a guest has left something and then trying hard to get this through to the guests at the next properties.
Where does the fresh produce, dairy and meat come from for your kitchen?
Here we are lucky to have our own garden and we get fresh produce daily and the bulk items come by truck from our Central Stores in Nairobi to camp every 2 weeks to keep us going.
How many vehicles are required to run Kifaru house and are you also in charge of their maintenance?
We have 3 vehicles for game driving and a closed land rover to assist with transfers to the airstrip here on Lewa. Yes, we need to make sure that all vehicles are working well and we are lucky as there is a workshop at Lewa HQ where we do our servicing and any upgrades are then done in Nairobi at the end of the season.
How is "housekeeping" different at safari accommodations from "regular" hotels?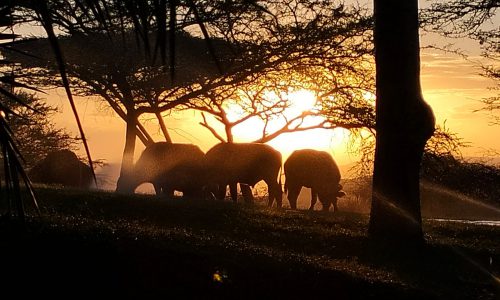 Here at Kifaru House the Housekeeper is more personable, assisting and talking to guests during their stay, whereas at hotels you never see the housekeeper.
Where is the staff trained in hospitality and do you have any advice for someone considering a career in camp/lodge management?
In Kenya there are colleges and universities where students have opportunities to have internships for 3 months of the year where I will look after them and they will work in various departments to see how a camp operates. The best form of learning is the practical kind and mastering your confidence in communication to different guests from different parts of the world, but also making a connection and understanding the guests needs and expectations, this can't be taught in college or university.
How often do you still get out on game drives yourself, and what have been some of the most memorable wildlife encounters you've had?
I still get out and about from time to time and luckily I get wildlife passing
through the camp. Once on a walking safari with guests in Mana Pools, Zimbabwe, 5 big buffalo came heading in our direction at full speed. We took shelter in a large fallen Albida tree just before we saw 6 lions in pursuit, taking down one of the buffalo about 350 feet away.  A truly remarkable experience for everyone. Seeing the Gorillas in Uganda was another humbling and magical experience – being so close to an endangered primate that is super strong and marvel at their hands and eyes.
What advice would you give to first-time safari-goers to make the most of their experience?
I would say don't pre plan your day and itinerize your activities, just be in the moment and trust your guide's  or manager's advice. He is always trying his best to make sure you have a truly magical moment and always be patient. Also manage your expectations as I have seen folks with high expectations. You tend not to enjoy yourself and leave disappointed, but with lower to no expectations you tend to be blown away and have fantastic memories of wherever you travel to in east or southern Africa.
Do most of your guests arrive by plane / vehicle?
Predominantly by plane some in helicopter and a few in vehicles
but on the conservancy they have to use our vehicles and guides as there are strict rules for outside drivers and codes of conducts to be followed. I always recommend coming by plane as its much quicker and then you are in the action instead of on a super long drive and you tired on arrival.
What are the most important expectations that you hope your guests do arrive with?
Knowing that Lewa isn't a national park and it's all about conservation and we hope that they can become friends of Lewa after witnessing the wonderful work that we do in saving habitats, endangered species, supporting 27 schools, supporting communities through our clinic and women's micro financing projects, water projects, science department etc. I would recommend learning more about the conservancy. They visit the conservation HQ and our work firsthand through the conservation talk is incredible. Also, that they are in northern Kenya which have Grevy's zebra, reticulated giraffe, Beisa oryx, gerenuk, Somali ostrich and just some really wonderful wildlife.
What has been the funniest thing that happened during your career?
One afternoon at Beho Beho, I walked into the lounge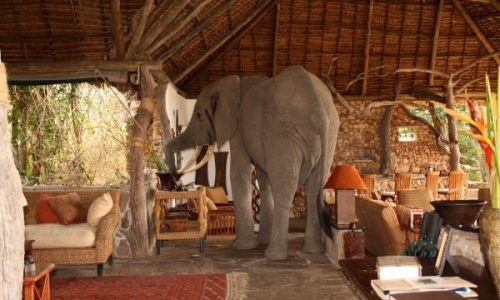 area to check on afternoon teatime before the guests arrive. As I walked in I looked up and saw a large grey elephant bottom in front of me. There was Joseph, the resident elephant with his eyes closed, very slowly picking up one little individual apple tart at a time and placing it in his mouth…savoring every second. He ended up eating 15 tarts..leaving only 5 for the guests. He clearly was very appreciative!
What do you find most rewarding about being a safari camp / lodge manager?
For me it is when guests appreciate the effort of work that happens in the background to make their stay incredible. The conversations with the guests from all over the world and learning about their life and them asking me about my life, the sharing I suppose.