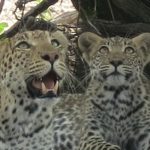 Multi-generational travel is the fastest growing segment in the luxury safari industry and many camps in Botswana are endeavoring to become more family friendly. So armed with my enthusiastic son Finley (aged 11), complete with a clipboard and lots of questions, 5 rubiks cubes and some Setswana phrases under his belt, we set off for a 2 week adventure (sight-inspection tour) of Botswana's northern region.
Our first stop was Machaba a wonderful 1950's style safari camp that has been completely re-furbished along with a new  set of owners in 2012. The camp is set in the Khwai river
area of the Delta, an incredible area for wildlife sightings,. We saw packs of wild dogs, elephant, leopard, lion, giraffe and a huge variety of antelope. Machaba was one of our favorite camps on the trip, it was extremely comfortable without being too fussy, and genuinely relaxed with excellent staff and service, we felt at home immediately. The swimming pool was fun until an elephant joined us and we had to make a quick exit! This is a land camp, so expect excellent game drives and walks during your stay.
With almost all the major wildlife ticked off our list at Machaba, we felt very relaxed arriving at our next camp Xakanaxa, and were ready for some boating adventures.
camp's location on the water is wonderful and we took full advantage of the two swimming pools during the heat of the day. We sped off in a boat to explore the waterways and lagoons, enjoying a spectacular sunset and drinks while listening to the hippos snort and grunt. The staff here were stellar on every level and were totally genuine. The game drives brought us to the most beautiful lagoons, pools and huge Mopane forests unique to this part of the Moremi Game Reserve. Off-roading and night-drives are not possible here, but that did little to hinder our game viewing success on land. Finn's favorite guide of the whole trip was Harrison, and they hit it off from the start. By the end of our too-short two night stay they were real buddies. Harrison may still be trying to solve the rubiks cube if you are lucky enough to stay at Xakanaxa in the future.

Continuing our exploration of the Moremi Game Reserve we endured a rather bumpy flight to the Sanctuary camps, Stanley's and Baines, located on a private concession. Here we were fortunate to enough to take part in the "living with elephants" experience. It's an incredible opportunity to enjoy the company of Jabu, Thembi and Morula — 3 orphaned elephants that were adopted by Doug and Sandi Groves. We got to spend 4 hours with this amazing couple and their elephants. We walked with the elephants through the bush, we got to touch their trunks, their tails, their ears. We hugged them, heard their sounds, were slobbered on, breathed on, and fell in love with them of course. Our walk was cut a little short because Thembi decided to follow a bull elephant that happened to be in the area and had come to say hello! I won't give away how this magical half day ends, but the experience just gets better and better all the way through the end of lunch (with the elephants too!). To top it all, we still had time to enjoy our first mokoro ride that afternoon, followed by a "star bath" at Sanctuary Baines. We did indeed thank our lucky stars to have been given (yet another) magical day in Botswana.

After a lovely scenic flight over the Okavango Delta, we got to see yet more elephants up close and personal at Savute Safari Lodge. With the Savuti channel right by the lodge, we discovered it wasn't easy trying to conduct polite dinner conversation with fellow guests while the elephants were arguing about the best position at the waterhole a few feet away from us. The zebra migration was also just getting started and it looked like the Serengeti out on the wide open grass plains, just marvelous. The zebra were being eyed by the famous savute lions who feature in all the best nature documentaries, as they are famous for their buffalo hunting skills. The staff and guides were superb at the lodge, and made us feel very welcome. We were sad to leave, but excited to head to the Linyanti region and the newly refurbished Duma Tau camp, on the other end of the Savute channel.
The location and the rooms at Duma Tau were wonderful, and the food was really fantastic. At this point we were getting quite used to six gourmet meals per day, served with a smile. Luckily the rooms here are located a fair distance apart, and we had about half a mile to walk to get to the pool, which was very welcome as a weight-loss program was sorely needed! Falling asleep to the hippos grunting and hearing the myriad of frogs was a perfect way to end each adventure filled day. The pontoon ride was a lovely option, and we got to fish and enjoy our sundowners while lazing on comfortable couches with fellow guests who fast became our friends.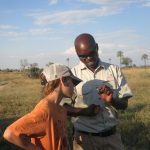 Thinking this trip could not get any better, Little Tubu on Hunda island in the Okavango, blew that theory right out of the Delta waters. Cruise was the most exceptional guide, and Philile the manager at Little Tubu was equally great. For the next two days we were lucky enough to have Cruise to ourselves and we never stopped chatting, learning, laughing and building memories to last a lifetime. A great little boat ride one afternoon took us to visit Jao for tea and Kwetsani for brunch. Both camps are located in the Jao concession, with huge flat plains ideal for game viewing. Kwetsani is just a 15 minute boat ride away from Hunda island, so guests get to enjoy game drives in both areas. If you want to have photography lessons for free, then check into Kwetsani, The dynamic managing couple here Dan and Charmaine, are one of the biggest draws of this lovely camp and prove that the staff that can make or break your safari, just as much as the wildlife sightings.

Our adventure sadly ended with a final two nights in the Vumbura concession. We had a memorable candlelit dinner pool side at Little Vumbura where we got to reflect on some of our favorite moments of the trip and all the wonderful people we met, and mammals, insects, fish, birds and trees we learned about along the way. Our final night was spent in the luxurious Vumbura Plains camp, where the shower was larger than Finley's bedroom at home, and we got to enjoy a final game drive where we saw no less than fourteen lion. What a way to go out! Ke a leboga Botswana.
If you're interested in some more photos from the trip, have a look at my album on our Facebook page. Do contact us at African Portfolio for more information and to book your own Botswana adventure.