Botswana is one of the best safari destinations in Africa, known for its vast unspoiled wilderness areas, exclusive safari camps and excellent game viewing. It gets even better in October with the dry season in full swing and the wildlife concentrating in ever larger numbers around permanent water sources. If you have always dreamed about an African safari, or wish to return to Africa, don't miss this chance.
We are thrilled to be able to offer all our clients a huge savings on our "Heart of Botswana" itinerary. This is a wonderful 7 night trip, designed for the traveler seeking a quality wildlife experience while offering outstanding accommodation and service. Explore the dry acacia and woodland forests of the Moremi and the dense bush and broad floodplains of Chobe National Park, home to the largest concentration of elephants in Africa. The adventure begins at Sussi Lodge on the Zambian side of Victoria Falls with amazing views of the Zambezi River.
The Details …
Save $1000 per person on our "Heart of Botswana" itinerary. All you have to do is pack your safari gear and plan on traveling by 15 October, 2010. Can't make it that quick? We are offering a $500 discount per person if you travel on this itinerary by November 30th, 2010.
Other Special Offers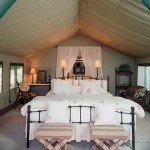 Treat yourself to our Cape & Kruger Safari and save $500 per person. The best game in town is still around for you to enjoy. This 9 day trip showcases South Africa's brightest jewels: Cosmopolitan Cape Town and Timbavati, a private game reserve adjacent to the legendary Kruger National Park. This offer is valid for travel from 01 October 2010 until 30 April 2011.

A chance to win 2 VIP tickets to the King Tut exhibit on Times Square in New York. Put yourself in the running for this stunning exhibit by signing up for our Newsletter, Tweets and Facebook page. Enjoy our daily nuggets of wit and wisdom about African wildlife, culture, tourism and news.
Contact us for details on all our special offers.