We are in whale season now, the perfect time to head towards the coast if you are visiting Cape Town and surrounds! Every year southern right whales migrate from their icy feeding grounds off Antarctica to warmer climates, reaching South Africa in June. The country's coastal waters teem with the giant animals, breaching, calving (August – September), mating (October), rearing their young – and giving whale-watchers spectacular displays of raw power and elegant water acrobatics.
The Western Cape coast offers some of the best land-based whale-watching in the world during this time (from June through November) and we have created a unique day tour that will suit guests planning to spend a night or two in the Winelands following their stay in Cape Town. This African Portfolio curated tour combines the incredible opportunity to see breaching whales, waddling penguins, and pods of playful dolphins, with fine dining, wine tasting and breathtaking coastal views.
Your Day …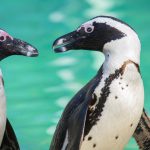 A private guide will collect you from your hotel in Cape Town after breakfast. You will leave the city of Cape Town behind and drive around False Bay to Gordon's Bay, where you'll join the scenic coastal route to Betty's Bay. Betty's Bay is home to a large penguin colony, and you can spend a wonderful hour or so watching them swim, waddle and preen on the rocky beach. Unlike visiting the penguins at Boulder's beach on the Cape Peninsula, you'll rarely find large busloads of tourists here — it's a much more exclusive experience.
Say farewell to the African penguins, as you continue the drive along this gorgeous coast to the picturesque seaside town of Hermanus.  Explore the center of town on foot,  and watch out for the breaching southern right whales. The whale-crier here can help you out and alert you to sightings!  We highly recommend a stroll along the Cliff Path , a well-marked path that conveniently runs on the land between the town and the ocean, (much like the Cliff Walk in Newport, RI) through parts of the Fernkloof Nature Reserve. It gives whale watchers an incredible vantage point to watch the action in the ocean below. The path is 10km (6 miles long) but you can easily do small sections of it, rather than tackle the whole length.
Once you have worked up an appetite, we recommend the The Bistro "Just Pure"  for lunch. We love this intimate little restaurant, for its delicious, fresh cuisine and the fact that it's set away from the touristy hubbub in the center of Hermanus. Choose to sit inside, or out on the patio with Ocean views.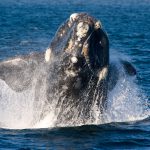 After lunch, your guide will recommend visiting  some of the wineries in this area, they specialize in highly individual, origin-expressive wines. During the summer months there are also some truly delightful farmers markets selling delicious locally made, organic fare. Buy a couple of sweet treats for yourself and save them for afternoon tea! You will make your way through the Hemel-en-Aarde (Heaven & Earth) Valley, before crossing over the spectacular Hottentots Holland Mountains to Franschhoek. Time permitting, visit the Huguenot Memorial Museum & Monument before arriving at your hotel.
Keep in mind…
Bundle up if you are traveling during the winter months between June – August, the wind coming off the ocean is chilly
We suggest starting the private tour at 8:00am to give yourself enough time to be spontaneous and stop along the way to stretch your legs on a short walk, sample some delights at a farmers market, or visit an extra winery en route.
The drive from Cape Town to your first stop at Betty's Bay is approximately 90 minutes.
If you plan to visit the area in September/October, keep your eye open for the Hermanus Whale Festival which takes place annually.
Check out our unique Stellenbosch Town & Country Explorer which you can enjoy the following day!
Contact us for more information about our curated tours and customized luxury safaris throughout Africa.