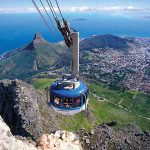 Both Diane and Yvette are enjoying some time in Cape Town this week. At African Portfolio we've curated the perfect private guided day trip for our clients visiting Cape Town – at least we believe so!  Our cultural heritage walking tour includes many of the Mother City's highlights. You will be personally guided by a highly qualified guide with in-depth knowledge of all of Cape Town's major sights as well as the secret nooks and crannies only locals know about! Our handpicked guides use the bustling streets of Cape Town, old buildings and squares, people and places as props to develop our story of Dutch and British rule, slavery and apartheid, freedom and democracy.
Your Day…
Your private guide will pick you up from your Cape Town hotel and will start off by driving to Table Mountain for a cable car ride up. You'll enjoy a 360° view to get the "lay of the land" and a brief walk-about tour at the top. Table Mountain is 1086m high and 3km long and located smack in the middle of town. It is one of the most iconic features of the city, and one of the mean reasons why Cape Town often ranks as "the most beautiful city on earth". We try and get you there early in the morning, before the clouds build up to form a "tablecloth" which inhibit the views from the top. On a clear morning, the views are spectacular, you can easily see Robben island from the top, as well as the many white-sand beaches and pretty bays that dot the coast. Table Mountain is also home to more than 1400 unique species of plants, several mammals and over 100 invertebrates. Watch out for the cute Dassies (Cape /Rock Hyraxes) among  the rocks!
Upon your descent, your guide will take you on a stroll through Bo Kaap, the Cape Malay neighborhood with its rainbow-colored houses and cobble stone streets. Bo-Kaap was settled by the descendants of slaves brought over by the Dutch in the late 17th and 18th centuries. They originated from different parts of Southeast Asia, but were collectively referred to as "Cape Malay". Cape Malays were a mixture of political exiles, convicts, skilled craftsmen, artisans, scholars and religious leaders. The first South African Mosque was built in this area in 1794. After exploring the neighborhood, delve into the local cuisine and enjoy a quick & casual lunch at Biesmiellah Restaurant or Bo Kaap Kombuis (own account).
Continuing your tour after lunch, you will visit sights such as the Grand Parade and City Hall, the Old Customs House, the Slave Tree site, Greenmarket Square,  and the Company's Garden (named after the Dutch East India company who first founded a Cape Town in 1652 as provision station for their ships en route to India & back).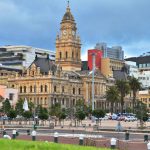 This area is the historical, cultural and political heart of South Africa with Parliament, the office of the President, museums, galleries, memorials, statues and gardens. You may end the afternoon with a visit to the South African Museum and/or the Jewish Museum if time permits. Throughout the walk, your tour guide will be weaving stories around people like Nelson Mandela, Desmond Tutu, FW De Klerk (Nobel Peace Prize-winners), Winston Churchill, Gandhi and Cecil John Rhodes, while covering issues like colonialism, slavery, racial discrimination, war, diamonds and gold. There are some fascinating parallels to be drawn between US history and South African history, making this a very unique experience for all our clients.
Keep in Mind…
This is full day walking tour of Cape Town as described above.
With the exception of Table Mountain Cableway, minimal entry fees at selected sites are not included
The Table Mountain Cableway is closed annually for maintenance (usually for 2 weeks in late July / early August), and does not operate when winds are too strong or cloud cover to dense. If this happens, your guide will let you know, and leave the cable car tickets with you to use on another day.
If you would like to visit Robben Island, bear in mind that tours take ± 4 hours, so we recommend allowing an additional day in Cape Town for it. Tours runs every day of the week, four times a day or more depending on demand,  Tickets need to pre-booked online. We suggest the 9:00 am departure, just in case bad weather disrupts or delays the ferry service. You will have the opportunity to  change your ticket for a later departure (or in the case of total cancellation of services, having your money refunded).
If you are interested in life in the local townships, we recommend accompanying James Fernie, founder of Uthando to one of their projects for a more meaningful and respectful alternative to the ubiquitous township tour, which while usually well intentioned, easily feels like slum tourism – intrusive and awkward.