February in Africa
February marks a massive baby boom in the Southern Serengeti as this is the time of year when the million strong herd of wildebeest give birth, all within a 2-3 week period. The mass calving is a survival tactic to overwhelm the predators that lurk behind the bushes waiting for easy baby prey. It's a season of bounty and excitement for lion, hyena, leopard, jackal, and cheetah. A truly spectacular scene for those lucky enough to be on safari in Tanzania during this time.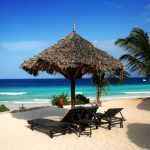 For much of the rest of the continent below the Sahara, February is a lovely mid-summer month with lots of sunshine. It's the perfect time to enjoy the warm waters of the Indian Ocean. The dry weather on the East coast (Tanzania, Kenya) offers good snorkeling and diving conditions.  It's also a great time to enjoy outdoor music and art fairs. Zanzibar's lively streets welcome musicians from all over Africa during the annual Sauti za Busara festival. Cape Town's artists strut their stuff at the annual Cape Town Art Fair.
Many lodges and camps in and around Zambia's Lower Zambezi National Park and Zimbabwe's Mana Pools National Park are closed for the month of February as the summer rains make getting around very difficult. Botswana also enjoys a hot but wet climate, but the flowering water lilies will certainly brighten up your Okavango Delta safari this time of year, and the excellent "summer" safari bargains are sure to put a smile on your face. This is high season for butterflies, birds, and frogs, who add a dash of color and delightful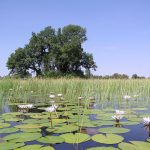 soundtrack to your safari.
2018 February Events and Festivals to Keep in Mind ….
2, 4, 11 and 18 February – Kirstenbosch Botanical Gardens (Cape Town)  – Free summer concert series. Enjoy a gourmet picnic on the lawn while listening to some great music.
The Vamps 2 February 2018
Beatenberg / Alice Phoebe Lou 4 February 2018
The Cape Town Philharmonic Orchestra 11 February 2018
Cape Town Folk 'n Acoustic Music Festival 18 February 2018
23- 25 February – Stellenbosch Wine Festival, an annual event highlighting this rich wine-making area's history, come to celebrate the quaint town's food and vino culture. Over 140 wineries are represented as well as all the top notch restaurants of the area, a true feast for all.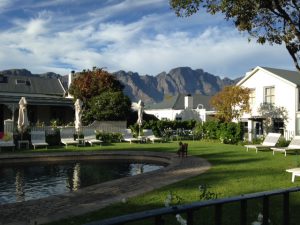 20 – 28 February –  Cape Town Pride, One of South Africa's biggest gay events; a week long extravaganza celebrating gay pride and diversity. A giant parade on the second Saturday is the focal point amidst many parties, art shows and fashion shows.
28 February – 2 March – Cape Town Art Fair, a fantastic 3-day event showcasing South Africa's most exciting artists in venues throughout the city.
28 February – 7 March – FESPACO – one of Africa's most important film festivals takes place bi-annually in Ouagadougou, Burkina Faso.
21 February – 24 February  – Design Indaba 2018, the highlight of the creative calendar, the Design Indaba Conference brings together the people using design and innovation to create a better world. The Design Indaba takes place at The Artscape Theatre Centre.
February – Sauti za Busara,Zanzibar Music Festival, Stone Town. This five-day festival showcases regional music, theatre and dance. It brings together people of all ages and backgrounds in celebration of the wealth and variety of African music and culture.
Leave A Reply