A Perfect Day in Victoria Falls, Zimbabwe
Diane just returned from the Victoria Falls with her extended family, and had a wonderful time there.  All ages enjoyed the zip-lines, canopy tours, steam train rides and everything in between. There is always something new to explore in the "adrenalin capital of the world". But it's not all about jumping, flying and diving — the Falls themselves are always a true wonder to behold, and there's nothing more peaceful than watching the setting sun over the beautiful Zambezi river with a nice cold beer in hand.
Our Perfect Day in Victoria Falls …
With a mind-boggling array of things to do in Victoria Falls, we at African Portfolio have curated a perfect "first day" itinerary to take some of the stress out of deciding what to do! That leaves you a second or third day to jump, swim, fly, zip, hike, raft, kayak, and swing over the Falls at your leisure!
Evening of Arrival at Victoria Falls – Sunset Cruise.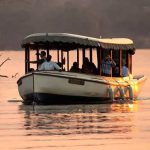 Enjoy a sunset cruise on the Ra-Ikane, our favorite little luxury boat on the Zambezi. Named after one of David Livingstone's guides when he first set eyes on the Victoria Falls, the Ra-Ikane is a lovingly restored wooden vessel filled with historic memorabilia and furnished with period pieces. With room for just 14 guests, everyone enjoys a "window seat",  as well as fine cuisine and refreshments. As you gently chug past the bigger party boats, you'll truly appreciate this is the right choice to enjoy the magnificent views of the sun setting over the river, with hippos grunting contentedly along the way. You can reach little inlets and get closer to elephants and other animals on the river banks than any other vessel out on the river. Transfers will be arranged to and from your hotel, expect to be away for 3 hours in total.
Morning Tour of the Falls – Guided or On Your Own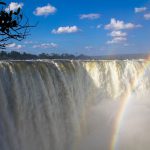 Victoria Falls is the largest and perhaps the most beautiful Falls in the world. Here the Zambezi River is over a mile wide and plunges into a vertical abyss across its entire width. The force of the falling water sends spray clouds high into the air, giving rise to the African name of the Falls, "Mosi oa Tunya," meaning the smoke that thunders. It is said that when David Livingstone discovered the Falls, they inspired him to have written in his diary that "scenes so lovely must have been gazed upon by angels in flight." A rainforest along the first gorge provides a magnificent natural observation gallery and this is where you will enjoy a "tour of the Falls". You can easily spend two hours at the various observation posts along a meandering path. On this Zimbabwe side you will be marveling at the Falls from the top and face-on. Enjoy the incredible sight of the Falls from across the gorge, offering panoramic views of the entire "curtain of falling water".  The entrance fee is $30 per person, and it's advised to bring a raincoat or rent one during your visit. Permanent rainbows adorn the Falls, and if you're lucky enough to visit during full moon, it's worth returning at night to try and spot a lunar rainbow.
Lunch (or High-Tea) – Victoria Falls Hotel
Victoria Falls Hotel has earned international acclaim for its Edwardian elegance and charm. The hotel is one of the oldest hotels in Zimbabwe, established around the turn of the last century and has recently been refurbished. Stanley's Terrace serves a very good a la Carte lunch, and their crocodile caesar salad is perfectly washed down with crisp South African chardonnay. The grounds are just gorgeous, the lawn is immaculate and you can see the spray of the Falls. Check out some of the communal rooms on the ground floor, it's a veritable museum of colonial extravagance, a little slice of history.
Afternoon – At leisure to stroll around Victoria Falls Town, or enjoy an afternoon activity
Victoria Falls Town is a fairly typical small African town, with a post office, some supermarkets and a fair number of hawkers offering up (the old) billion dollar Zimbabwe notes, and carvings of elephants. There's a curio market as well, where haggling is the order of the day. For those who enjoy a little African culture and don't mind being social, it's really a fun place to explore. But if you prefer to try something different, you can easily fit in an elephant-back safari, a 15 minute helicopter ride over the Falls, a fascinating bridge tour, or even a bungi jump (but not too soon after lunch!)… Read more
Evening – Dinner at the Boma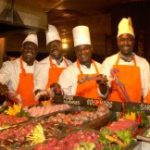 The Boma Restaurant is a classic tourist venue set in the lovely grounds of the Victoria Falls Safari Lodge. Dinner at the Boma is a legendary affair, with what looks like literally hundreds of local dishes served in buffet style, including impala terrine and sadza. A witchdoctor is available to tell your fortune by throwing his bones; dancers entertain with Shona and Ndebele acts; and then … there's the vat of Mopane worms which are a hoot to try. Yes it's touristy, but it's very well done and a lot of fun.
Leave A Reply