A Perfect Day in Johannesburg
If you find yourself with some free time in Johannesburg, we recommend getting out to explore. Although South Africa's largest city certainly is vast, it's easy enough to get around by taxi – and also remarkably green thanks to an estimated six million trees dotted throughout. Here's an itinerary that takes in the highlights and gives you a real sense of what this modern, vibrant city is all about.
This world-class museum explores the history and legacy of apartheid, the state-sanctioned practice of segregation and discrimination based on skin color that began in 1948 and ended in 1994. Film footage, photographs and artefacts tell a story that is in parts distressing and in parts inspiring: the country's peaceful transition to a non-racial democracy is something of a miracle considering the circumstances.
Allow yourself 1.5-2 hours for a visit – there's a large volume of information to absorb but it'll give you an invaluable insight into the challenges modern-day South Africa faces.
If you have the time: Jump into an Uber or a taxi for the 15-minute ride to Constitution Hill, formerly a military fort and prison complex and now the location for the city's constitutional court. There are inspirational and educational exhibitions split over four museums – try to catch a guided tour (every hour on the hour from 9am-5pm) for added context.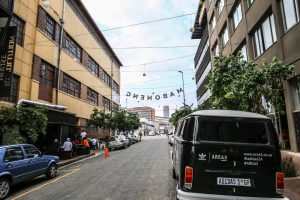 Take a 15-minute cab ride (from either the Apartheid Museum or Constitution Hill) to Maboneng Precinct (above), a once-gritty industrial part of downtown Joburg that has been transformed into a cosmopolitan, creative hub attracting visitors from far and wide.
If you're in the mood for sushi, The Blackanese (20 Kruger St), run by two Zulu chefs, has mostly classic options – such as California rolls and sashimi – but a few dishes have unexpectedly brilliant African touches. Try the biltong sushi roll or braaied (barbecued) prawns with Thai rice.
Head to the bustling hole-in-the-wall Little Addis (280 Fox Street) for platters of authentically delicious Ethiopian food – if you're a vegan or vegetarian you'll be well-catered for too.
Another popular option is The Living Room, (286 Fox Street, below), a chic rooftop bar/café for light lunches, smoothies and coffee.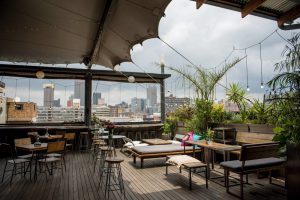 Afternoon: Explore Maboneng
You can easily while away an afternoon exploring this vibrant and very walkable district. Arts on Main (264 Fox St) is a 100-year old converted warehouse that now houses artists' studios (including leading contemporary artist William Kentridge and photographer Mikhael Subotzky) as well as African-inspired fashion boutiques and art galleries. Two highlights are the art books and Africana classics found at David Krut Publishing and I Was Shot In Joburg 🙂, a provocatively-named shop that is in fact a community outreach project – the canvases, t-shirts and bags for sale here feature images taken on disposable cameras by former street children.
If you have the time: A 20-minute taxi gets you to Keyes Art Mile, (19 Keyes Avenue) in Rosebank, an upscale suburb halfway between downtown Joburg and Sandton. Described as "a neighbourhood with art at its heart", this is where to find some of South Africa's leading contemporary art galleries, such as The Goodman Gallery, Circa, Everard Read and Whatiftheworld. The rather impressive Trumpet Building (corner of Keyes Ave and Jellicoe Ave), which opened in 2016, houses a number of upscale interior design shops, boutiques and restaurants.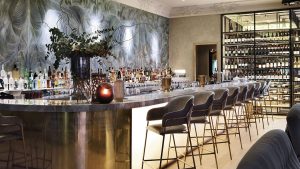 Dinner – Rosebank
Head to Rosebank for the swanky Marble (above) – it's also in the Trumpet Building – which is widely regarded as one of South Africa's best restaurants. Watch the sunset over a cocktail in the bar before moving to a table in the restaurant, which specialises in meat and game cooked over an open fire – after all, there's nothing South Africans like more than a braai, or barbecue – albeit this is an upscale version.
Late Night Drink: A ten-minute walk down Jan Smuts Ave takes you to Sin + Tax Bar  (corner of Bolton & Jan Smuts Roads), a sophisticated speakeasy-style establishment. It's behind an unmarked door – of course – and is tiny, but the ever-changing selection of drinks here are phenomenal. Or head for some jazz at The Orbit (81 De Korte St) in Braamfontein – it's open until 2am from Thursday to Saturday.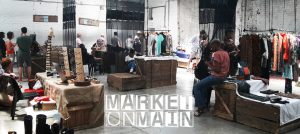 Weekly Markets
If you're in Johannesburg on a Saturday, don't miss the Neighbourgoods Market  in Braamfontein for an eclectic array of artisan goods and incredible food stalls.
Arts on Main in Maboneng has a market on Sundays called Market on Main (above), also featuring food stalls, along with leather pieces, jewellery, clothing, designer pieces and vintage-style favourites. Both are great places to pick up souvenirs and gifts for folks back home.
Leave A Reply