Why We Love the Victoria Falls
We firmly believe the Victoria Falls should be on everyone's "must-see" list when visiting Southern Africa. This mile-wide curtain of thundering, falling water is quite something to behold. As the intrepid Victorian explorer David Livingstone remarked "scenes so lovely must have been gazed upon by angels in their flight". With sprays reaching up to 1000 feet in the sky and adorned by multiple permanent rainbows, you can understand his sentiment. You'll also soon figure out why the local people named the falls Mosi-oa-Tunya (Smoke that Thunders), especially if you visit during the rainy season (March to May).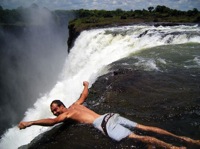 And if gazing at the Victoria Falls isn't enough, you can also bungee jump into them; fly over them in a micro-light; raft in the rapids below, and swim right up to the edge of them. What? That's right, swim! On the Zambian side of the Falls, there's a shallow pool called "Devil's Pool" where you can safely (if you're careful) swim right to the edge of the world's most impressive waterfall. This is truly the best place to view the Falls from if you have the courage. Devil's Pool is located on Livingstone Island in the Zambezi River and you get to it by motorboat. Numbers are limited so you need to book this little adventure in advance, and it's only possible from September to December.
We often get asked if seeing the falls from Zimbabwe is better than from Zambia or vice-versa. We actually like both sides equally, except during the dry season. The view from the Zimbabwe side is better during the height of the dry season because you face the entire length of the falls and still get the full impact of its grandeur. And despite UNESCO's threats to withdraw its "World Natural Wonder" status, the Victoria Falls will always remain a world wonder, every day of the year. What do politicians know anyway.
Want to visit the Victoria Falls? Yvette will be traveling to the Victoria Falls next week for site inspections, so we'll soon be updating our fine portfolio of safaris in Zambia and Zimbabwe.
Leave A Reply