Where's Diane?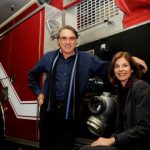 We just had to share what Diane is doing right now … it's an amazing story, and one we are all very proud of here at African Portfolio. Diane's husband, Peter Lobel was born and raised in Zimbabwe. As you can imagine, the family has been through some very tough times in the past two decades, along with most other Zimbabweans.  They have lost their businesses, land and many friends over the years. A difficult loss came relatively recently in August 2011, when Peter heard that a very close family friend Solomon Mujuru, lost his life in a fire at his house in Harare. Solomon Mujuru was a national war hero, and husband of the country's vice president, but most importantly a very dear family friend. What was particularly shocking and sad, was that Peter discovered that the fire was not extinguished in time to save his friends' life, because the fire trucks were in such disrepair. Even before the Harare Fire Brigade arrived at the burning house, the truck had lost all the water in the tank because it was in such a dilapidated state.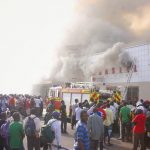 Mudzimi We Moto
At the funeral a few weeks later, Peter decided he could do something to ensure this never happened to another precious family again. The solution was simple – bring some working fire trucks to Harare. Easier said than done … The night after the funeral Peter did some basic research online and managed to track down some contacts to find out how he could go about purchasing used firetrucks, preferably from the UK (they drive left!). He found a perfect match. A fire company in Kent had just retired two brilliant red, 8 ton Volvos that had only done 40,000 miles. He bought them, shipped them to Walvis Bay in Namibia, and along with five friends, drove them all the way up to Harare, more than 1,300 miles. Just in time for Christmas. The delivery was met with huge enthusiasm by local Zimbabwe firefighters, Solomon's widow Joice, as well as many Harare residents. Read the full story here …
And Now (17 October 2014)
Peter and Diane are en route to deliver no less than nine more fire trucks to the Harare Fire Brigade this month. The trucks have just arrived from the UK and are parked in Walvis Bay, Namibia. The team of driver/volunteers is  made up of friends and family, and they are flying in from all corners of the world. Everyone should be all set to depart on this epic road trip by 17 October (2014). They will be heading north to the Caprivi strip, then east to Zambia, past Victoria Falls, and then on to the border crossing into Zimbabwe over the Kariba dam wall.
Diane has been instrumental in organizing the team travel arrangements, and will join the convoy in its final stages. She's also going to take advantage of her time in Namibia and get some site inspections under her belt, so stay tuned for that news on her return!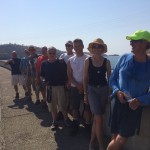 Update – The crew made it!! (25 October, 2014) …
Diane just reported, that the whole crew including 9 intact fire trucks arrived in Harare on Saturday night! It was a long, and hot journey filled with interesting border crossings, lots of wildlife sightings, plenty of adventure with potholes, and a few very welcome beers at the end of each day! The crew kept a very amusing and detailed blog going, so for a day by day account please check it here. 
We'd like to welcome everyone "home" and a huge round of applause for completing the job!
More Information:
New Zimbabwe – Mujuru breaks down at fire truck donation
Greenwich Times – From Greenwich to Zimbabwe a gift of Fire Trucks
Mudzimi We Moto Blog — The First Trip!
Leave A Reply