Seasoned Greetings
As much as we love our traditions, we've sadly discovered that it's impossible to throw Boerewors on the braai in sub-zero temperatures. We're spending Christmas near our office in Connecticut. Guess we'll just have to go with lamb in the oven and warm ourselves up with a little cup of Amarula Coffee Surprise. This is a delicious Amarula based cocktail we've come to love (maybe a little too much). We tried it out a few weeks ago at the First Light Festival in Old Greenwich, and discovered that Americans love Amarula too.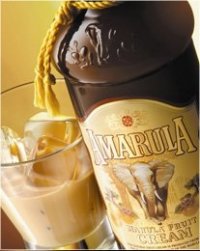 Amarula is made from the fruit of the Marula tree and a dash of cream. Elephants love to eat the Marula fruit, and rumor has it they get drunk as it ferments in their bellies. We've also discovered that the Marula tree is fantastic to sleep in… very versatile tree this.
The Amarula Coffee Surprise Recipe:
4 shots of espresso (or 4 cups strong filter coffee)
60 ml (that's 2 shots) Amarula Liquor
50 ml whipped cream
In keeping with our passion for food and drink hailing from South Africa, we've recently launched some delicious new trips. Be the first to savor them (we recommend you pack some loose fitting clothes):
Savor South Africa – Afficionado – A 9 day traveling feast in Cape Town and the Winelands region followed by a first class safari in Tintswalo/Manyeleti… more details
Savor South Africa – Connoisseur – the perfect 9 day trip for a bon vivant who loves food, wine and breathtaking scenery. This very luxurious 9 day trip includes the Cape Winelands, Cape Town and an unbeatable safari in Sabi Sands… more details
Savor South Africa – Epicure – for those who enjoy excellent food and wine as well as a dash of wildlife on the side, this 7 day trip takes you from Tintswalo to the Cape… more details.
We wish you all the best this holiday season!
Leave A Reply