Our Photo Contest Winners — July/August
We have two very deserving winners to show off this month. Congratulations to Carol Parr and John Michael for their stunning photos, we hope they enjoy their $500 Amex gift cards. We are even more excited about our calendar now!
Smiling Hippos – By Carol Parr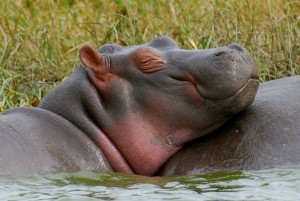 Carol was on a 10 day chimpanzee and gorilla tracking safari staying at Volcanoes lodges in Uganda and Rwanda. This photo was taken while on a boat cruise in the Kasinga channel in Queen Elizabeth National Park (Uganda). In Carol's words: We were enjoying the aquatic birdlife, the pelicans and the wonderful Maribou storks that looked like ugly game wardens moving about the other birds and towering over them. It was a lovely scene and these hippos were just in front of us.
This was Carol's second trip with African Portfolio. Her first safari with us took her to Zambia and her travel companion had recommended they book through Yvette. As Carol said on the phone: "I am a single woman and being unfamiliar with Africa, I want that security of knowing I'll be in good hands and will be safe throughout my trip. African Portfolio knows Africa so well, they have personal experience with all these places and I can't wait to book my next trip, hopefully to Kenya/Tanzania in 2014!.
We look forward to helping you plan that safari Carol, and thanks for the photo.
Lions – John Michael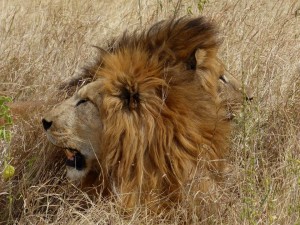 John was on 10 day safari in northern Tanzania and Zanzibar in July 2013. The safari included Arusha, Lake Manyara, Ngorongoro, and the Elewana Migration Camp in the Serengeti. This photo was taken while on a game drive in central Serengeti. In John's words: We came upon the lions when we saw an single elephant scratching himself on a tree and the 2 lions were in the shadow of the tree hiding. They were in peace until the elephant was done then stormed the lions off…. You can see the annoyed expression of the lion as his nap was disturbed, we can all relate!
John had booked his trip with Susan as was most impressed with her in depth knowledge about exactly where to go and how long to stay at each place. Thank you for the great photo John, and we hope to book your next safari in the near future!
September is Still Open for Your Submissions!
September is currently open for your photo submissions, we are looking forward to sharing your memories with you! Find out a little more about our Photo Competition here. Don't forget to send your submissions in jpeg format to: photo@africanportfolio.com. This is going to turn into an amazing 2014 calendar!
Leave A Reply